Nationwide Services & Branch Offices in the United States
Holt Offers a Range of Adoption and Post Adoption Services Across the U.S.
Holt International is a Hague-accredited agency that helps unite children and families through international adoption across the United States. In every state, our post-adoption services team provides support and resources for adoptees, birth parents, adoptive families and any other person whose life has been touched by adoption. We also offer homestudy services in all states, either through Holt or one of our cooperating agencies. If you live in one of the 13 states served by our branch offices, we offer additional services.
Holt Has Branch Offices Serving Families in 13 States

Visit your state's branch office page to learn about services available to you, including free adoption meetings.
Homestudy services, interstate adoption support, information meetings, post adoption services in California, Oregon and Washington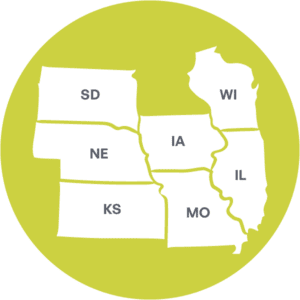 Homestudy services, interstate adoption support, information meetings, post adoption services in Wisconsin, Illinois, Iowa, Missouri, Kansas, Nebraska and South Dakota
Homestudy services, interstate adoption support, information meetings, post adoption services in New Jersey, New York and Pennsylvania
We do international adoption in all 50 states!
If you don't live near a Holt branch office, we partner with a reputable homestudy agency for that portion of your adoption.
In some states, we can also provide homestudy services for families adopting through another agency.
If you already have a homestudy, contact us to see if we can work with your homestudy agency.
Homestudy services are available whether working with Holt or another adoption agency
Before you can be approved to adopt, a social worker in your state needs to assess your family and prepare a written report about you. After your child is adopted, the last steps in the process will be a series of reports detailing how your child is adjusting to your family, also completed by a local social worker. Whether you are adopting through Holt or another agency, we can provide services to your family.
Our U.S. Adoption Programs
Interstate Adoption Support
Holt serves hopeful adoptive families living in the 13 states served by our 3 branch offices. We can provide homestudies, adoption support and referrals for families wishing to adopt an infant born in the U.S.
What Makes Holt Different?

Our branch social workers take a caring and individualized approach with each family we serve. We want to support you and your family throughout your adoption journey.
One of our top priorities is connecting you with the right resources to successfully navigate your adoption process. Whether you're already working with an agency or attorney — or you're looking for referrals for domestic infant adoption placement services — we'll get you connected with the right resources and ensure your homestudy process prepares you for the next steps.

Our support doesn't end once your adoption has been finalized. We offer post adoption services for adoptive families and adoptees living across the U.S. In Illinois, we provide adoption-competent therapy as an ongoing resource for adoptive parents and adoptees, as well as parent education workshops that help with the unique struggles of adoptive parenting.
Lifelong Adoption Support
Holt is committed to providing lifelong support to adoptees, adoptive parents, birth parents and any other person whose life has been touched by adoption.
We invite you to reach out to us for help with anything from birth family search to short-term counseling to finding ways to connect with others who have similar lived experiences.
Stories
Start Your Journey in Adoption
Whether you are considering adoption or are ready to apply to adopt, we have many free ways for you to explore our programs or get started.
Request Free Adoption Information
Click below to complete our inquiry form or email us at [email protected] to connect with one of our adoption specialists.
Adoption Info Meetings
Check out our free, virtual adoption information meetings open to families in all 50 states!
Apply Online
Ready to start your adoption journey? The first step is to create a Holt portal account, then submit an application. Click below to log in or create a new portal account. If you're already in touch with Holt or have worked with Holt previously and do not have a portal login, email [email protected] to access your account!
Hear What Families Have to Say About Adopting Through Holt
Holt International is a Hague-accredited agency with adoption programs in these locations: