Adoptive Parent Resource Center
Helping adoptive parents raise resilient children
Parenting resources, tips and guidance to help adopted children thrive at all ages and stages
We believe that knowledge empowers families and communities to support healthy child development. Designed for families parenting adopted children of all ages and abilities, Holt's adoptive parent resource center provides evidence-based information produced by our global team of nutrition, health, parenting and adoption experts. From positive parenting strategies and child development tips to advice specific to parents of children with disabilities, this resource center provides the information you need to raise strong, healthy, resilient kids.
Parenting Children With Disabilities
Adopted children with disabilities or medical needs often require additional support. Learn how you can help your child reach their potential.
Child Nutrition Tips
Good nutrition is essential for growing minds and bodies. Check out our child nutrition information and tips to strengthen your nutrition and health knowledge.
Child Feeding
Children's mealtime experiences pre-adoption can look very different from mealtimes at home with you. Learn how to make mealtimes a success!
Check out these additional parenting resources!

View our expanded list of recommended parenting websites, books and other resources organized by topic.
Common Parenting Questions Asked by Adoptive Parents
Find answers within Holt's adoptive parent resource center articles to help your child reach their full potential.
Is my preschooler developing on pace following adoption?
See developmental milestones for children ages 3 to 5 years.
How can I best prepare my child with disabilities for school?
Learn specific ways that you can help your child be successful in any complex school setting.
Could a behavior challenge be adoption-related?
We suggest looking at five factors when working through challenging child behavior.
Popular Articles in the Adoptive Parent Resource Center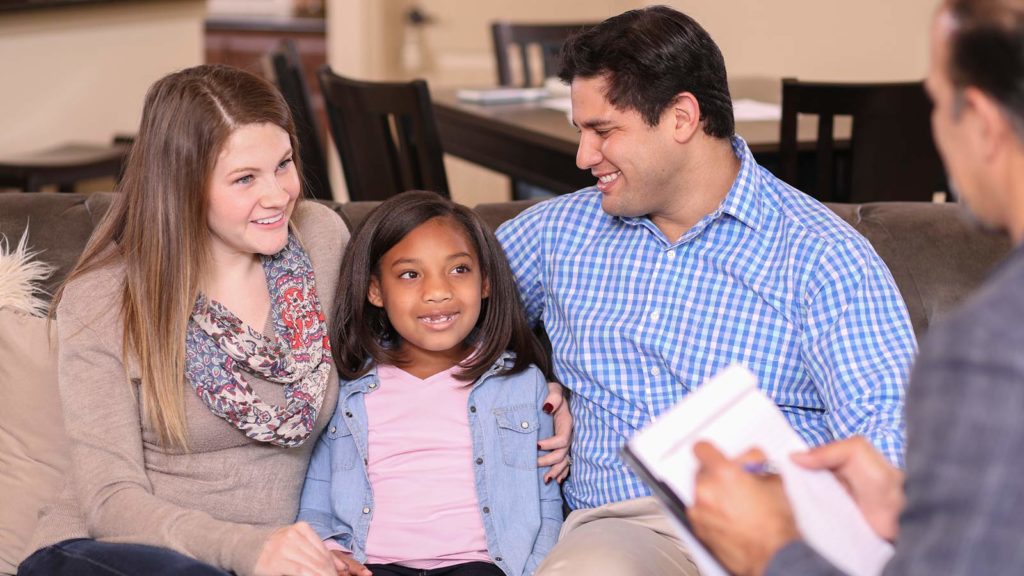 Receive Post Adoption Coaching & Education
All parents encounter challenges as their children grow up. And sometimes, issues may arise that leave you uncertain as to how best to respond. But not every issue requires therapy or counseling. The PACE program is here to help during those times.
Adoptive Parent Resource Center Contributors
Holt's adoptive parent resource center is developed by an interdisciplinary team of technical experts to deliver evidence-based information and advice to parents like you.
Gary Sampson, LICSW
Gary has a master's degree in social work, a school counselor certification and an elementary teaching credential. He is also a licensed clinical social worker and an approved social work supervisor. Before joining Holt, Gary worked as a director of social services, an adoption social worker, a medical social worker for children with disabilities, an elementary school counselor and a primary school teacher. Now as an adoption social worker for Holt, Gary's skills in adoption services, education, social work and school counseling support adoptive parents and children. Gary is married and has two adult daughters, including one adopted from Korea.
Carolyn Cain, MSW
Carolyn is an adoption social worker in Holt's California branch office and a supervisor for Holt's Post-Adoption Coaching & Education (PACE) program. She completed her bachelor's degree in human services and earned a master's degree in social work from California State University, Long Beach. She is an expert in international adoption and foster care. Carolyn is married and has five children, two of whom were adopted from China through Holt.
Tracy Kaplan, CCC-SLP, CLC, IECMHS
Tracy is a licensed and certified speech-language pathologist (SLP), feeding specialist and certified lactation counselor (CLC), and an infant/early childhood mental health specialist (IECMHS) who has been practicing for more than 16 years. Additionally, Tracy has been a technical feeding advisor and trainer for Holt since 2016. She is the lead author of Holt International's Feeding and Positioning Manual: Guidelines for Working With Babies and Children. Tracy blends her knowledge in speech-language pathology, child development and infant/early childhood mental health principles into an interdisciplinary approach to optimally serve children, families, caregivers of all kinds, professionals and communities.
Emily DeLacey, MS, RDN, LDN, PhD Candidate
Emily is a registered and licensed dietitian/nutritionist and the director of Holt's nutrition and health services since 2016. She completed her undergraduate degree at Central Washington University and her master's degree at Kent State University. She is currently completing her PhD with the London School of Hygiene and Tropical Medicine. In her role at Holt, Emily oversees all nutrition, health, food assistance and WASH (water, sanitation and hygiene) programming in all the countries where Holt works, with a focus on maternal and child nutrition. Emily has worked in more than 17 countries and is a former U.S. Peace Corps volunteer.
Rachael Catt, ODT, OTR/L
Rachael (Rae) is a registered and licensed occupational therapist and an expert feeding specialist with more than 20 years of experience in pediatrics and feeding. Rae has worked in outpatient pediatric clinics and neonatal intensive care units (NICU), where she focuses her expertise in direct interventions to optimize feeding, growth and development. She incorporates neurodevelopment, feeding, play and sensory integration into her programs for children. Rae has worked for Holt as a technical feeding advisor and trainer since 2016.
Julia Hayes, MS, RDN, LDN
Julia is a registered and licensed dietitian/nutritionist and the manager of Holt's nutrition and health services. She is a graduate of West Chester University of Pennsylvania with a master's degree in community nutrition and has worked for Holt since 2020. Julia supports the comprehensive assessment, implementation and analysis of nutrition and health programming in all the countries where Holt works.