Colombia
Caring for orphaned and vulnerable children in Colombia since 2018 through child sponsorship and donations
On This Page:
Every year, sponsors and donors provide life-changing support for over 1,000 children and families in Colombia.
After five decades of war, Colombia has just begun to emerge from a dark and brutal period in its history. Out of survival, many people got caught up in the crime and violence that drug cartels and guerrilla fighters brought to their communities during the war — creating a cycle of neglect and abuse in families, and causing thousands of children to become separated from their parents. But Colombians are incredibly resilient. And today, with the support of sponsors and donors, many children are joining loving families through adoption, and many families have begun to heal. Together, they have begun to seek a happier, more hopeful future for their children.
40% of young adults experienced abuse as children
Through positive parenting workshops, Holt sponsors and donors help break the cycle of abuse and neglect in families.
Thousands of children were separated from their families during the war
With sponsor and donor support, Holt's staff and partners help reunite families separated by crisis and conflict.
Adoption from Colombia: Children wait for loving families
In Colombia, many older children and sibling groups are waiting to join permanent, loving families through adoption.
Help Children & Families in Colombia
Colombia has one of the highest rates of teen pregnancy in Latin America, and many children live with young single mothers who struggle to meet their needs. Colombia has a long history of crime and violence, which makes life dangerous for children. Your gift will help a child or family in Colombia in greatest need.
Family Strengthening
Child sponsorship helps children and families thrive in Colombia.
In Colombia, over a third of all people live in poverty and many communities are working to escape a generational cycle of crime and violence. By supporting educational programs and parenting workshops, sponsors and donors help vulnerable families provide a safer, more stable home life for their children.
Early Childhood Care & Development
Once children reach grade-school age in Colombia, public education is free. But in the communities where sponsors and donors support families, few parents can afford preschool and many struggle to find safe childcare for children under age 5. Many of the parents in Holt's partner programs dropped out of school early and, without an education, they have no choice but to take informal, low-paying positions in factories or farms. Even in two-parent households, both parents must work long hours or multiple jobs to pay for food and rent — leaving no one home to care for their children, and making their children vulnerable to exploitation or dangerous conditions if they bring them to work.
But through our local partner FANA, sponsors and donors help children under age 5 meet critical developmental milestones. While their parents work during the day, these children receive nourishing meals, a critical early childhood education, enriching experiences like music, art and PE classes, and the nurturing care of trained caregivers — helping them acquire the skills needed for healthy social, emotional, physical and cognitive development. With the support of sponsors and donors, children with special medical or developmental needs also receive speech, occupational or physical therapies.
At daycare, children also receive individualized counseling as well as experiential learning opportunities to help them overcome challenges, cope with trauma and grow to their fullest potential. Ultimately, these two programs help to prevent family separation in vulnerable communities in Colombia, and create a safe, secure and supportive environment for children to grow and thrive.
Parenting Education
Most of the children who sponsors and donors support in Colombia are too young to have directly experienced the worst of Colombia's decades-long civil war. But many of their parents got caught up in the violence and crime that so many people of that era resorted to just to survive. It became a way of life, and it hardened many of them — creating a cycle of neglect and abuse in families.
At FANA's Center for Parenting Education, parents and caregivers learn non-violent conflict resolution skills and parenting strategies to raise their children in healthy, positive ways. Some participants in the program are already separated from their children and engaged in the process of reuniting with them. Others are at high risk of experiencing and/or engaging in domestic violence, abuse and neglect. The program includes a cycle of workshops, each with a specific theme. These themes include improving self-esteem and wellbeing of parents and children, increasing positive relationships, providing tools to manage emotions and everyday conflicts, and developing positive parenting and discipline strategies.
With the support of Holt sponsors and donors, parents in this program also learn about child nutrition and health, and how to meet the developmental needs of children under age 5 and children with special needs. And at the same time parents attend these workshops, their children attend the early education and skills development program at FANA — helping them acquire the skills needed for healthy social, emotional, physical and cognitive development.
Orphan & Vulnerable Children Care
Child sponsorship provides care for Colombia's most vulnerable children.
During the war in Colombia, many children were lost or separated from their families. For these children, Holt sponsors and donors help provide the highest quality care while we work to find them a permanent, loving family — either through reunification or adoption.
Family Reunification
In Colombia, many families struggle to escape a generational cycle of neglect and abuse and many have been separated by crisis and conflict. But at Holt, we believe that families can change with counseling, training and support and that every child should have the opportunity to grow up in the love and care of their parents. Alongside two local partners in Colombia, Holt sponsors and donors help support efforts to reunite children with their families and ensure they return to a safe, stable, loving home environment.
Through one reunification program, our partnering care center, La Casa de la Madre y el Niño, provides the training and support needed to help safely reunite children in institutional care with their families. For these children, La Casa applies a comprehensive mental health care model aimed at family reunification, de-institutionalization and prevention of domestic violence and neglect.
With an approach based on trauma-informed, evidence-based practices, the program provides family/parent counseling, parent trainings, therapeutic play for children and families, and relational interventions within the home.
Sponsors and donors also help reunite children with their families in Colombia by supporting the Center for Parenting Education run by our partner FANA. Through this program, parents and caregivers learn the non-violent conflict resolutions skills needed to correct and prevent intra-family violence, child abuse, abandonment, malnutrition and neglect. Parents and caregivers attend positive parenting workshops and also receive support and guidance from trained social workers and psychologists to help them manage crises and access counseling services when needed. Many parents in the program are already separated from their children and in the process of restoring their parental rights. For these families, the parenting skills they learn will help them care for their children and provide a safe, loving environment once they return home.
Standards of Care
Through our partner La Casa de la Madre y el Niño in Bogotá, Holt sponsors and donors help provide high-quality, nurturing care for orphaned and vulnerable children. La Casa is the largest institution registered to facilitate international adoption in Colombia and has 75 years of experience. Through La Casa, sponsors and donors specifically support children in care at Casa Imagina, a residential care home for older children ages 10-17 with special needs or other barriers to adoption. The home provides nourishing meals, healthcare services, education and a smaller group home feel.
Casa Imagina caregivers also receive specialized training to help advocate for children to join adoptive families. They learn to accurately assess and get to know children waiting for families so they can better advocate for them — matching them with the families that can best meet their needs. When children are matched with adoptive families in the U.S., they also have a huge transition ahead of them. They will need to learn a new language, adjust to a new culture and climate, and for many of them, learn what it means to be part of a family.
International Adoption & Hosting from Colombia
Helping Children Join Loving, Permanent Families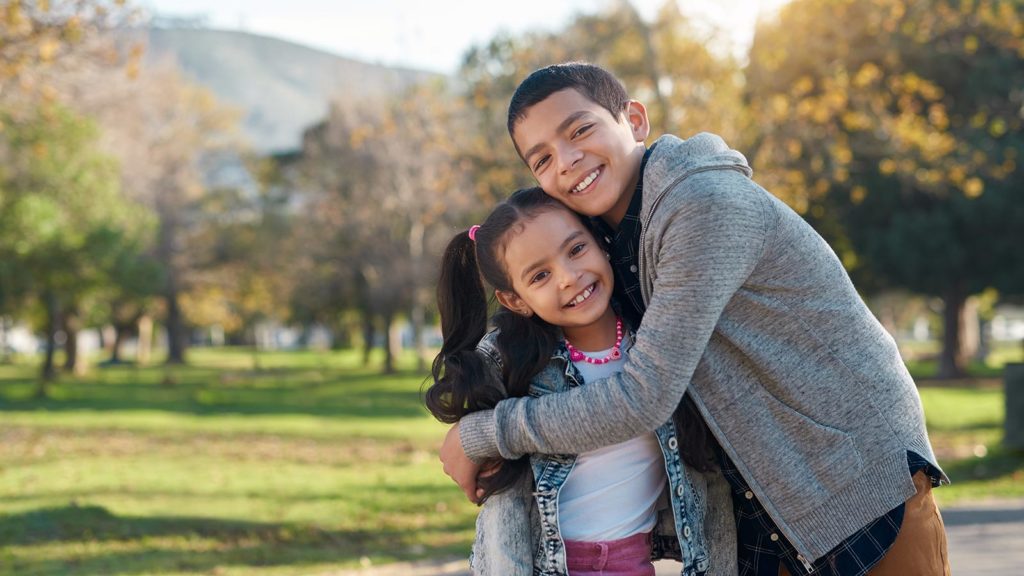 Since 2018, Holt International has worked alongside partnering care centers and the government of Colombia to help children join loving families via international adoption. Many of the children waiting for families are older, part of a sibling group or have special medical or developmental needs.
Through our Colombia program, Holt also offers a unique opportunity to host an older child in your home for five weeks in the summer or three weeks in the winter — giving them the chance to experience life in a family in the U.S. The Colombia hosting program is designed for families who are considering older child adoption.
Sponsor a Child in Colombia
Your monthly support will go toward food, clothing, education and more — helping a child in Colombia thrive in the loving care of their family!