When the Jackson family started the adoption process, they were expecting to add another little girl into their family. But things turned out quite differently than they expected — and because of it, they consider themselves so blessed.
When we started our adoption journey I had a picture in my head of what I thought our family would look like after the adoption process was over. In this picture in my head, we had a family full of girls. So it goes without saying that this photo above of our kids isn't what I thought it would look like. But I am forever thankful and blessed that our picture turned out as it did.
After Tim and I got married, we started a family and we were blessed with three girls over the span of five years. We often got the question, "Are you going to try for a boy?" "No" was always our answer. We were thrilled with three girls. If we had another baby, it would be just to have another baby — not a hopeful attempt for a boy. We felt that a boy was not needed.
A couple of years passed and we felt the Lord laying adoption on our hearts. When the time came to fill out the paperwork for what special needs we would be open to, we also had to mark if we wanted a boy or a girl, or if we were open to either. We only talked about it for a bit and both agreed we would select "girl." Girls are what we knew. It's what we were comfortable with. It just seemed to make sense to us. Another girl is what I pictured for our family.
A couple of weeks went by, and I got to thinking… When I was pregnant with the girls, we couldn't pick the sex. We were given what the Lord wanted us to have. This started to change my thinking on our selecting "girl." It didn't take us long to decide to change the box we marked from "girl" to "either." I have to be honest and say I was a bit freaked out by the thought of having a boy. Could I handle a boy? Would we know how to raise him? How would the girls be with him? We didn't have the clothes or the toys for boys. A girl just made sense to us. But I began to realize, whether our child was a boy or a girl, it would be fine. I knew we would be matched with whomever God intended for our family.
A couple of months passed and on New Year's Eve we got the call that we had been matched with a 12-month-old boy! A boy! In that moment, I forgot about all the fears I had had about having a boy. We were overjoyed and thrilled to be matched with him. We said "yes" to him that night and sent in our letter of intent to adopt him. As we waited to bring him home, I did still wonder how it would be to have a boy — I still had some of the same thoughts. But I knew it would be okay and that we were more than ready to head to China to get him. I had already fallen in love with this boy. He was wrapped around my heart.
It is now two and a half years since we brought our son, Luke, home and he will be turning 4 in January. He is all boy! He loves cars, trains, dirt and loves to climb and jump off the furniture. Life is different now that we have a little boy, but it is good. I love watching him live life. I enjoy seeing him handle things differently than the girls do and it has been so fun to watch my husband with his son. Seeing them play together brings me such joy. The girls are absolutely smitten with him and they all love to "mother" him. He adores all three of them and has taught them how to play-fight and loves to hide so they can find him.
Our home is different now with a boy. It's a bit messier, a bit louder and a bit crazier — but oh, so worth it! I can't forget to mention that our refrigerator is getting a workout! This boy can eat! Having a boy has changed us in more ways than I can list, and it has been so worth it.
I often think back to when we checked the box that said "girl." I think about how we would have never known Luke, how he would have never been my son. A girl would have been just fine for us and we would have loved her the same, but to think about not knowing Luke… I can't even go there. This boy has changed my life. He has changed many lives. I love how life is a bit different this time around. Oftentimes we think we know what we need or what we want, but I was wrong on this one. There are so many boys who wait for the love of a family. And they wait only because they are a boy. Think about that for a moment. No child should have to wait, but no child should have to wait just because he is a boy.
Luke and I have a special bond for many reasons, but one reason is because I know there was a time I wouldn't have said "yes" to adopting a boy. When I think about that, I am moved to tears. I can't imagine our life without him. I am beyond thankful that our picture turned out differently than what I thought it should look like. I am so blessed that we have had this opportunity to raise our boy. We as a family are forever changed because of him. I am so very grateful and blessed that we decided to mark the "either" box, for I feel so incredibly blessed to call Luke my son.
Lisa Jackson | Arnold, MO
Read another post written by Lisa about how their family was blessed with a boy.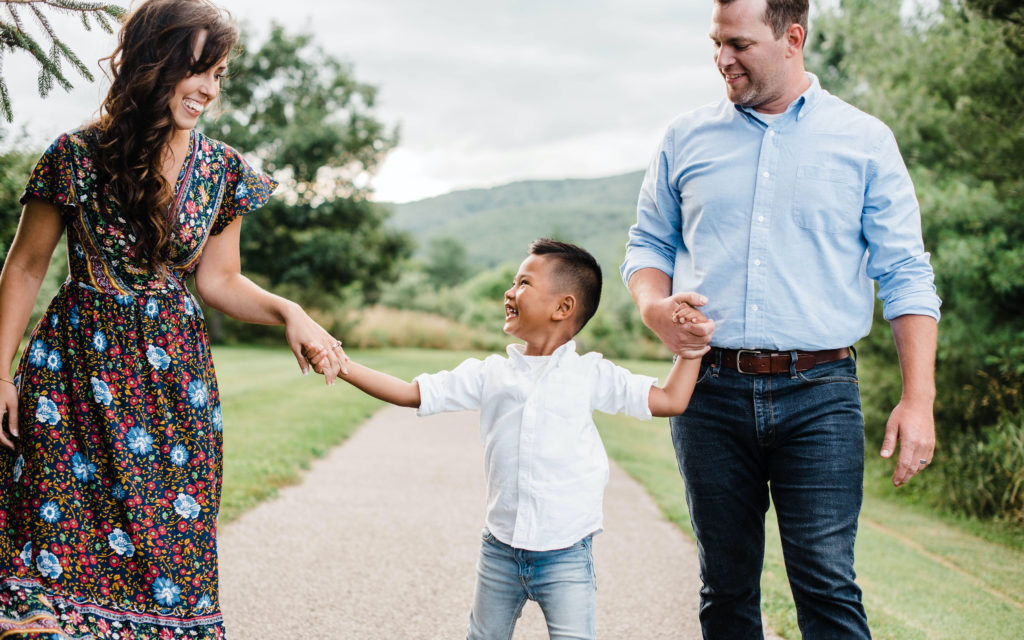 Learn More About International Adoption
We work with families in all 50 states to find loving homes for children from 11 locations around the world!