At Holt-Sunny Ridge in Illinois, domestic open adoption brings birth parents, adoptive parents and their children together as a unique and beautiful family. This photo shows the significant moment of Killian's birth mother and adoptive parents meeting for the first time — the beginning of a lifelong relationship centered around the love they all have for their son.
Rhianna's Story
When I look at this picture, I'm reminded of the love that is shared between us all.
This picture shows the opportunity at a better life for my son, and an opportunity for us all to grow as a strong unit — a family. Looking at this photo, I'm reminded of what I overcame to get to this moment, this point, and how extremely grateful I am for these two amazing people and the bond that we all continue to grow for this little one. I cannot begin to explain how difficult it was in that moment of decision — wondering if choosing adoption was the right choice, and wondering how his future life would be. I can tell you at this point, now almost ten months later, that I'm extremely blessed and grateful — not only to these two very amazing people, but also to Holt-Sunny Ridge for this experience, this opportunity.
We have all grown as a unit for the sake of this little boy, because ultimately he is the reason we are all here. I can say choosing open adoption has not only become a rewarding experience, but an incredible journey for us all. The relationship that we share is one-of-a-kind. We are in communication a few times a week, and have visits every few months. They never miss a chance to share a moment, a new experience, a new thing he has learned, and for that I love them even more.
I look at this picture and I can truly say I was blessed with such an amazing experience, a journey, a new family and the opportunity to watch Killian learn and grow. And I'm blessed to be a part of it.
Rhianna | Illinois
Erin's Story
This picture reminds me how amazing it is that time can fly by, yet seem slow at the same time. This day was the first time that my husband, Josh, and I met our son's amazing birth mom, Rhianna. Our son, Killian, was almost 3 months old at the time and looked so cute in his Stitch outfit. We were nervous to meet her in person, although we had been emailing each other on a weekly basis with pictures and updates on how he was doing.
So many questions raced through my mind: What if she didn't like us? What if she wished she didn't choose us? What if…about a million other things!
This visit was the beginning of all of us, together. So, let me tell you our amazing adoption story.
It all began a few years ago when my husband and I decided to try adopting. We chose to pursue domestic adoption and preferred to work with a local agency. We began this whole journey thinking that we could "never possibly do an open adoption," because all of the information we had came from bad movies and stories of adoption gone wrong.
Along the way, we attended classes on adoption through Holt-Sunny Ridge and our eyes began to open to the idea of open adoption. We learned that it would make the life of any child we adopted very hard to not know anything about their birth family. We attended multiple CAFFA (Chicago Area Families For Adoption) conferences that backed up this idea and added more food for thought. We came to realize, more people loving our child would be a very good thing and would actually benefit him and his birth family.
Fast forward to late on a Saturday morning in January 2016 with me sleeping in again. I heard a text message ding through the fog of sleep and opened my very blurry eyes to see that it was from Nancy — one of our adoption social workers at Holt-Sunny Ridge. Suddenly, I was wide awake and saw, "Please call me ASAP." I can't tell you how excited I was. Honestly, there are no words. You see, my husband and I were almost ready to give up. We were so disappointed that the right situation just never seemed to happen. To have hope in the darkness was terrifyingly amazing.
I called Nancy right away and listened to her tell me about a birth mom and her baby boy who was born just a few days before. I called my husband right away and we decided to go for it! After a few hours of waiting on tenterhooks, we were told that Rhianna chose us!!! That whole weekend was filled with friends and family stopping by to drop off baby items. Early on in the process, we decided not to purchase anything for a baby, so we did not have anything in the house… it was glorious chaos. We picked him up on Monday and our lives literally changed in a weekend!!
During the meeting shown in this photo, we really connected. Rhianna is a person who I would have been friends with if I had met her in any other way. We have commonalities that we would never have dreamed and have a lot of fun when we get together.
The part that I love the most is that my son won't grow up with a huge, glaring question mark when he wonders about his birth family. He can ask her all kinds of questions and they will be comfortable with each other, because he will grow up with her in our lives. In addition, I gained a good friend who will always be in our lives and never get tired of all my son's pictures and stories. Rhianna is my son's birth mom, his co-madre — and together, we make a family.
Erin Mitchell | Illinois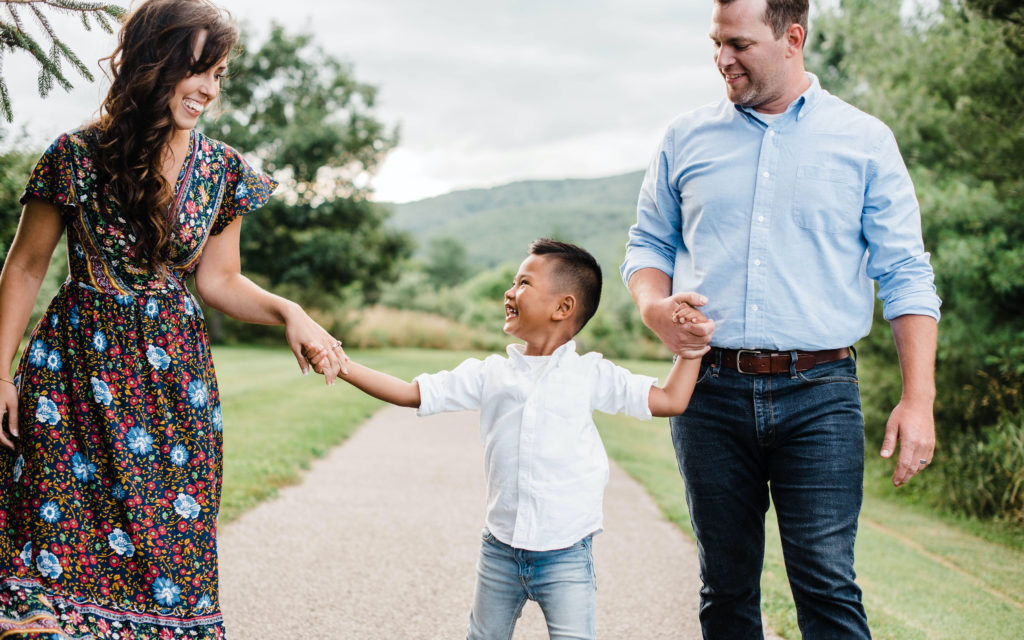 Learn More About International Adoption
We work with families in all 50 states to find loving homes for children from 11 locations around the world!