The story of two once-orphaned and abandoned girls, and the special medical foster home that changed their lives. Read and share their story in honor of National Foster Care Month!

Today, Maya and Payton are home with their loving families in the United States. Their journey was a long and difficult one. Maya's mother Ashley says that Maya's condition before entering Holt's care was extremely poor. "She was so tiny, frail and developmentally delayed," Ashley says. Found on the steps of an orphanage in Guangdong province, Maya suffered from cleft lip and palate, and was severely malnourished.
Four months later, little Payton was also found and brought to the same orphanage. She too suffered from cleft lip and palate. In 2013, Holt determinedly worked to match these precious girls with families in the United States. In September of that year, we matched Payton with Kris and Kelly Furman. And two months later, we matched Maya with Max and Ashley Simpson. "We found Maya on the waiting child photolisting. The day they posted her picture, we contacted Holt wanting to be matched with her," Ashley says. While Maya and Payton had both found their families, our staff in China quickly realized that they would need extra help and attention before they could begin their journey home.
They found that care at Holt's Peace House.
A special foster home that Holt oversees in Beijing, The Peace House offers orphaned and abandoned children waiting for corrective or life-saving surgeries a place to prepare and recuperate. Holt took over operation of the Peace House in 2011, and currently cares for an average of 35 children every year.
When Holt staff learned about Maya and Payton, they desperately tried to bring them from their orphanage to the Peace House. Their first few attempts to transfer the girls were unsuccessful. "Their orphanage was quite a distance," Holt China staff says. "The orphanage didn't bring them. But we knew we couldn't give up on these girls." Desperate, Holt staff sent "before and after" photos of children who had previously been rehabilitated at the Peace House to the girls' orphanage. Finally, after several months, the orphanage agreed to send the girls to receive the care and surgeries they desperately needed. "We knew we needed to bring these two children to our Peace House for better care," they said, "otherwise we couldn't imagine what could happen to them."
Maya and Payton arrived at the Peace House on October 13, 2013. "We were overjoyed when we were notified that she would be transferred to the Peace House for surgery and rehabilitation," Ashley says of her daughter, Maya. "When she entered their care, they immediately took pictures and videos of our sweet baby girl, and sent them to us." Upon entering the Peace House, the girls had rashes on their heads and faces, and Maya had alopecia areata, a condition that made her hair fall out in patches. Both were severely underweight, weighing just 11 pounds each. Maya was unable to support her head. "In the first few days when they got to the Peace House, they seemed not interested in anything," members of the Peace House staff say. "We tried putting toys in their hands, but they didn't grab them and the toys were easily dropped down from their hands. Poor Payton was so weak, and her immunity was very low." Itchy scabs on the girls' bodies made it very difficult for them to sleep. "We wish we could cure them sooner, but it takes time so every night we picked them up and rocked them to sleep," they said.
Two days after Payton and Maya's arrival, a few Holt staff and board members from the United States visited the Peace House and met the frail toddlers. After learning their background, Jian Chen, VP of Holt's China programs, believed the girls would blossom with more stimulation. So using what they had learned from the International Disability and Development Consortium, an Italian non-profit that helps individuals with disabilities overcome adversity, Peace House staff started giving Maya and Payton daily massages, and through playtime and activities, helped them achieve their developmental milestones.
Before the staff knew it, a month had passed. The girls began rolling and sitting. "They changed so much in that time," the staff reports, "especially Payton. We saw her metamorphosis. All her rashes were gone, and her appetite was getting better and better." Both girls had gained a significant amount of weight, they were learning to crawl, and their personalities were beginning to emerge. "Maya became a little singer in the house. She would smile, and if asked, 'Maya, can you sing a song for us?' she would sing loudly, and we would clap hands for her, and she would clap her hands too. Maya is a little beauty who loves to smile."
Slowly but surely, the tender and caring staff at Holt's Peace House brought these girls back to life. For these girls to thrive, all it took was a little extra attention and love. "We knew from the pictures that she was receiving all the nourishment and love she so desperately needed to survive," Ashley says of Maya. In March, Max and Ashley traveled to China to bring Maya home. While there, they visited the Peace House. "The moment we walked into the door, and met all the precious nannies and witnessed the love and attention they were giving those children, our hearts melted," Ashley says. "We know in our hearts, without a doubt, the Peace House nannies saved our daughter's life."
Maya has been home for just two months. Ashley says witnessing her progress has been an overwhelming experience. "She has taken her first steps, can feed herself, and loves to take baths," she says. "She has completed her second surgery for her cleft palate and has recovered beautifully."
As for little Payton, she, too, recently came home to her family. "We are very grateful for the staff at the Peace House for taking such good care of Payton," Kris and Kelly say. "We hate to think of what may have happened to her if she wasn't given the opportunity to spend time there." Since Payton's arrival home, she has blossomed. At 17 months old, she can walk, and has no medical problems beyond her cleft lip and palate. The Furmans hope to have Payton's second surgery completed soon.
Once abandoned and weak, Maya and Payton are now thriving in the arms of their loving families thanks in large part to the excellent care provided by Holt's Peace House. Two girls once clinging to life, now happy and healthy.
"Every day when we look into Maya's breathtaking eyes, we are amazed at the miracle before us," Ashley says. "We will be forever grateful for the Peace House angels."
Ashli Keyser | Staff Writer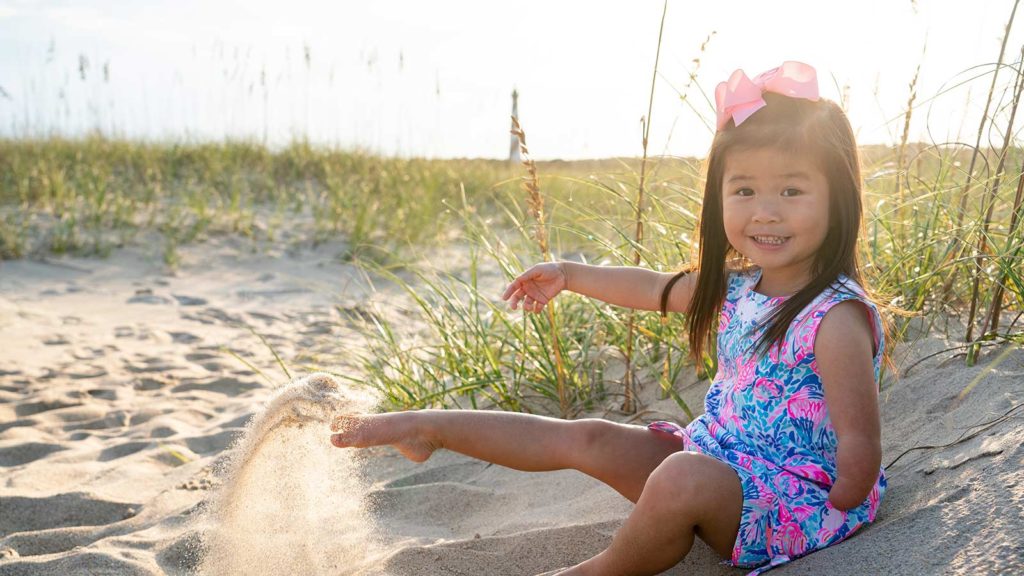 Adopt From China
Holt has three adoption programs in the China region. Learn about children who are waiting for families!