Holt's Child Nutrition Program
Helping thousands of vulnerable children worldwide
Why Holt's Child Nutrition Program is Important
Malnutrition affects nearly 250 million children worldwide and malnutrition and hunger-related diseases are the biggest killer of children under age 5 in the developing world.
The children Holt serves globally through our child nutrition program are among those most at risk for malnutrition and hunger-related diseases. These include orphaned or abandoned children, many of whom have significant disabilities.
Since 2013, Holt has expanded our work across China, Ethiopia, India, Mongolia, the Philippines, Uganda, Haiti and Vietnam to train caregivers in proper nutrition and feeding practices, and to teach our partner staff how to track children's nutrition and growth in the first critical years of life.
"The children looked healthy, so we did not realize that many had iron deficiencies. The Holt Child Nutrition Program gave us the tools to understand. The children are healthier, so we have to give them medication less often. When there is less sickness, our jobs are easier."

Mr. Chui, Director of Childcare at a Site in China
How Holt's Child Nutrition Program Works
The Holt International Child Nutrition Program is proving highly successful at reducing malnutrition among vulnerable children in childcare centers, at community sites and in foster care programs around the world. By bringing together NGOs, medical experts, front-line caregivers and local government representatives, Holt's child nutrition program puts in place sound tools and practices that our partners and caregivers can use to implement, track and evaluate critical nutrition and feeding changes. The program focuses primarily on vulnerable children most at risk for nutrition-related illnesses, especially young children and those with disabilities. At the same time, the program works to standardize new practices across care centers, programs and communities so they become routine. In this way, all children in care will benefit from nutrition, health and growth standards initiatives.

Training Caregivers
Holt leads multiple-day, in-person training sessions with on-the-ground staff and caregivers at partnering programs and care centers overseas. Through these trainings, caregivers learn about key health and nutrition interventions to better serve the children and help them grow. From training in how to prevent and treat diarrhea or anemia to addressing wasting and stunting, trainees receive pivotal education that improves their practice of caregiving. Holt commits to equipping our partners with nutrition and feeding manuals, translated into their local language by Holt. We also furnish all necessary equipment to ensure our partners are prepared to accurately assess and monitor the health and nutrition of children, and provide any needed interventions to improve their overall health and wellbeing.
Assessing Children
Once trained, the first action of our partner staff is to assess the baseline nutrition and health of each child in their programs. Caregivers and staff collect information including height, weight, arm circumference, head circumference, illnesses, feeding development, diet and other key data. To track and monitor each child's progress over time, routine nutrition screenings are completed. This data can then be used to better improve care practices as well as the health and nutritional interventions provided. By using standardized practices, this remarkable methodology can be replicated at sites around the world, effectively transforming the care of each child served.

New Tools
Often, care centers lack the basic tools needed to accurately track a child's growth and overall health. In addition, many countries have yet begun to implement electronic health record management systems. Holt not only provides the appropriate equipment to complete measurements, but also provides sites with an electronic health record system designed to be robust in application, yet simple to use.
Nutrition Interventions
When a child is determined to be at risk for malnutrition, trained staff provide nutrition interventions such as supplements to ensure the child receives adequate amounts of vitamins and minerals. Some children simply need more nutrition-rich snacks, and care centers may need to introduce a more diverse array of meal options or adjust menus. Even minor changes like these are critical to meeting children's individual nutritional needs.
Tracking
Once caregivers are trained in proper nutrition and feeding methods, staff begin to regularly screen, monitor and track different aspects of children's growth and development. Holt provides the standardized equipment, including a tool to test for anemia, and the electronic health record system to ensure children's growth and health status are being properly recorded and analyzed over time.
The Prevalence of Malnutrition in Holt's Child Nutrition Program
When children enter Holt's child nutrition program, they start with child growth assessments and anemia screenings to evaluate their health and nutritional status.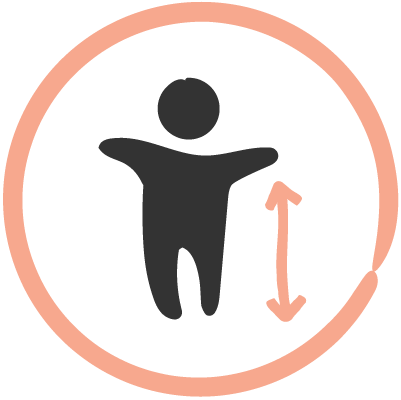 Stunting
Children who are stunted are not as tall for their age as they should be due to delayed growth — an indicator of malnutrition. Stunting is associated with increased mortality rates, reduced cognitive ability and poor school and job performance.
Wasting
Wasting, or extreme thinness, evaluates weight relative to height and is the most accurate indicator of malnutrition because it's less likely to be affected by any disabilities a child may have. Wasting reflects severe weight loss due to malnutrition or severe illness.
Underweight
A child who is underweight has a low body mass for their age, which is influenced both by the height of the child (height-for-age) and his or her weight (weight-for-height).
Anemia
Iron deficiency is the most common cause of anemia in children, which can significantly impact their cognitive development and ability to fight infection. Anemia can also cause developmental delays or other problems, such as poor behavior and the inability to focus on tasks.
First Screening
During their first screening, 85% of the children we assessed had one or more nutrition-related health issues.
One Year Later
Within one year of entering the child nutrition program, the prevalence of nutrition-related health issues decreased significantly for all children in the program, and especially for children under 5 and those with disabilities. In addition, there was a 20% reduction in overall malnutrition issues.
Holt's Feeding and Positioning Manual Offers Critical Guidelines
"Holt International's Feeding and Positioning Manual: Guidelines for Working With Babies and Children" supports caregivers of infants and children by providing information on safe feeding practices. The manual also provides general information on infant and child development, critical milestones for caregivers to monitor, and helpful strategies that support and enrich the overall well-being of every child.
Support Holt's Child Nutrition Program
Your gift to Holt's child nutrition program will provide life-changing nutrition and feeding support to children living in poverty and in orphanages around the world.
Holt's Child Nutrition Program (CNP) — in Action!
In India, China, Vietnam, Ethiopia, Mongolia, Uganda, Haiti and the Philippines, Holt's teams work extensively with children, caregivers and staff — providing vital nutrition and feeding education.
"The child nutrition program met a great need. Weight and height changed dramatically after implementation, and children are so much happier and healthier."

Caregiver in India
"The nutritional needs of children living in orphanages are still huge in Vietnam. Holt Vietnam plans to step-by-step expand the given knowledge and skills to serve more children and to improve the quality of care for children in new orphanages or childcare centers in the country."

Hang Dam, Director of Programs in Vietnam, South Africa, Thailand and the Philippines
A Timeline of Holt's Child Nutrition Program
Since 2013, Holt's child nutrition program has grown to serve thousands of children at multiple sites and continues to expand to more countries where Holt works.
2013
The Holt International Child Nutrition Program (CNP) began with pilots in 2013. The program was initially launched in two locations in India.
2014
Within a year and a half, the program began to take off and was expanded to five new locations in China and Vietnam.
2015
In 2015, Holt conducted a full analysis of all the child health data collected from these sites. The results showed dramatic improvements in all key indicators — including malnutrition risk, stunting, wasting, anemia and feeding issues — at every implementing site. Holt also hired an independent evaluator to do an outside review of program implementation, as well as its impact on children. The results were overwhelmingly positive. In addition to measurable health improvements, children at all sites were reported to be noticeably less sick, less often.
2016
In 2016, Holt expanded the child nutrition program to Ethiopia and Mongolia. Vietnam and India continued with rapid growth to new sites.
2017
In 2017, Holt expanded the CNP to the Philippines. New sites were trained in China, Ethiopia, Mongolia, Vietnam and India. Due to a strong demand from country programs, the CNP was adapted for foster care, daycare and community programs to support vulnerable families.
2018
In 2018, the CNP expanded to eight additional sites. Holt's community resource manual, which focuses on specific needs in communities such as resources on maternal health and breastfeeding, was released to all countries. The CNP team also began adding research and publications to their work.
2020
In 2020, the CNP expanded its work in the six countries where we already have a presence, and began work in Uganda and Haiti. Multiple peer-reviewed research papers on the needs of vulnerable children were published.
2021
As of 2021, in a total of 57 active sites — spanning 36 care centers, 14 community care sites, three foster care sites and four health centers — more than 11,000 children in China, Vietnam, Ethiopia, the Philippines, Mongolia and India are benefitting from Holt's CNP. Children in Uganda and Haiti also receive nutrition services, even though these countries have not yet fully implemented the program. With an increasing number of sites around the world, thousands of caregivers have been trained in health screening, nutrition, hygiene and feeding practices.
This program will continue to grow and reach more children, caregivers and families around the world with its life-changing effects!
The Power of Nutrition
Child deaths from malnutrition are preventable — when children receive diverse, safe, nutritious foods, fed in the right way, in appropriate amounts and frequency throughout their growth and development.
Meet the children whose lives have been transformed through Holt's child nutrition program.
Help a Child Grow and Thrive
As a child sponsor, you will help provide everything a child needs to reach their potential — from loving care and education to the nourishing meals and medical care they need to thrive!