Once you start to consider adoption, it's important to look into the other decisions that you'll need to think about. Below, we listed the top five decisions you'll need to make early on in the adoption process, as well as some useful information to help you make them!
Decide what age, gender and special needs you're open to.
Deciding on the profile of child you're open to is one significant decision that every family has to make. If you're looking into international adoption, the profile of child can vary. On average, most children adopted internationally are between the ages of 2 to 3 years old when they arrive home. But many older children urgently need families, and if you're open to an older child, your process could move quicker.
Another factor to consider is gender. Because most families prefer to adopt girls, most countries also require families to be open to either gender — but some, like China, allow you to specify a gender. In many countries, boys also wait longer for families than girls — and if you're open to a boy, you may be matched with a child quicker!
Special needs are another consideration for families. The definition of "special needs" can vary from agency to agency, and you can always talk to a staff member to clarify. For example, Holt considers that all children adopted internationally have a special need since all adopted children have experienced loss, and they will need extra support to adjust to their new life in an adoptive family. But today, most children joining families through international adoption also have at least some minor, manageable or correctable — even sometimes self-correcting — conditions. These conditions include everything from cleft lip and palate, orthopedic issues and heart conditions to vision or hearing loss or delays in development.
For domestic adoption, the typical profile of child depends on whether you are pursuing infant adoption or foster care adoption. Babies placed through infant adoption come from a diverse range of backgrounds and ethnicities. Children in foster care are also diverse, and their ages can range from infants to older teenagers. Foster care adoption also opens the door to sibling groups of two-to-six children.
The profile you are open to can determine how long you wait to be matched with a child. The more open you are, the quicker the process will generally be. But above all, when considering profile, think about how your family can best meet the needs of a child who is waiting. You know your family best and are best equipped to determine whether to parent a particular child!
And remember, from the beginning of the Holt adoption process, you will determine your level of comfort when considering age, gender and special needs, and may change your specifications at any time.
Choose between international or domestic adoption.
Once you've decided to adopt, one of the first decisions you will have to make is whether to adopt domestically or internationally. But before you decide, carefully consider the differences between the two, and what they mean for your family.
Through domestic adoption, as opposed to international adoption, families adopt a child that already resides in the U.S. — or will soon be born to a mother who resides in the U.S. Families work with an agency or attorney to adopt a child whose parent(s) feel adoption is in the best interest of their son or daughter. Often times, when adopting domestically, families can adopt an infant. With domestic infant adoption, potential families provide profile books, photos or letters to birth mothers – and sometimes birth fathers – as they choose the adoptive family that best matches their vision for their baby's future. Once you are chosen by the birth mother, the timeframe can range anywhere between four weeks to over a year for the adoption to be complete. Domestic adoption also opens the door to an ongoing relationship with the child's birth family after placement.
Pros for domestic adoption:
You are chosen by a birth mom who feels you're the best family and fit for her baby.
You will typically have good medical histories of the child and birth mother.
Your child and family can create an ongoing relationship with the child's birth family, which can be the most emotionally and socially healthy option for a child placed for adoption.
With domestic infant adoption, consider the following:
Because you will wait until a birth mother selects your family to parent her child, there is no set timeframe for your adoption process to begin.
Birth parents can change their mind at any time during the pregnancy and many of the fees are nonrefundable.
Some agencies can also help families adopt through the U.S. foster care system, which is a service Holt provides in Oregon and Washington. When children are unable to safely reunite with their families, we strive to find a loving, permanent family for them through adoption. Children in the foster care system can be of any age and have diverse social and ethnic backgrounds. The timeframe also depends on the profile of child you are open to adopting, but generally, the process will take 1-3 years. If you work with a private agency like Holt, your process will be significantly faster.
Pros for foster care adoption:
Lower costs and broad parent eligibility.
You will typically have good information about a child's needs, medical history and social development.
Children can keep in contact with their birth families, which is often the most emotionally and socially healthy option.
With foster care adoption, consider the following:
Wait times for homestudy services can be staggering if you choose to go through the state (non-agency) process.
Many children in foster care have experienced neglect and/or abuse, and you will need to prepare to parent a child who has experienced these traumas.
For international adoption, families welcome a child home who has already been legally cleared for adoption in another country. From the beginning, families determine their level of comfort when considering age, gender and special needs, and they can change their specifications at any time. Timeframes vary from country to country, but expect the process to take around 18-36 months. Some smaller programs may take a bit longer. However, in some instances, the process may be expedited in less than a year.
If families adopt through Holt, the timeframes tend to be stable and predictable. Holt also works with families from all 50 states – providing international adoption support nationwide. Some states will partner with a trustworthy homestudy agency, but Holt can guide you through a majority of the process.
Pros for international adoption:
Eligibility, timeframes to adopt and fees are generally well-established, giving families a predictable adoption process.
There are few instances in which the adoption won't be completed, as the children are already legally cleared for adoption in their birth country.
With international adoption, consider the following:
Sometimes, there is no information about a child's birth history or family.
Children placed for international adoption have endured the trauma of losing both their family and their culture.
Families are usually required to travel once or sometimes twice to finalize their adoption, which can be an amazing chance to learn about your child's birth culture — but can significantly add to the total cost of adoption.
Pick a country program.
Before you choose a country program, make sure that you are eligible to adopt internationally. Eligibility varies – depending on the country – and the requirements are specifically set by the country's government. The age, marriage length, family size, medical conditions, income and other requirements differ from country to country, and comparing each country's eligibility criteria can help you narrow down your options.
Holt provides a great list of eligibility requirements for our adoption programs, separated by country. But before you rule anything out, be sure to reach out to an adoption services specialist! Many countries will be flexible about eligibility if your family is open to older children, or children with more involved special needs.
Choose the agency.
When thinking about adoption, you might be tempted to browse photolistings of children waiting for families and reach out to the agency only after you've identified a child. But most children eligible for adoption will never appear on an agency photolisting! In most cases, only the children who need the most advocacy will appear online — often children who are older, part of a sibling group or have more involved special needs. Unless you're hoping to adopt a child who fits that profile, it's better to start the process by choosing an agency.
First, you will want to research your options. Some factors to immediately consider are whether the agency provides services in your state, whether they require a statement of faith that aligns with your faith, and whether they facilitate the kind of adoption that you're open to — i.e., international, domestic infant or foster care adoption. Once you pick a few agencies that meet your basic criteria, contact the social workers and ask them questions. Talk to other adoptive families for their insight on an agency's adoption process to get a feel for the agency. You could also look into the care the agency provides for waiting children, the post-adoption programs it offers or even, in the case of domestic adoption, the involvement of birth families. Keep in mind that you will work with an agency for several years to complete your adoption, so choosing the agency is one of the most important decisions you will ever make!
When deciding on an agency, you can also look at the mission, services and heart of the agency – what makes them stand apart. At Holt International, we find permanent, loving families for children domestically and internationally. Even though we pioneered international adoption over 60 years ago and remain a leader in adoption services, Holt is much more than an adoption agency. Around the world, Holt has long-standing in-country programs that work in many ways to help children grow and thrive – providing support through sponsorship to care for children waiting in orphanages and foster care, and to help keep children in the loving care of their birth families, whenever possible. At Holt, we recognize that every child's situation is unique, and the best interest of the child is always our number one priority. Above all else, we are a child-centered adoption agency.
Holt also provides ongoing support for families beyond placement. We are one of the very few agencies that has a post-adoption services department – giving adoptees and families resources and support for life.
Establish your budget and financing.
It's important for you to know what to expect financially before you begin the adoption process. The first step is to set a budget around adoption fees. The cost of adoption can feel like an obstacle for many families, but there are abundant resources available to help!
Once you set your budget, you can start researching ways to help fund your adoption. Talk to your employers since they may offer an adoption reimbursement program. Also look into adoption grants, but be sure to check the eligibility criteria and application deadlines.
Adopting a child with special needs? Many organizations give grants for families adopting a child with a special medial or developmental need. Ask your agency about these grants when you begin your process! Holt also assists families through Special Blessings grants, through our Special Needs Adoption Fund and by reducing program fees for some children with moderate to major needs.
Families can also fundraise! Whether you host a garage sale or crowdfund online, you can use your creativity to help fund your adoption. And seek out advice from other families! One Holt family fundraised the entire cost of the adoption process to bring their little girl home!
At Holt, we never want finances to come between families and children who need loving homes. For families looking for financial assistance and advice, Holt provides a list of grant providers, DIY fundraising ideas and other resources.
Mai Anh Boaz | Digital & Content Marketing Specialist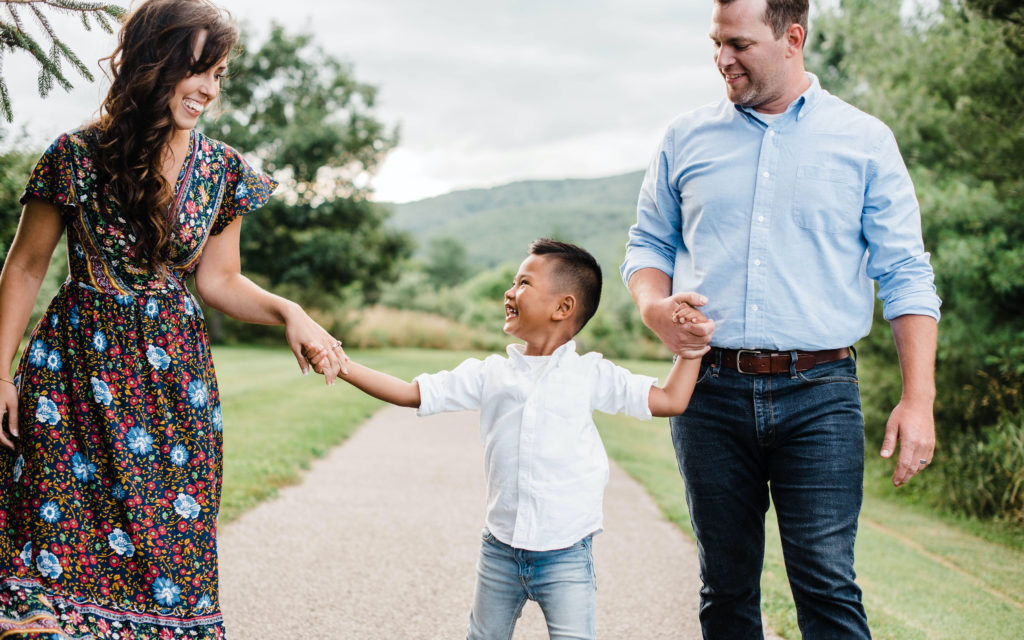 Learn More About International Adoption
We work with families in all 50 states to find loving homes for children from 11 locations around the world!