Celeste Snodgrass, LCSW and Zoila Lopez, MS, offer advice for adoptive parents who are teaching their child new routines and behaviors.
Finally, after a long trip, you've arrived in the U.S. with your child and you're learning to be a family together.
But maybe you're running into challenging behaviors — maybe your child is touching the stove, eating too many sugary snacks or is nervous to take a bath. Your child may be experiencing some cultural shock — overwhelmed by new appliances, rules and environments. This is normal! Especially if you adopt an older child, they may have ingrained habits or learned lifestyle norms that make our routines in the U.S. seem strange.
Both Celeste Snodgrass, LCSW, Holt's director of clinical services, and Zoila Lopez, MS, clinical social worker, agree that in these situations, it's best not to interrupt your child and tell them they are doing something wrong (unless it is a safety issue).
Pay close attention to what your child is doing and not doing. When you see your child making a mistake, simply be available to assist them. If they feel comfortable asking for help, then you can step in. Encourage them to be curious and ask questions, and be open to conversations about things that are different in their new home in the U.S.
"But don't assume your child will come and ask you for help if they need it," says Zoila. "To ask for help, one needs to feel safe and secure and a child who has just arrived in a new environment will not feel that way yet."
Older children may feel more afraid to ask for help than younger children.
"I think for older children, there is a lot of embarrassment," says Celeste, who is also an adoptive parent — her son joined their family at 9 years old. "If you used to be able to do something yourself, it's hard to embrace the idea of asking for help."
To help adoptive parents understand, Celeste draws a parallel with traveling to another country.
"Do I immediately feel confident in how to use a squatty potty and just a scoop of water?" she says. "No, I'm going to make a mess in that process and be super embarrassed to ask someone! With your child, you're kind of in a catch-22 — your child doesn't want to appear stupid, but you also don't want to make it seem like you think they're incapable."
Celeste suggests trying to find a way to model correct behaviors without pointing out that you're modeling the behaviors. Sometimes this can be easier when you have other children in the home — for example, if all the siblings go into the bathroom to brush their teeth at the same time, this models the family routine.
Most importantly, parents should have a flexible mindset when it comes to teaching their adopted child something new. In the teeth brushing example, maybe your child is agreeably going to brush their teeth each day but is still learning to do so and making a huge mess. As Zoila and Celeste say, "That's something for another day." Some things might need to wait until you and your child have a stronger bond and relationship.
"I didn't start teaching my son table manners until he had been here like two years," says Celeste. "It just wasn't the thing! You don't want to be overbearing. It might take deciding 'Okay, shower we'll do tomorrow. Today, let's just wash hands.'"
By remaining open-minded, available and encouraging, you can help ease your child's transition to their new life in the United States — and build a strong foundation so they can thrive in their new home.
To help prepare children for their new lives in the U.S., Holt's clinical services team has a book available called "My New Family in the United States" by Celeste Snodgrass, LCSW. Designed for children waiting to unite with their adoptive families, the book discusses adoption questions from "What does it mean to be adopted?" to lifestyle questions like "What will my parents do while I'm at school?" Wondering if your child received a copy? Ask your social worker for more information!
Need more advice for adoptive parents from our team of adoption experts, social workers and counselors? Check out our PACE program for one-on-one coaching.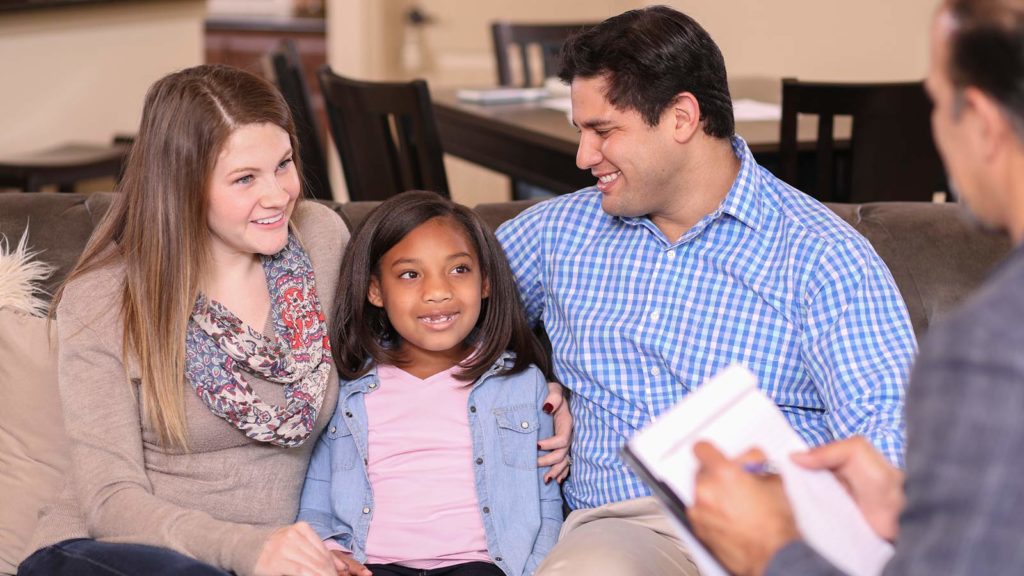 Receive Post Adoption Coaching & Education
All parents encounter challenges as their children grow up. And sometimes, issues may arise that leave you uncertain as to how best to respond. But not every issue requires therapy or counseling. The PACE program is here to help during those times.