Holt's director of clinical services, Celeste Snodgrass, shares about her experience with older child adoption — adopting her son Max from Thailand at 9 years old. While an adoption expert by profession, Celeste affirms that no older child adoption goes perfectly smoothly. But it's the perfect option for many families, and for children who have been waiting so long.
"Are you hungry?" Celeste asked her son, Max.
"Are you hungry?" he asked her back, slowly.
"No. But are you hungry?" Celeste asked him again.
"No. But are you hungry?" he repeated back to her again. This exchange happened every mealtime, and in between, for the first three days that 9-year-old Max was home from Thailand.
Weird, Celeste thought. He must not be hungry. Maybe it was the new-to-him American food, the jetlag … it could be anything. But then she realized. He was hungry.
"What he was trying to say is 'I am hungry.' But what I was telling him is, 'No, you can't have food!' This was such an awesome parenting moment for me," Celeste says, laughing, a tone of sarcasm in her voice.
Celeste Snodgrass is Holt's director of clinical services, and in October 2017, she and her husband, John, adopted 9-year-old Max from Thailand. An adoption expert by profession, Celeste is the first one to say that no parent is perfect, and that adopting an older child has a unique set of challenges. But she knows, without a doubt, it was the right move for her family.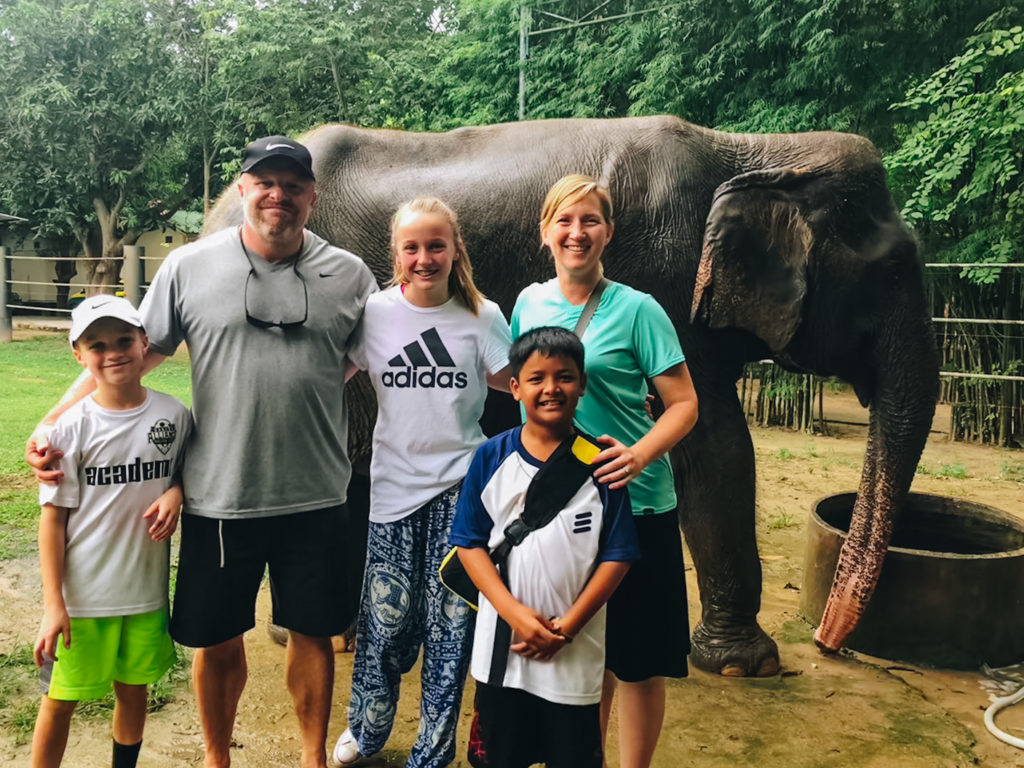 Celeste and John had considered adoption for years. But they didn't feel the timing was right until about three years ago, when both their work schedules lightened up a bit — and their two biological children had also grown older and more independent.
They decided to adopt an older child, which in the adoption world is any child over the age of about 2 or 3.
"We were older parents," Celeste says. But this wasn't the only reason they decided to adopt an older child. As someone who had devoted her life to helping children join loving families, Celeste had developed a heart for one particular group of kids — the kids who wait longest.
"I always knew [we'd adopt from the waiting child photolisting]," Celeste says. While the needs of kids on the photolisting vary, she knew that so many of them have special or medical needs that are truly no big deal.
"Maybe they have a medical condition that is really hard to treat in their country of origin, but here, it could be handled," she says. "Or maybe they're just an older kid." With this perspective, both she and John felt confident moving forward.
"None of it scared us, I guess," she says.
Celeste has worked at Holt for over 14 years. Today, as Holt's clinical services director, she provides adoption-competent counseling, therapy and support to adoptive families and adoptees at every step of the adoption process and beyond. But when she and her husband started the adoption process three years ago, Celeste worked as an adoption social worker in her home state of South Dakota. She completed families' homestudies, helped throughout the matching process and guided families through all of their adoption paperwork.
In her role, which included helping to match waiting children with the best family based on their specific needs, she became very familiar with all of the children on Holt's waiting child photolisting. And one day, while scrolling through the photos and short descriptions of children waiting for families, she paused when she came to Max.
"His face. His little smile — oh, he was cute. When we read about him, we were like, 'Oh yeah, that's nothing,'" Celeste says, referring to the special needs highlighted in his profile. "He was an older child, but there was nothing in his history that was scary."
'We can handle it,' she and John remember thinking.
Holt had been searching for the right family for Max for over a year. And finally, just three weeks shy of his tenth birthday, he came home to the Snodgrass family. This is when the adventure really began.
"I think one of the biggest things to remember with older child adoption is that kids have culture shock!" Celeste says. "If their family can keep this in the forefront of their mind — that this child is going through a huge transition and huge amount of grief without a trusted person — then they can hopefully continue to approach the child with compassion and understanding."
For Max and the Snodgrasses, the efforts they took to help ease Max into their family and his life in the U.S. took a lot of different forms.
Before Max even came home, Celeste made for him a series of photo books so he could familiarize himself with his adoptive family and new life in the U.S. Each book contained information about their home, family, weather and more, and each one increased in detail as the time came closer for him to come home.
Once he came home to South Dakota, one of the first things they did was visit an Asian market. "He visibly relaxed," Celeste says, "and purchased nearly all the food in the store!"
Max had never slept in a room — or even a bed — by himself before, so at first, he shared a room with his brother Bobby. Over time, Max transitioned to his own room, but still falls asleep with their family's big black Goldendoodle snuggled up against him.
In addition, Max has started creating a lifebook — a digital scrapbook of sorts that helps him connect his life in Thailand with his new life in the U.S.
As an adoption professional, Celeste knew a lot about what to expect when adopting an older child. But that doesn't mean that the process and transition has been perfect.
Between the language barrier, cultural differences, past trauma and more, older-child adoption presents unique challenges — and major changes — for every older adopted child and his or her family.
For nearly ten years — his entire life — Max lived in Thailand. He lived first with his birth mother, then at an orphanage for a couple of years, then back with his birth mother for a time, then in a foster home for several more years before joining the Snodgrass family.
And as a 10-year-old coming to the U.S. for the first time, there's a lot to get used to.
"Bathrooms are tough," Celeste says, recalling the very first hurdles of culture shock her son experienced in the U.S. Max was used to squatty potties, no indoor plumbing, and taking a "shower" with a bucket of collected rainwater while still partially clothed on the street in front of his foster home or orphanage.
"These," Celeste says, "the activities of daily living that are just so different — they were just huge things to adjust to for him." Just as it would be, she said, if anyone from the U.S. were to go to Thailand and try to navigate the very same everyday activities.
Then, of course, there's the language barrier — a challenge that Celeste says she doesn't know how children and families overcame before technology like Google Translate!
"He's still learning," Celeste says today, almost a year and a half since Max came home. But the learning process has required their entire family coming around Max to support him. "It's a constant explaining of why we're doing this, why we're going somewhere, why you can't do this, or should do this," she says.
In the process, they've encountered countless concepts that go beyond the syntax of language. Concepts that fall more in the category of cultural differences — such as why it's important to wear a seatbelt — that require a lot of extra explaining to a child for whom it is completely new.
"All children come to us with a history," Celeste says. "And this is something that all parents of older-adopted children need to understand and implement in their parenting."
For Celeste, this means that she is "Mom Number Three" — as Max calls her. Max has years' worth of memories of living with his birth mother, Mom Number One, and his foster mother, Mom Number Two.
"So we get to share him," Celeste says. "And that's totally OK."
Max still writes letters to his foster mom, and as a family, they talk openly about the important people in his past.
"It's our job to honor who they are," Celeste says, "and help them grow into fully functioning members of society."
While adopting an older child requires flexibility and openness and unconditional love through what can be a difficult transition, it's not as scary as most parents might initially think. Because more than anything, what older-adopted kids need is consistency, care and the love of a family.
Adopting an older child isn't always easy, and it is always a transition. But it's one that is well worth it. Over the year and a half that Max has been home, it's been a joy for the Snodgrasses to see his personality come out more as he grows more and more comfortable as part of the family.
"Max is a goofy kid," Celeste says. "His laugh is the greatest."
Older children are waiting for families!
Many children wait longer for a family simply because they are older in age. Could you be the right family to adopt an older child? Meet some of the children who are waiting!