For Jayanthi in India, the gift of a sewing machine means she can feed her children, send them to school, and dream of a better future.
Jayanthi stays as quiet as she can, stealing a glance at the bed just feet away to check on 8-year-old Harshith and 3-year-old Princy. She threads another needle. It's nearly 1:00 a.m., but she keeps working. The steady whirr whirr whirr of her sewing machine keeps the children lulled to sleep.
Jayanthi is tired. She was up at 5 a.m. to prepare breakfast for Harshith and Princy before taking them to school. She spent the rest of the day working as a maid at a wealthy family's home. It's steady work, but it doesn't pay much. Jayanthi's husband works as a daily laborer, but his work and income — as well as his involvement in the family and with his children — is inconsistent at best.
Although it's late, Jayanthi is thankful for her sewing machine — because without it, life was even more difficult.
When their family first moved to Bengaluru, they didn't make enough to live on.
They didn't even have enough money for food.
"When we came here," Jayanthi says through tears, "it was very difficult to get food."
At the time, Jayanthi couldn't have a job outside the house because there wasn't anyone to watch the children. This is a common problem for families in India who are living in poverty. Some parents have no other option but to leave their young children unattended in order to work and earn an income. But in a crowded slum neighborhood, this is dangerous for more than one reason. Jayanthi knew she didn't want to leave her children, especially 3-year-old Princy, alone.
So she did what she could. She worked as tailor out of her home, mending her neighbor's clothes by hand. She only made 25 rupees per tailored blouse — the equivalent of 35 cents.
She needed a new way to earn an income and provide for her family. But as a woman with limited education, there seemed to be no other option. No one who could help.
Until, one day, she heard about someplace that could.
Vathsalya Charitable Trust (VCT), Holt's longtime partner in Bengaluru, India, specializes in helping migrant families, just like Jayanthi's. So when a neighbor told her about VCT, she visited right away. And right away, she started getting the help she needed.
First, VCT helped find a Holt sponsor for 3-year-old Princy. As a sponsored child, Princy was able to attend VCT's daycare for a very low monthly cost.
So while Princy was at daycare, and her brother attended school, Jayanthi began working as a maid — cooking and cleaning in a wealthy family's home. For the first time, their family had a stable monthly income. Things were still very tight financially, but finally, they could get by.
But the help didn't stop here.
Not long after Princy started going to daycare, a generous Holt donor gave Jayanthi the Gift of Hope of a sewing machine!
For a mom in India, a sewing machine holds enormous potential. A sewing machine equips her to start her own tailoring business — a business she can run from home so that she doesn't have to leave her children alone. And for Jayanthi, this was just the extra income she needed to support her children.
Jayanthi got to work right away.
Clients bring her the fabric, and she sews it into whatever they need. She makes school uniforms for children, and beautiful kurtas and saris. Her clients are made up of her friends and neighbors. She creates about twelve pieces per month, and when it's festival season, she gets even more business. She's able to produce so much more than she ever could by hand.
With her sewing business, Jayanthi earns enough extra money each month to pay for transportation for her and her children to get to school, daycare and work. She can cover extra school expenses like pencils and paper. And their family never has to go hungry.
At VCT, Jayanthi took special classes to learn to use her new sewing machine. And perhaps even more important, she learned the skills she'd need to continue her business.
Jayanthi is part of a peer support group of other mothers who are running their own small businesses, and whose children attend the daycare. Once a month, these mothers gather on the open-air top floor of VCT's community center. Here, they learn about bookkeeping, managing clients and growing their business and income to support their children. They share about what's going well, what they need to work on, and how they can best support one another. In these meetings, Jayanthi finds support and community.
"They teach us how to stand on our own feet," says Jayanthi. "When I return from the meetings, it boosts my self-confidence."
Her sewing machine, and the support and community that came along with it, has made such a difference in Jayanthi's life. Not only can she better support her children, but she is now confident and empowered to pursue the best she can for them.
A sewing machine, or a gift like it, she says, is an amazing gift that she hopes more women will receive.
"This is very useful for us. Not only for me, but for many other migrant women who are struggling with many problems!" Jayanthi says. "Because of these gifts, we can stand on our own two feet."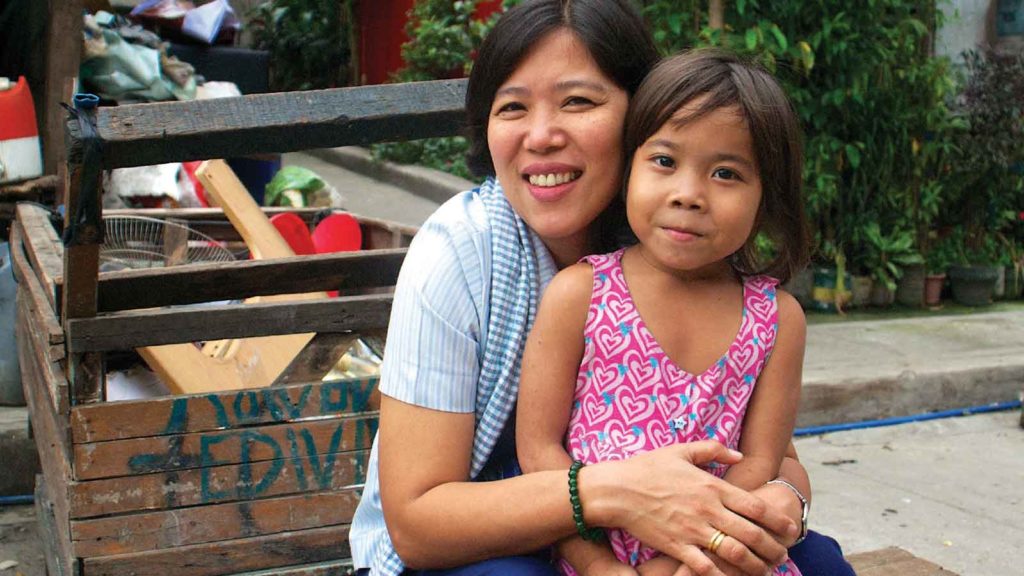 Empower a Single Mom
You can give a single mom the personalized help she needs to become independent and support her children. Whether you provide a safe home, nutrition training, baby items or education, empowering a mom will change her and her children's lives forever.