How children like Oliver, Amaya and Alex are redefining this often misunderstood term.
'Just a Typical Kid'
Oliver wakes at around 6 a.m., cuddles with his dad, and then sits down with his siblings for his morning bowl of Cheerios. Kids his age often consume the milk-soaked little "Os" with both hands, shoveling them into their mouths in full force. Oliver's Cheerio-eating technique, however, is a little different. He's missing his right hand. But this has never slowed him down. Despite a full-functioning left hand, Oliver still chooses to devour his morning cereal using the tiny nub of his right. "He adapts to things so well," his mom, Amber, says. "Since bringing him home, there is nothing he hasn't been able to do."
After having two biological children, Amber and Tim Kanallakan decided to adopt internationally — hoping to bring a child home from the Philippines.
When Tim and Amber contacted Holt, they soon learned that the vast majority of children adopted internationally today have some type of special need. And if they hoped to adopt a girl, she would most likely be older or have more severe special needs. They were not discouraged. Tim works in prosthetics, and the Kanallakans already had their hearts set on adopting a child, boy or girl, with a limb difference. As limb difference is not a common special need in the Philippines, however, they began to consider China, from which children often come home with minor, correctable conditions like cleft lip and palate, heart conditions and limb differences. "For some reason, my heart just leapt in agreement when Holt mentioned China," Amber says. "I somehow just knew our child was waiting there."
Twenty years ago, the landscape for adopting a child from China was much different. American families were mostly adopting "China's lost girls" — a generation of infant girls abandoned by their birth parents as an unintended consequence of China's one-child policy. All that changed, however, in the mid-2000s, when the one-child policy loosened and domestic adoption in China became more socially accepted, says Jian Chen, Holt's vice president of China programs. Families in China began adopting children without special needs, while children with special needs, however minor, waited in orphanages or in foster care. The wait time for families wanting to adopt a child with no known medical conditions increased to 7 or more years. Jian explains that today, almost 100 percent of children coming home to families in the United States from China will have a special need. She is, however, quick to clarify the term "special need." "Most of these children have no cognitive delays at all and are very bright," she says.
In the realm of international adoption, the term "special needs" can vary greatly.
Holt uses the term to describe children who tend to wait longer to be matched with a family that is open and equipped to caring for them. They may have health care needs such as a heart condition or developmental needs such as a learning disability. Or they may have experienced trauma early in life, impacting their overall emotional wellbeing and potential to thrive in a family. "A child's physical, developmental and emotional needs all play a role," explains Susie Doig, Holt's senior director of adoption services. "For most families, the physical needs are the easiest to address. It's the developmental and emotional needs that require the most support and resources."
Some special needs have nothing to do with a child's physical health, such as being older or part of a sibling group. And because most adoptive families state a preference for a girl, boys also wait longer to join families.
"Mostly," says Jian, "their only real special need is their need for a loving family. But, sadly, many continue to wait."
Excellent Care While they Wait
Through the years, Holt has adapted and expanded our services for children with special needs — ensuring exceptional care while they wait to come home. Two years ago, in partnership with the non-profit SPOON Foundation, Holt started implementing an Orphan Nutrition Program (ONP) to combat nutritional deficiencies in orphaned and vulnerable children. Through the ONP, caregivers are also trained on proper feeding techniques for children with special needs.
In South Korea, Holt continues to offer model care at the Ilsan Center for children and adults with special needs. And in 2011, Holt took over operation of the Peace House, a medical foster home for children undergoing medical treatment in Beijing.
In 2012, Amaya was one such child.
Before joining her family, Amaya stayed at the Peace House while receiving corrective surgery for cleft lip and palate. "The Peace House staff was excellent," her mom, Julie, says. "They sent lots of pictures and kept us well informed of Amaya's wellbeing."
When Todd and Julie Samolinski started their adoption journey, the term "special needs" at first sounded scary. But after speaking at length with Beth Smith, Holt's director of China services, Julie and Todd became more confident and comfortable. "She explained to us that 'special needs' could be a slight heart defect that heals itself, an extra finger or toe, a cleft lip or palate, or possibly something more serious," Julie says. "We just did our research and checked off what we were comfortable with." Before accepting their daughter's referral, they researched cleft lip and palate and found a good team of doctors in their community.
When the Samolinskis took Amaya to their doctor in the United States, he told them she had obviously received excellent care while in China. "We follow up with a doctor at Madison University Hospital every 6 months, and Amaya will need a surgery around the age of 8, as well as dental and orthodontia work," Julie says. "Amaya has made terrific progress with eating and speech. She is just doing great. We couldn't imagine life without her."
Matched with Oliver
As the Samolinskis got to know Amaya, who came home at the age of 2, the Kanallakans moved forward in their effort to adopt a child with a limb difference — filling out Holt's medical needs checklist, and adding other minor conditions they would be open to. "It was really hard to say 'yes' to some medical conditions and 'no' to others," Amber says. "But we were confident about what we could handle."
In December of this year, they received a referral: Oliver, a sweet 7-month-old boy who had a malformation of his right hand, but was otherwise healthy. After discussing it, the couple told Holt that they wanted to become Oliver's family.
Adaptation…Preparation…Joy
From country to country, the international adoption climate continues to change. But orphaned and abandoned children continue to need loving families. To meet this need, prospective adoptive families also continue to adjust their expectations and adapt to the changes.
Such was the case for the Phillips family.
In 2012, the Phillips family adopted their son, Will, from Korea, a process that Will's mom, Jaime, calls "storybook." Shortly after Will arrived home, the couple knew they were ready to begin the Korea adoption process again. But this time would be a little different. "In countries like Korea, there are more adoption safeguards being put in place," says Susie Doig, Holt's senior director of adoption services. Susie also notes that, like in China, many healthy children are now finding homes in Korea. "This is something to celebrate," she says, "but it does require families to adjust their thinking. Children will be somewhat older when they come home, and will have minor medical needs."
The Phillips family brought Will home at 11 months old. Their second son, Alex, came home at the age of 2. "Developmentally, that's a big difference," Jaime says. Alex was born premature, had a hole in his heart that had closed over time and possible neurological delays. "We took everything to our doctor and weren't worried about him at all developmentally," Jaime says. "His true special need was that he came home to us at a much older age than our first son. He already knew Korean, had bonded with his foster family and knew a completely different culture."
To help children adapt to these changes, Jaime recommends seeking support in your community. "Whatever your child's needs are, anticipate finding resources before you bring them home," Jaime says. "Be prepared. Get support from your church or parents, have doctors and psychologists ready, and talk with a Holt social worker who can point you in the right direction."
Today, Jaime says Alex and the family are doing phenomenally. "Alex has been in love with Will since day one. Will, not so much," Jaime says with a laugh. "We deal with issues, go through our ups and downs, and just take it one day at a time. He is doing fantastic overall."
For new families, Jaime advises a willingness to embrace and accept unknowns. "Our son was born at 37 weeks and had a corrected heart condition," Jaime says. "These are not really considered special needs in the United States, but that didn't mean we didn't have to adjust our thinking and our preconceived notions about how our adoption would go. If you are going to adopt, you have to go with the flow. You have to just roll with it."
Saying 'Yes'
As for Oliver, he came home to the Kanallakans just four months ago. "I thought we were going to have to completely change our house to accommodate his missing hand," Amber says. "We really haven't had to change anything. Tim's going to make him tools that will help him to ride a bike and do other activities one day, but, right now, he is fully functioning. I don't even know that I would call him a 'special needs kid.'"
If these families had let the term "special needs" stop them from adopting, Oliver, Amaya and Alex would still be waiting.
"When we visited Oliver's orphanage in China, there were just so many children who needed families. So many of them have been listed as 'special needs,' but you would never be able to tell," Amber says. "That label has a really harsh stigma. But holding the children and feeding the children, that changes everything."
Over the years, Holt has become the leader in finding loving families for children with special needs. And in the coming years, we will continue to fight for these children. We will provide them with exceptional care while they wait, equip prospective families with excellent information and resources, and pray that families take the first step, research the special needs, and say 'yes' to a child who is waiting for them.
"We would have missed out on Oliver because of our ignorance, to be frank, if we hadn't been willing to go there and take that risk and say 'yes' to something that felt risky and unfamiliar," Amber says. "I am just so glad that we said 'yes.' If you want to adopt, it's because you want to be a family to a child who doesn't have one. It's that simple. Go for it. Your child is out there."
Ashli Keyser | Staff Writer
Click here for the Top 5 Myths About Special Needs Adoption.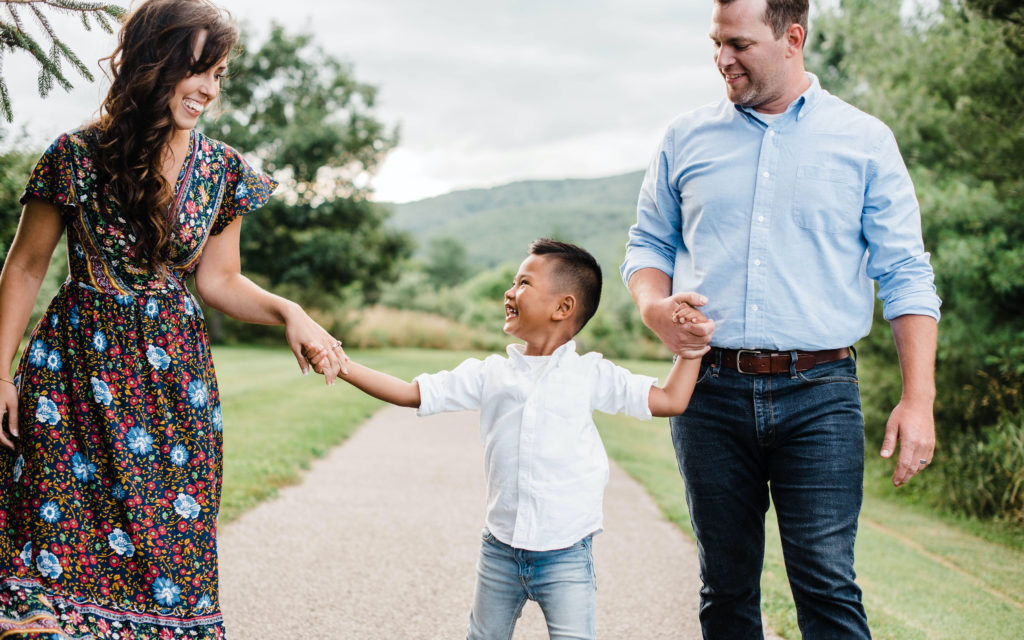 Learn More About International Adoption
We work with families in all 50 states to find loving homes for children from 11 locations around the world!