Trapped in debt because of money lenders, Sheela thought she would have to close her food cart — dismantling her dream and the business that supported her two sons. That is, until someone gave her a Gift of Hope…
In a vacant lot on a busy street corner in Bengaluru, India — in the midst of overwhelming traffic, blaring car horns and blistering midday sun — Sheela smiles. Standing underneath a bright blue tarp, surrounded by pots and pans and a stack of dirty plates, she is living her dream.
"My favorite job is cooking and serving the people," Sheela says. "Customers love the homemade food. I'm known in this area because of the taste of the food!"
Sheela's warm, cheerful expression even outshines her teal geometric-patterned pants, purple floral kurta and pink striped scarf. As she offers a plate of egg masala, rice and chapati to her visitors from Vathsalya Charitable Trust (VCT), Holt's longtime partner organization, she's reminiscent of caring moms all around the world who insist on feeding anyone and everyone who comes to their home.
Sheela is also a savvy businesswoman.
Just three years ago, she opened this food stand where she serves lunch to over 80 people every day. Through her own hard work and skill and determination, she created a thriving business.
But a few months ago, she nearly had to shut it down.
Even when a family is determined to overcome poverty, the solution is never simple — whether in India or anywhere else in the world. If all it came down to were motivation and passion and hard work and skill, poverty would quickly be eradicated! But sadly, that's not the case. Starting a small business always has startup costs. And for a family living in poverty, even the cost of a sewing machine, raw ingredients, fabric or a blue tarp like the one Sheela is standing under, can be too much. But when families see no other way to earn an income, they have no choice but to move forward — often borrowing money from friends or family. Sometimes, families will even borrow money from "loan sharks" to get things started.
But borrowing money is dangerous.
When Sheela started her business, she needed extra funds in the very beginning to purchase the ingredients — the eggs, rice, spices, vegetables and more — for her food stand's daily menu.
For Sheela, this business was more than just a dream. If it succeeded, it would also mean better health and education for her children. Sheela's husband, Suresh, works as a rickshaw driver, a job that — for many families — provides a stable and secure income. But because he has diabetes, much of his income goes toward his regular medical care, and the medical bills that follow. So while he earns an income for their family, it is irregular — and sometimes nonexistent.
Their sons, Samual, 14, and Simoln, 11, suffered the effects.
Sometimes, their family didn't have enough to eat, and they never knew if they could afford the school supplies, books and uniforms required for the boys to attend school.
That's why Sheela took on the entire responsibility of providing for her family. And based on her skills and interests — and demand in the community — a food stand was the perfect option.
But she had no start-up funds. So she reached out to a money lender. They gave her the funds she needed. But immediately, they demanded she pay them back — at an incredibly high interest rate.
"Most of my daily profit I had to pay back in interest," Sheela says. The loan officers were extremely demanding about collecting their interest, sometimes even coming here daily — to Sheela's roadside food stand — to collect their due. "It was a big burden for us," she says. "We would need to pay whenever they came."
Sheela reached out to VCT for help. Immediately, her youngest son was matched with a sponsor, making it possible for both boys to attend school. And around the same time, across the world, a generous Holt donor gave a life-changing Gift of Hope — the gift of a small business microgrant.
After assessing Sheela's needs, and how she desperately needed help to provide for her sons, VCT immediately chose Sheela to receive the Gift of Hope grant.
"Now we are very happy," she says. "No more stress and burden for us."
With these extra funds, Sheela paid off the remaining debt she owed to the money lenders — relieving the daily stress of paying them back, and making it possible for her to continue with her business!
But that wasn't all. Because of her Gift of Hope, VCT offered her a loan in order to purchase her daily raw ingredients. But a very different kind of loan. This one is zero-interest. This means Sheela can pay it back as she is able, and still make a profit from her business to support her family.
"I am saving that money I used to pay in interest," Sheela says. "With this money, we are paying for the children to go to school." Because her business is so successful, she even has dreams to expand it someday, or maybe even start her next business venture, a hotel.
Sheela's thriving business has uplifted her whole family. Every day, before they go to school, her sons help her buy fresh ingredients in the market and carry them back to the food stand. Every day, they get to see their mom's hard work and learn from her how to run a successful business.
Suresh, too, is proud of his wife and how she supports their family.
"This is her own business," Suresh says. "She is the boss for her business. I am very happy and proud!"
As Suresh speaks, a customer walks up, asking to buy Sheela's last remaining plate of food. Smiling, she turns around to serve him. It's obvious that she feels the same way — about her business and about herself — happy and proud.
Megan Herriott | Staff Writer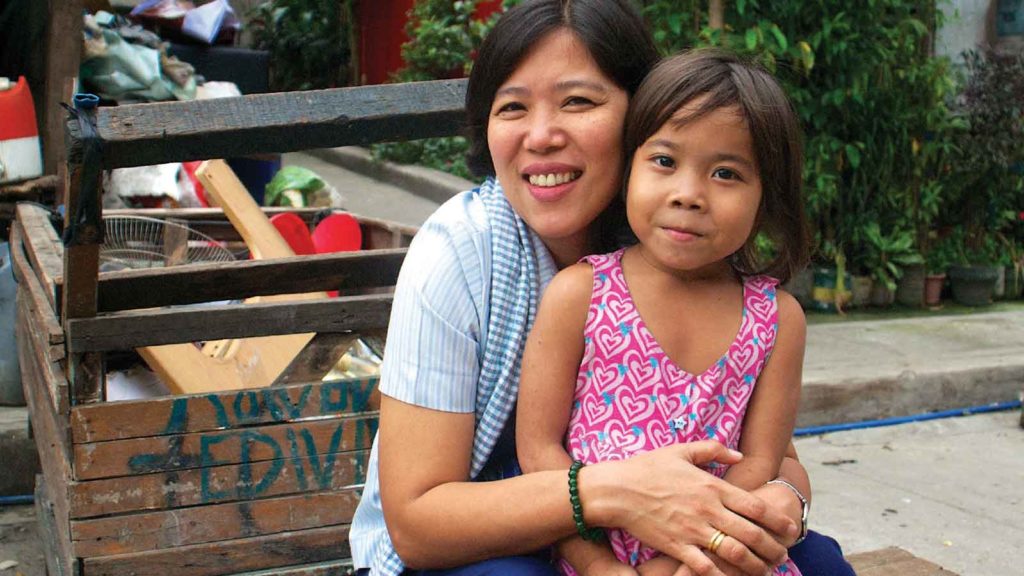 Empower a Single Mom
You can give a single mom the personalized help she needs to become independent and support her children. Whether you provide a safe home, nutrition training, baby items or education, empowering a mom will change her and her children's lives forever.