How the "Child-Specific Preparation" tool helped two families anticipate their child's needs, and ease their transition home.
A 2-year-old girl from Thailand, and a 13-year-old girl from China. Over a thousand miles and a 10-year age difference separated them. But in the last year, both of their lives would change forever in the very same way. Each would leave the life they had known and the country of their birth to join an adoptive family in the United States. And though their caregivers had prepared each girl as much as possible, when the day actually arrived for them to leave — reality sank in. And with it came confusion, fear and sadness.
How can adoption agencies ever really prepare adoptive families to help their child adjust to a completely new way of life? How can they anticipate what children with different needs and different backgrounds will experience? And how can these immense life changes be made less confusing and less traumatic for a child — especially a child who is too young to fully understand what's happening?
For families adopting through Holt International, part of the answer has come through a tool created by adoption expert Kay Donley Ziegler. Dubbed the "Child-Specific Preparation (CSP)" tool, it requires little more than putting pencil to paper. But what it reveals is extremely helpful for adoptive families — and ultimately, the child coming home to them.
The Floyd Family
After months of anticipation, finally — in June of 2018 — David and Joanna Floyd saw a photo of their daughter-to-be, Nam Fon, a 1-year-old girl from Thailand. Overjoyed, they accepted her referral, and quickly started on the next phase of Holt's pre-adoption trainings — a phase designed to help them prepare for their daughter's transition home.
"There's so much information when going through an adoption," Holt clinical social worker, Marissa Robello, says. "And it's helpful for the adoptive parents to pull out the information that will be most helpful for their particular child. The CSP tool helps us tailor our recommendations to each child's specific needs."
A few months before they traveled to Thailand, the Floyds began filling out the CSP tool based on information they already knew about their daughter's temperament, care in country, medical needs and potential areas of concern.
"It was emphasized to us how our daughter's strong attachment with her most recent foster mother would likely cause her to be quite anxious, especially around transitions," Joanna says. In the CSP chart, the Floyds listed strategies to ease their daughter's anxiety, and aid their attachment with her based on what they learned in earlier phases of Holt's parent training. "We really emphasize creative strategies to help build attachment in daily activities," Marissa says. "In the 'strengths and areas of progress' section of the tool, we also give some guidance on identifying your child's interests and competencies and using those as ways to connect."
The Floyd family learned that Nam Fon's foster mother would often sing prayers to Nam Fon, a tradition they both enjoyed, and a blessing for the Floyds as both Joanna and David are musicians. "We listed in the CSP tool that we planned for David to buy a guitar in Thailand, and play it for her when she was really struggling," they say.
After the couple wrote down how they planned to tackle each potential issue, they passed the chart to their social worker, who then filled in any missing information, gave advice and listed additional resources. "We look at each child's circumstances, and consider what resources he or she will most likely need and how we can be helpful," Marissa says. "We often recommend books and podcasts that other adoptive families have found helpful, and insert helpful links."
The Floyds traveled to bring their daughter home in May 2019. Through the CSP tool, they knew that laying low with Nam Fon in Thailand would be key to helping her adjust and keeping her from feeling overwhelmed. "So that's what we did," Joanna says. For two weeks, the family "hunkered down" in their hotel room. They sang songs, ate meatballs and grilled eggs, Nam Phon's favorite meal, and they hugged and cried. "We provided a lot of environmental comfort during that time," Joanna says.
Now home in Georgia, Nam Fon and her parents are still working to develop a strong attachment. But already, Nam Fon happily sways to the music her dad plays for her on his guitar, gives a cheerful "hello" to the picture of her foster mother on the family's refrigerator, and makes Play-Doh meatballs for Joanna and David. "The CSP tool really helped us find resources for all the senses," Joanna says. "It was a lifesaver."
The Lewis Family
Thirteen-year-old Mia recently built the courage to express some tough feelings to her adoptive parents. "I knew I had to say 'yes' to having a family, but it was hard," she told them.
A teenager, Mia had built a life in China. But she was old enough to know that as an "orphan" with a special medical need, her life would be difficult in China. She would likely face discrimination, and not have the same medical care or opportunities as she would have in a family in the U.S.
Mia would be Angie and David Lewis' sixth child, and second adoption. She had an established language, and long-term friends and caregivers in China. Due to these factors, the CSP tool would look a little different for the Lewis family than the Floyds.
The Lewises knew how important it would be for Mia to maintain her friendships in China, as well as her relationship with her foster mother, who she lived with for 10 years before joining her adoptive family. "We planned to get their phone numbers when we arrived in China," Angie says. "The CSP tool helped us brainstorm ways that we could help Mia keep these important connections."
The Lewises also researched ways to communicate with their new daughter, and set up a plan to homeschool her "just until her language [became] more developed," Angie says.
When the Lewises traveled to China to meet Mia in November 2018, there were a lot of tears. "We knew there would be, and through Google translation, we were able to tell Mia that is was ok to cry — that we expected her to be sad," Angie says. The Lewises were able to bring three of their five children, including Nicole, who was also adopted from China. "Having a few of our children there really helped Mia begin to connect with them in an environment that she was more comfortable in," Angie says. "It was great to see each one interact with Mia."
Today, Mia is adjusting to her new life with the Lewis family. "We are very intentional about making sure that Mia, and everyone in our family, is feeling loved," Angie says. "From the beginning, we have played card games as a family to keep the atmosphere relaxed and really connect as a family and laugh."
The Lewises have also made sure to be extra understanding about addressing some of the habits that Mia has established over the years. "We don't want to overwhelm her right now with a lot of redirection," Angie says. "So we have chosen to address certain issues one by one in the right time. Right now, we just want to support and encourage her. I tell her every day how strong and wonderful she is."
Months later, the Lewises still find the CSP tool to be an extremely helpful resource. "Just don't forget to take it out once your child arrives home," Angie suggests to adoptive families. "There is so much helpful information you can use!"
Support Every Step of the Way
Both the Lewises and Floyds agree that their social workers' efforts to "fill in the blanks" and provide continual encouragement and advice were just as vital to their success as the CSP tool itself. "The CSP tool really helps get all of your thoughts into one place," Joanna says. "And after your child comes home, you not only have it to refer back to, but you have the amazing support of your social worker as well, for all of the unexpected moments that come your way."
Ashli Keyser | Contributing Writer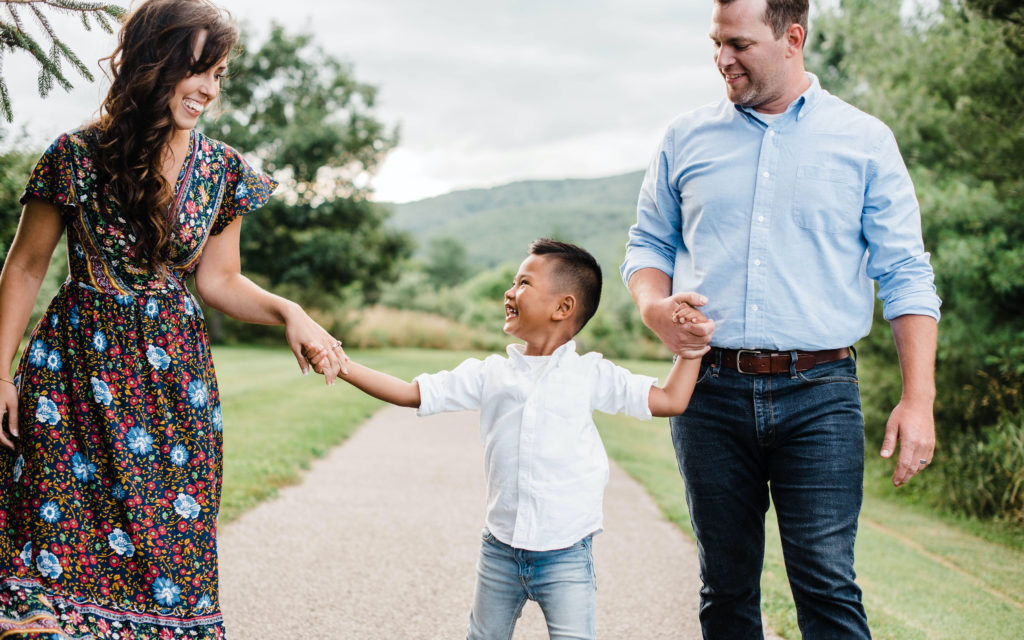 Learn More About International Adoption
We work with families in all 50 states to find loving homes for children from 11 locations around the world!