Since coming home to her family last year, Devki Horine — who has cerebral palsy — has amazed them with all she can do.
Don't tell me why you can't. Let's find a way you can.
Terry and Drew Horine say this is a mantra of sorts for their family. Since they brought their daughter, Devki — who has cerebral palsy — home from India last year, they have been amazed by all that she can do.
"When she first came home, getting up and down the stairs took her ten minutes, now it's ten seconds," Drew says — adding with, a chuckle, "She flies up and down them now – which scares me to death!"
Devki's cerebral palsy mostly affects her left side, and the muscle stiffness is felt especially in her ankles and feet — which, for an energetic 5-year-old, means falling down a lot. But her development has been amazing since she's come home.
"She has gone from literally 10 to 20 falls a day down to maybe half a dozen — just little trips now," Terry says.
"She's able to hold a pencil now, trace lines, use scissors, get in and out of her car seat by herself…," she says, in the long list of Devki's developmental achievements.
Devki fits so naturally in the Horine family. But a lot of thought, prayer and preparation went into the Horines' decision to be open to a child with cerebral palsy.
When Drew and Terry checked the box saying "yes" to adopting a child with cerebral palsy, it was this short pen stroke that eventually led them to their daughter. But determining whether or not to check this box wasn't easy.
"That's one of those things we had to wrestle with at first," says Drew, reflecting on the very beginning of their adoption process.
This is something almost all families have a difficult time with — determining which special needs to be open to. Today, all children waiting for families through international adoption have some sort of special need — special needs that are diverse, not always cognitive or physical, and vary in degree of severity. This difficult step comes very early in the process, when families review a long list of special needs and check the boxes of those they are comfortable with and open to.
"We had to really weigh and be honest with ourselves about what kind of needs we could actually take care of," Drew continues, "because it wouldn't be fair for a child who is severely disabled if we couldn't take care of them. We had long discussions and lots of prayer about what we were capable of doing and providing for."
For the Horines, one truth they had to accept was their inability to care for a child with mobility impairments. Their house is on the historic registrar of their town, and outfitting it with wheelchair ramps would require years' worth of paperwork and planning.
"We had to not feel bad about saying, 'no, we can't do that,'" says Terry.
But instead of focusing on what they can't do, they focused on what they can. And cerebral palsy, they realized, is one special need they could manage.
Once the Horines were matched with Devki, they dove into learning more about cerebral palsy. They learned that it's not a neurological condition, and that with a commitment to physical therapy, kids with cerebral palsy can grow strong and work through many obstacles.
In the orphanage, however, Devki grew accustomed to older kids taking care of her, and kindly doing things for her that she could have done herself. Since she's come home, Drew and Terry have lovingly encouraged her to be more independent — to empower her to do things herself, and realize her own ability and potential.
"At first [when she would fall down], you'd want to help her every time," Drew says. "But if we don't make a big deal out of it, she doesn't. Now she bounces off the floor all day long — she gets up and dances around."
Through physical therapy, Devki's coordination, balance and strength have gotten better and better. While her special need has caused the Horines to make small changes here and there, they say it's been minimal.
"There have been some little [ways in which] we've had to adapt to her — such as her not walking as fast — and we pick her up for long distances," Drew says. "But really, it hasn't been that much of a shift in our thinking… We certainly didn't have any trouble falling in love with her."
In addition to stiffness on her left side, Devki's cerebral palsy has affected her vision. Her left eye has impaired vision and an ophthalmologist recently prescribed her glasses. Devki was thrilled! Drew, Terry and their older son David all wear glasses, so for Devki, this is also a way she can physically look like — and feel more connected — to her family.
"Once we got home, it was just like any other child," Drew says. "You never know what medical needs a child is going to have." Devki's having to get glasses, and any other medical unknowns along the way, will be met with provision and flexibility, just like they've learned with their son David.
Fourteen-year-old David is very high functioning on the autism spectrum, and as a family, Terry and Drew have adapted to his needs over the years. For Devki, it will be no different.
"We [already] knew what it was like to do things a different way," Terry says. "To have the mindset of, 'okay, we're not going to do it the same way that every other kid does.'" This means encouraging Devki to push through her perceived limits to reach her dreams.
And her dreams are big ones!
"She changes career tracks every week!" Drew says. "This week a fireman, two weeks ago a pilot. She loves to dance and is extremely artistic. She loves to color and create things and sing."
No matter what Devki decides to do when she grows up, the one thing that's clear is that her cerebral palsy won't hold her back. She's learned that when she falls down, she's strong enough to get back up on her feet again — and to get up dancing.
Megan Herriott | Staff Writer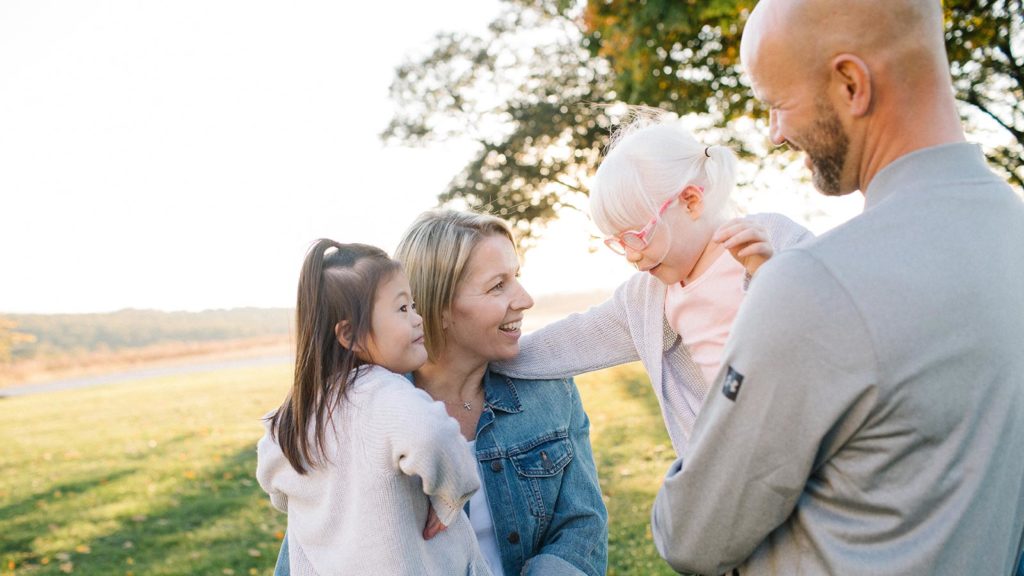 Children with special needs are waiting for families!
Meet some of the children waiting for loving adoptive families. Could you be the right family for one of these children?