If you're considering adopting a child with cleft lip and/or palate, you probably have questions: What is a cleft? Can clefts be repaired? What are the medical procedures? And what does a repaired cleft look like?
Many of the parents of the children below had the very same questions at the beginning of their adoption process. Now that their children have been home for a while, they are delighted to share what they've learned about the treatment process. While each child with a cleft lip and/or palate is different, and will require different procedures, the families of these five — Naomi, Joey, Willa, Micah and Hannah — want to share about their experiences!
Naomi
Naomi had a bilateral cleft lip and palate and had her lip/palate repairs done in China before we adopted her. These were both done through medical missions in the area where she lived. The repairs were amazing, as seen in the photos. Additionally, she has required no additional corrections to the initial procedures and no speech therapy since coming home five and a half years ago! We follow up yearly with our local craniofacial team. We have an inter-professional team who has helped us through a few more minor procedures. Since being home Naomi has had scar tissue removed from her upper lip, teeth extracted from the roof of her mouth and some dental work done. Our team was able to coordinate procedures and surgeons to have many of these done at one time. We have begun the process of working with an orthodontist and have some dental/ oral surgery procedures coming up in the next couple of years. While we researched clefts extensively before we adopted her we didn't truly know what to expect. The support of our medical teams and other families in the area with clefts have made the process easier than we expected. Naomi is healthy, active, and loving school. While we still have challenges ahead, we are so glad we were open to clefts in our initial application — it led us to our amazing daughter!
Kristen and Adam Cook
Joey
Joey has a corrected cleft lip and palate. He receives regular treatment from a team of doctors at Lancaster Cleft Palate Clinic in Lancaster, Pennsylvania. Every six months, he is evaluated by each member of the team, including a plastic surgeon, dentist, orthodontist, audiologist and speech therapist. Joey recently had his bone graft surgery and everything went amazingly well. We are gearing up for him to start his first round of orthodontics this month. Additionally, Joey receives speech and language therapy through his school, and his speech has steadily become more intelligible. He is talented in martial arts and sports. He loves numbers, math, science and building things, and is an amazing ball of energy. In a nutshell, Joey is joy.
Melissa and Frank Resek
Willa
Willa received her surgery in May 2016. We accepted her referral in March and Holt was able to immediately transfer her to their medical foster home, Peace House, in Beijing. We became a family on July 18, a couple of months later.
In the future, Willa will need a bone graft — requiring a surgeon to remove bone from her hip to fill in the cleft gum line that remains. That surgery will likely occur when her baby teeth are gone, at about 7-8 years old. As the bone structure of her face grows to maturity, she will also likely receive additional cosmetic surgery(ies) to aid in symmetry concerning her nose and lip. This will likely include a repair to her deviated septum, which will allow better air flow in her left (cleft) nostril, which is primarily closed at this point. The cosmetic surgeries will probably be in her late teens.
Katelyn and Chad Fuson
Micah
Micah has an alveolar cleft. In October, he had surgery to correct some malformations in his nose and lip. This helped his breathing in his left nostril and removed excess scar tissue from his lip.
Hannah
We came home as a forever family in July 2008. Hannah's cleft lip and palate were not repaired. I had contacted UCLA before we left to China to get our baby girl scheduled for a consultation appointment. Setting up the appointment ahead just saved on waiting. Hannah had her first surgery in September 2008. This surgery was to repair her lip and to do a minor nose revision. Hannah had an expander placed in her mouth January of 2015 to prep for the big surgery — her bone graft. That surgery was August 2015, and at the same time they did a nose revision. Her final revision surgery will be in several years when she is a teenager. She is in braces now. We have several years of orthodontic work ahead. All in all, her cleft lip and palate has been so easy to handle in the grand scheme of life.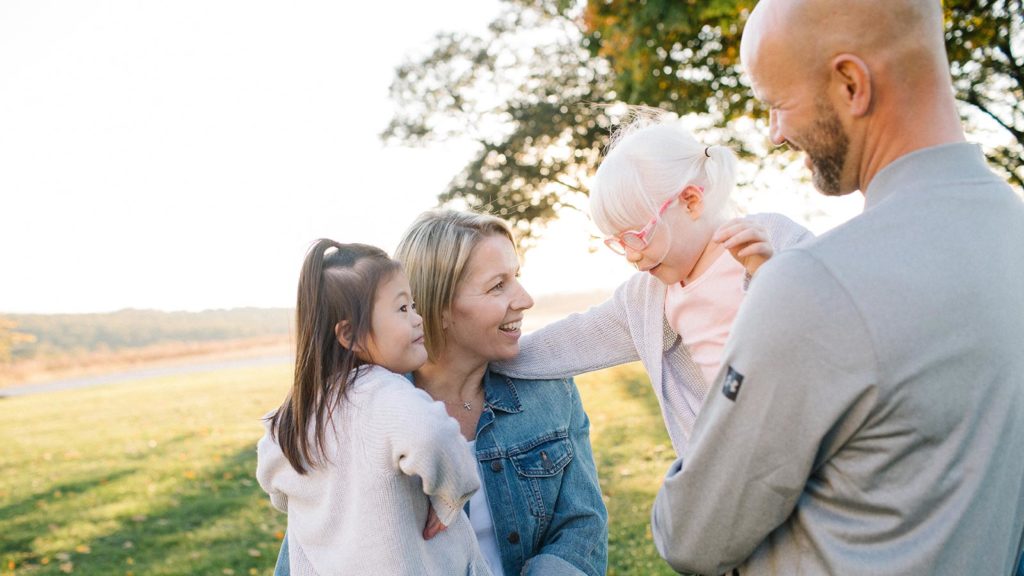 Children with special needs are waiting for families!
Meet some of the children waiting for loving adoptive families. Could you be the right family for one of these children?