On her son's 23rd birthday, adoptive mom Lu Adair writes a letter to her son's birth mom — sharing about the kind, sensitive and talented young man he has become. This post originally appeared in April 2016.
To the birth mother of my son,
Twenty-three years ago you brought a beautiful baby boy into the world. For reasons only you understand, you were unable to care for him. That's okay; I'm the last person who would judge you. Over the years, others have asked why you could not care for him. It's really none of their business. I think it shows how much they do not understand about life.
I want you to know that he is loved and has been raised to the best of the ability of my husband and I. We tell him that his beautiful skin color, hair and eyes are your gift to him. My mother is Latina, so I have similar coloring, although he is a bit darker. I remind him that many people pay a lot to have hair and skin color like his.
Our son is sincere, sensitive and creative. This draws others to him. We used to call him our "Ecuadorean ambassador." When he was four, we took him to a Christmas parade. One of the volunteer clowns asked if she could hold him. She looked at his sweet face and said, "He's a gift." She said this having only just met him and knowing nothing of our adoption story.
He notices details about others and feels what they feel. In first grade he was sad because a special needs boy earned an "eat with your friend" pass for lunch, but no one wanted to sit with the boy. Our son sat with him and considered him his friend. He likes to listen to the stories of older people's lives, and what growing up was like for them. The older people at church love this about him.
Our son loves music. When he was little, he'd use anything to tap out a rhythm that was always impressive. We enrolled him in drum lessons. More than one music instructor told me that they'd wish they'd had his talent when they were his age. He lost interest in drums and changed to guitar. He plays with the praise band at church. We've encouraged him to use his talent to help others worship. I'm in awe when I hear him play, because music is difficult for me to comprehend, yet it flows naturally for him.
The baby boy you gave birth to is very much loved. I hope you can feel joy on his birthday.
Our young man is starting to work in the culinary world. His fine motor skills, creativity and respectful nature seem to make him well suited for this. The academic world was difficult for him. He has anxiety under pressure, and learns at his own pace and interest. He's fascinated with people and history. He cares little about knowledge for the sake of knowledge. He is definitely a free spirit.
We've tried to teach both our children about the world by experiencing it. A goal of ours was to get them to all 50 states; we're up to 44. As you can imagine, Alaska and Hawaii will be last. We seek unique aspects of each place we visit. In Boston, we followed the Freedom Trail and watched the reenactments of the battles of Lexington and Concord. In Minnesota, at Lake Superior, we toured lighthouses and an ice-breaker ship. Some of our favorite memories are beach combing at low tide on the Oregon coast.
We found the most wonderful group of adoptive families in Oregon. This group gets together annually at a campground for a week. The families represent every imaginable adoption combination you could imagine. It feels like heaven on earth. No one questions why a child and parent don't look the same. Every family accepts that we are all children of God. I wish you could see the joy in our son's eyes, and in the eyes of all the families.
We can never thank you enough for the tremendous blessing you have given to us. We are eternally grateful to you, and to our God, who makes all things happen for good. The baby boy you gave birth to is very much loved. I hope you can feel joy on his birthday.
Lu Adair | Adoptive Mom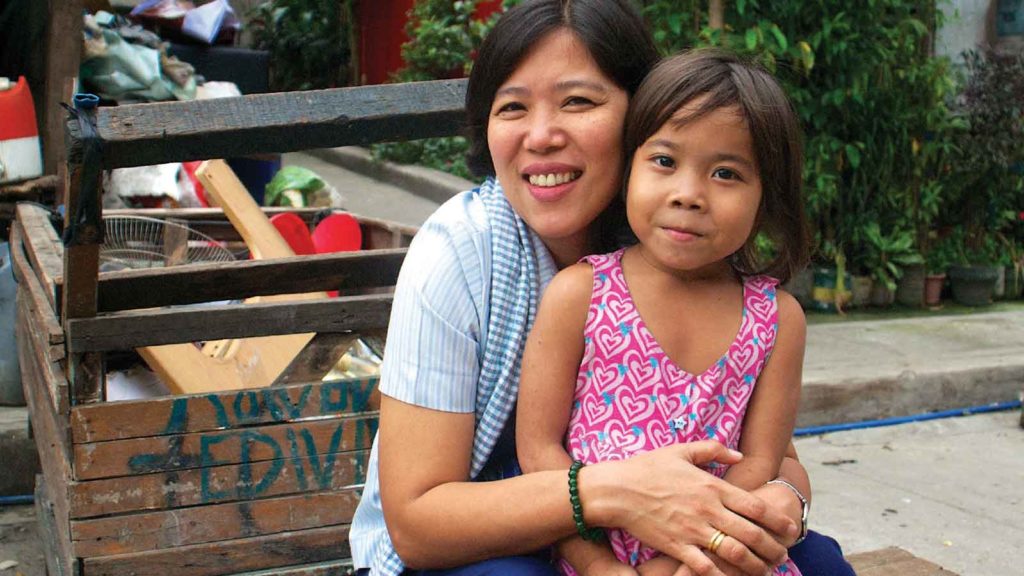 Empower a Single Mom
You can give a single mom the personalized help she needs to become independent and support her children. Whether you provide a safe home, nutrition training, baby items or education, empowering a mom will change her and her children's lives forever.