Although sponsorship is not typically a pathway to adoption, Holt sponsors Daniela and Scott Stewart defied the norm — applying to adopt, and turning out to be the right family for a 13-year-old girl in Thailand who they had sponsored from the time she was 2 months old.

by Robin Munro, Managing Editor
Every year for the past twelve years, Daniela Stewart has sent a little gift to her sponsored child in Thailand. Usually on her birthday. Usually something small. One year — several years ago, when Holt staff traveled frequently to escort children and could deliver larger packages to sponsored children — Daniela decided to pick out a doll. As she stood in the aisle of the store, looking at rows of dolls in every shape and style, she asked herself, "If she were my daughter, which one would I pick?" In a moment of clarity, she reached for a very soft and cuddly doll with brown hair, beautiful eyes and a big smile.
For Daniela, envisioning her sponsored child as her daughter was not too difficult a task. Over the years, she and her family had watched her grow from the 2-month-old baby pictured in their first sponsorship report, to a darling girl with a beaming smile. "We always felt a special connection to her," Daniela says. "Every update on her made for a joyous day." She became, in a sense, a part of their family.
But little did Daniela know as she stood in the aisle of the store that, one day, the little girl she sponsored in Thailand would become her daughter for real.
Fourteen years ago, Daniela and Scott Stewart traveled to Thailand to adopt their first son, a 10-month-old boy they named Timothy. Not long after, they returned to adopt their son Benjamin. While waiting to join an adoptive family, both boys stayed in a loving foster family in Thailand. In fact, they stayed in the same family! While in Thailand, Daniela and Scott met their sons' foster family, as well as their social workers. They visited Holt Sahathai Foundation (HSF), Holt's partner organization in Thailand, and learned about our programs to strengthen families at risk of separation.
"I visited the Holt Sahathai facility and saw all the wonderful things that were happening there in family preservation and social work," says Daniela. "I realized the funds must come from somewhere." After learning that Holt's sponsorship program provides the majority of funds for HSF's in-country services, the Stewarts decided to sponsor two children in Thailand — one, symbolically, for each of their boys.
"I saw there was a great need for sponsorship," says Daniela. "And while we can't adopt all the kids, we can be sponsors for some of them."
In the years since, the Stewart family has sponsored between 25 and 30 children, always two at a time in honor of their boys. Some of the children they sponsored lived with their birth families, but needed Daniela and Scott's support while their parents worked to get back on their feet. Sponsorship helped them stay together. Other children they sponsored while Holt worked to find them adoptive families. They received periodic progress reports with pictures and updates on their sponsored child's interests, strengths and challenges, and progress toward a stable, loving home. As their sponsored children found families or their families became stable, Holt would notify the Stewarts and send information about another child who needed their support.
After two years of sponsoring through Holt, Daniela and Scott received a packet introducing them to an infant girl who had recently come into HSF's care. She was their fifth sponsored child. She stood out.
"We of course loved all the kids we were sponsoring, but we really felt drawn to her little photo and the circumstances of her placement with Holt," says Daniela. "She was a beautiful baby with big
brown eyes. In one of her photos, she actually looked like one of my baby pictures." Through updates from Holt, the Stewarts watched her grow into a "gem of a child," as her social workers described her. In fact, the nickname her foster parents gave her — "Ploy" — literally means jewel, or gem.
"She is a cheerful, alert little one," wrote Ploy's social worker in March of 2001, when Ploy was 7 months old. Two years later, she described her as a "bright, talkative and expressive little girl." She liked to eat noodles, but not garlic. Her favorite color was pink. And she liked to play in water. As she matured, her social workers – and foster family and teachers – grew increasingly enamored of Ploy. They described her as thoughtful and kind, gentle with children, and helpful at home and school.
In December of 2007, her social worker wrote, "She teaches all concerned adults the meaning of love, courage and hope." And then, a year later: "Ploy is a delightful little girl that any parent dreams of."
The Stewarts always prayed for Ploy and hoped that she would one day have a permanent, loving family. Although her foster parents loved her as they would a child born to them, they were an older couple and could only care for her for so long. "They have devoted their lives to raising the Holt foster kids," Daniela says. "I believe Ploy was their fifteenth foster kid."
What Ploy needed was a family who could care for and support her forever. Not until Ploy was 11 years old, however, was she released for international adoption.
When the Stewarts read in her progress report that Holt was seeking a family for her, they were ecstatic. They discussed as a family what it would mean to adopt a teenage child and, after much soul searching, made the decision to apply to Holt to adopt Ploy.
"When I saw Holt was advocating for her in July of 2011, we were living in Germany at the time," Daniela explains. "For four months, we made phone calls and sent many e-mails around the globe to find out if we could adopt her and bring her to Germany. We found out that since the Hague Convention to which Thailand subscribes does not allow for third-country adoptions, we were not able to adopt Ploy through Holt while still living in Germany." The Stewarts even tried to adopt Ploy through a German adoption agency that works directly with the Thai government, but they weren't able to get any answers from Thai officials.
During the eleven years the Stewarts sponsored Ploy, she had come to feel like a member of their family. "We made the decision to do whatever we could to adopt her," says Daniela. "Ploy was one of our main reasons for returning to the U.S."
Although Ploy felt like family, the Stewarts understood that sponsorship is not typically a pathway to adoption, and they would not receive preferential treatment by Holt's waiting child committee when deciding which family is best suited for Ploy.
The committee looks at different factors when matching waiting children. They consider whether a family has the resources to provide for any medical needs the child may have. They consider the number of children they already have, and whether the waiting child would disrupt the established birth order. They explore the family's understanding of grief and loss, the need to identify cultural role models, and many other factors that help make it clear whether they are the right family for the child in question.
Despite an international move — and eleven years as her sponsors — the Stewarts still faced the possibility that they would not be able to adopt Ploy.
They prepared for that outcome. They prayed. And they began the application process for their third adoption.
Then, in March of 2012, eight months after their initial inquiry to adopt Ploy, they received a call from Holt. The waiting child committee had approved the Stewarts to adopt her.
Reflecting on why the committee decided the Stewarts were the right family for Ploy, Daniela identifies several reasons. "I think her age was perfect for us," she explains. "As the youngest child, she is still within the birth order, although I believe she would have done great with younger siblings. And since our boys were also from Thailand, it has been a great comfort to her to share her cultural background with her brothers."
Although Holt always considers the child's best interest first, the Stewarts also felt strongly that Ploy was the right child for them. "We knew on paper the child we were adopting," says Daniela. "We knew her character. And we knew as a family we'd be a great match for each other. We were also hoping that since she had known about us as her sponsors, she might be less afraid to be adopted by us."
It bolstered Scott and Daniela's confidence to know the social worker who wrote Ploy's progress reports — as she was also the social worker for their two boys! "I have to say, over the years, we were all thinking, how could this child be as amazing as she is described in these reports?" says Daniela. "If I hadn't met the social worker and known how accurately she had described our boys in the reports, I would have thought there were some things added to the story."
In June 2013, the Stewarts traveled to Thailand to bring home Ploy. Here, they would meet the child who they had watched grow into a lovely 13-year-old girl. Finally, they would get to see her in greater complexity than a piece of paper can ever convey.
Become a Child Sponsor
Connect with a child. Provide for their needs. Share your heart for $43 per month.
Meeting their daughter for the first time in Bangkok was every bit as emotional as when they had met their sons many years ago. And just as Daniela suspected, her social worker's description was spot on.
"She is every bit as wonderful as the reports says," Daniela says. "She's smart. She's sweet. She's incredibly generous, kind, empathetic…She is absolutely amazing, and we attribute it to the love that she had in her foster family. They loved her so much that she turned into a gem of a child."
Her foster family took extraordinary care of Ploy, says Daniela, and she thrived because of it. Separating from them was the hardest part of Ploy's transition to her new life in the U.S. Ploy grieved very heavily for her foster family the first month home with the Stewarts.
"She had a very difficult time parting with her foster family, which is what we wanted — for her to be attached to somebody," says Daniela. By living with a foster family from the time she was an infant,
Ploy has developed emotionally in a way that children in orphanages rarely do. She can form trusting bonds with others. And although she grieved harder in the beginning, Ploy's bond with her foster parents will ultimately make it easier for her to bond with others — including her adoptive parents and siblings.
It's not lost on Daniela that their sponsorship played a role, from the beginning, in Ploy's growth and development. "Without sponsorship, she would not have been able to go to a foster family," she says. "Sponsorship is what helps pay for all the programs Holt supports in Thailand." With their monthly donation, the Stewarts helped Ploy receive the loving care she needed to thrive.
"Without sponsorship," Daniela concludes, "I don't know if she would be as healthy of a child."
Ploy has now been home with the Stewarts for four months. Although she studied English at school in Thailand, she struggled to communicate for the first few weeks. Today, she can communicate on any topic — from what she did in school to what she plans to do with her career to what she used to do in Thailand with her friends, says Daniela. She also talks openly with Daniela about some of her foster siblings who left to join adoptive families, and how some came back to visit her foster family. The Stewarts plan to bring Ploy back to Thailand to visit as well.
Ploy loves her 7th grade class, and has an English as a Second Language teacher who comes to her small school in rural Vermont just to work with her. She takes her education very seriously, and wants to become a pediatrician. Daniela thinks she works too hard, and encourages her to take it easy and have more fun. But Ploy is determined.
"Science is her great love," says Daniela. "She is a planner. We're already talking now about where she wants to go to university."
Ploy also loves flowers, Barbies and Disney movies, and she loves to cook Thai food for her family. "She has brought so much joy and fun into our family," says Daniela. "Our life has turned into a pink wonderland of Barbies and art and music."
While grieving her foster family, Ploy has also started to bond with her adoptive family. She makes little presents for her parents — hearts that say, "I love Mommy and Daddy" — and writes letters to her brothers in Thai.
The Stewarts continue to sponsor children, and will display their photos and reports when they receive them. Ploy is very interested in the progress reports about the children they sponsor in Thailand — one a little boy who lives with his mother and brother, and the other a child who lives in a foster family. "She did at one point ask if we got reports on her that looked like the ones we got on them," says Daniela. "We showed her one, and she thought it was pretty cool that her photo was on there."
Earlier this year, in July, the Stewarts received a special letter in the mail from Holt's sponsorship program. On the outside of the envelope, it read "Something to celebrate… important news about your sponsored child." They had received letters like this before, and on many occasions they rejoiced that their sponsored child had found a stable, loving family.
This letter read, "Your sponsored child, Ploy, has been adopted into a permanent, loving family from the United States."
Yes, they thought. She has indeed.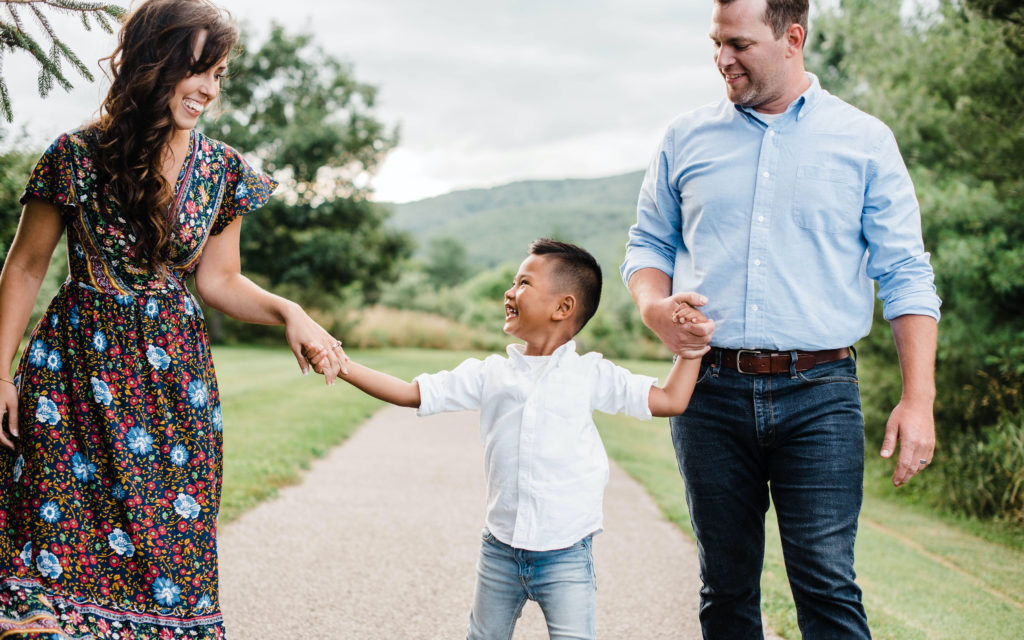 Learn More About International Adoption
We work with families in all 50 states to find loving homes for children from 11 locations around the world!