As the oldest child in a single-parent home, Mol Vey felt the need to help support his family. After losing his father at a young age, his mom struggled on one income. But he could only do so much, and often missed school to help his mom. Then sponsors and donors stepped in — providing the tools and resources his family needed to stay together, and grow stable and strong.
Mol Vey lives with his mother, Leng Sina, and younger brother in Prey Kuy village — a small village located in Cambodia's rural Prey Veng province.
His father died from diabetes when Mol Vey was just 4 years old, and his family already struggled to survive on minimal income. But when he passed away, their living conditions grew even worse.
Mol Vey's family lived in an old steel roof house with palm leaf walls and bamboo floors — all sitting on top of weak timber poles. They slept on one mat together, and they didn't have enough mosquito nets for the three of them.
When it rained, the water would seep inside their home. "My mother woke us up to move to a drier place when the rain water fell on us," says Mol Vey. "I was so sleepy, and I hardly moved."
Like many families in this impoverished rural community, Mol Vey's family often went without basic needs.
Mol Vey and his brother each had two or three sets of clothes and one school uniform. To get to school, they rode on an old bicycle that often broke. They cooked their meals under the house, but they lacked the pots, dishes and utensils they needed for cooking and eating. They never ate breakfast, and most of the time, their lunches and dinners consisted of rice and vegetables. Sometimes, Leng Sina didn't have enough for all three of them. Sometimes, they went without meals.
Because of the lack of consistent food and vital protein in their diet, the boys couldn't learn well at school.
During the day, Leng Sina tended to a small piece of land and grew rice. She also worked for other families in their rice fields and sold snacks at school to provide for her family. But even though she worked hard every day, the family couldn't live on her income alone.
At 12 years old, Mol Vey saw how hard his mother was working. He stopped going to school on a regular basis — just to help his mom and work around the home.
"My mother works so hard to raise us," Mol Vey says. "She was always sick because she didn't have enough to eat, and she couldn't rest. I felt bad for my mother, but what could I do?"
That's when Holt donors stepped up to help Mol Vey and his family.
With donor support, Holt launched a program in 2015 alongside the local organization Child and Life Association (CLA) to provide tools, resources and support for the most vulnerable families in Cambodia's Prey Veng province. This project focuses on the needs of impoverished families by increasing access to education, improving food security and income, and through trainings and activities, empowering parents to better support their children.
With a home visit and recommendation from the community, Holt and the CLA selected Leng Sina's family for the project.
They could now hope for a better future — one that would empower them to grow strong, stable and self-sufficient.
Together, Mol Vey's family began to participate in different support groups where they learned about the importance of education, hygiene and nutrition. Through a Gift of Hope, Leng Sina also received start-up resources to begin raising pigs — a gift that would significantly grow her income, and help her better provide for her two boys.
She started with $100 — just enough to purchase one pig and continue selling snacks at school. Once she received this support, she joined a self-help group that taught her how to start saving money.
Mol Vey and his brother began to go to school regularly. After Leng Sina realized the importance of education for her boys, she encouraged them to go every day. And instead of having them work around the house, she gave them enough time to finish their homework and study. Their sponsors also provided new school supplies and required uniforms — helping them succeed in the classroom.
"I'm so proud of my education after Holt sponsors changed our lives," Mol Vey explains joyfully. "I'm also happy that we're healthier, and we can continue to go to school to get a good job."
Although Leng Sina diligently cared for their pig, the pig didn't have a shelter — making the risk of disease higher for her and her children. She had money saved, but she couldn't afford the materials to build a shelter.
Thankfully, through the generosity of their sponsors, Mol Vey's family received enough money for the shelter. And over a year later, they received another Gift of Hope — another pig! Through the money she saved, Leng Sina purchased chickens, too. When she sold the chickens and piglets, this brought in more income than ever before.
Through donor support, Mol Vey's family also received the tools and resources to start growing their own vegetables to sell and eat. Instead of starting and ending the day with hungry stomachs, the family now eats nutritious meals together — full of meat, fresh vegetables and rice.
Then, through another Gift of Hope, Leng Sina received the materials and tools to make needed repairs on her roof and home! Now, they can sleep soundly — staying warm and dry even on rainy and windy nights. With the holes patched up in their roof and walls, mosquitos don't get in as easily — protecting them from disease. The boys have a safer place to grow up.
While Holt donors helped Leng Sina and her family in so many ways, they also empowered her — and her entire community — to help themselves.
Through the support groups Holt helped create in Prey Veng, families have developed strong connections. And today, the community encourages and helps one another to overcome poverty and improve the lives for their children. As her pigs have grown, Leng Sina has grown and saved her income — allowing her to grow her business. And gradually, she is working to become self-reliant, and to independently support her children.
But Leng Sina also knows she has friends on the other side of the world — friends who will do everything they can to help her seek a better life for children.
"Nothing else could've helped my family," she says, sharing her gratitude for the support her family has received. "I have confidence that my children will have better futures. We thank Holt and sponsors for changing our lives. We will never forget your kindness."
Mai Anh Boaz | Digital & Content Marketing Specialist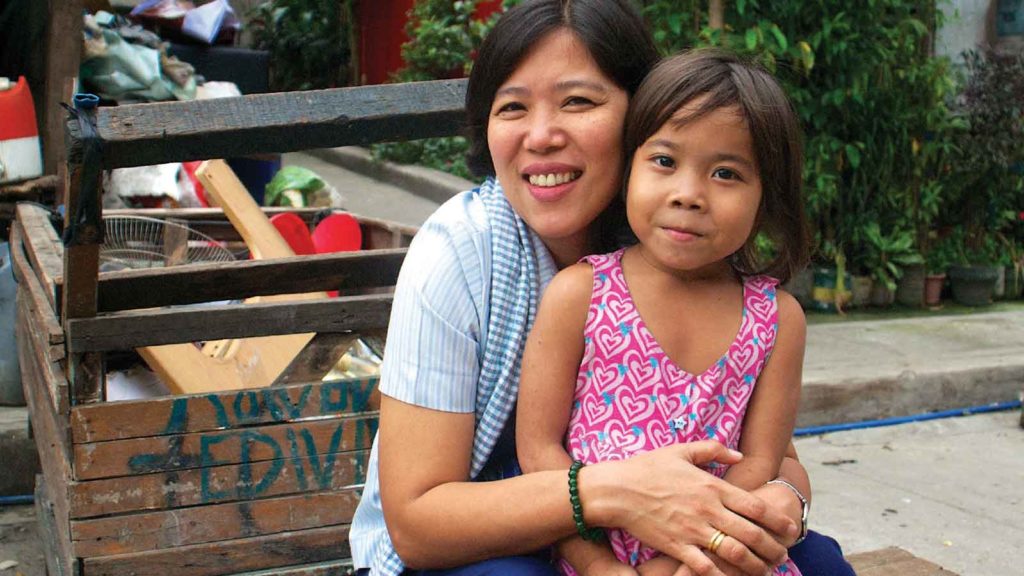 Empower a Single Mom
You can give a single mom the personalized help she needs to become independent and support her children. Whether you provide a safe home, nutrition training, baby items or education, empowering a mom will change her and her children's lives forever.