Through family reunification and sponsorship, children living in orphanages or in the slums of New Delhi receive the love, support and resources they need to thrive.
Paavai's parents died when she was 2 years old, and for the past 10 years she and her two brothers have lived with their elderly grandmother. Her grandmother has a tea stall, which is their only source of income, and she worries what will happen to her grandchildren when she passes away someday.
Eleven-year-old Vaishali lives in an orphanage. Her mother passed away and her father is incarcerated. Vaishali would live with her grandparents, but between her grandfather's leg injury that left him unable to work and her grandmother's meager salary, they don't make enough to support her.
Ever since Aadita's father passed away from tuberculosis, her mother has had to work two jobs — one at her tea stall and the other as a door-to-door housemaid — in order to support Aadita and her four other children. Aadita's mother cares deeply for her daughter and hopes she will not have to be a housemaid someday, too.
These three girls all live in New Delhi. And for one reason or another, they are vulnerable — vulnerable to growing up without a stable family, vulnerable to dropping out of school and vulnerable to extended poverty.
But for all three of them, there is hope.
Kinship Care
The Kinship Care and Relational Engagement program — "KARE" — began as a pilot program in 2016, working with 35 children in the slum communities of New Delhi. The program was started by one of Holt's partner agencies, Shishu Sangopan Griha (SSG), and has shown great success! Because of this, Holt is excited to partner with SSG to expand the program to serve 25 more children in the year ahead.
The KARE program focuses on children ages 5-15 who are living in an institution, living with extended family or living with just one parent in some of the most impoverished slums in the city. Because we believe that family is the best place for every child, the driving force of KARE is to unite and stabilize children with their families.
Traditionally, if a child in India became orphaned or separated from their family, it was customary for extended family to take care of the child — but due to economic hardship and changing views on family structure, this is no longer the case.
"In India, this concept stayed very strong for a long time, but [over time] this concept disappeared," says Himadri De, Holt's India country director and founder of SSG. "Now, children become the responsibility of parents only."
So now, if a child becomes orphaned or separated from their parents, instead of going to live with a grandparent, aunt and uncle, or older sibling, the child will go to an orphanage or even become homeless.
But in India, as everywhere, we seek to reverse this norm. Because an institution is not a home. And children, whenever possible, should live in the loving care of their family.
Finding Kin Families
"For the children of incarcerated parents living in institutions or children who were lost from their family, the focus is on finding their kin families," says Bhumika Tulalwar, Holt's India program manager.
It takes an intensive amount time and resources to track down a child's relatives. But once a child's family members are identified, Holt staff can pursue the possibility of the child going to live with their extended family.
The solution is not, however, as easy as taking a child from an orphanage and bringing them to their family. In fact, this is only the beginning of the challenge, the beginning of kinship care.
The extended families of the children we work with are living in the slum communities of New Delhi — places of intense poverty and lack of resources.
Slums in New Delhi
"On entering the [slum] area," says Himadri, "the scenery you will come across is dominated by mud and brick houses, narrow streets, trash, secondhand material-selling markets and a sewer line running through the slum. [The people] here suffer from the lack of safe drinking water and sanitation problems."
So if a child were to simply be brought to live here, their prospects wouldn't be much better. Even if the extended family wants to care for the child, they almost never have the means to do so.
"In these types of situations, the most neglected one is that child," Bhumika says. That means that when resources get especially tight, they would be the first child to drop out of school, start doing manual labor, or get married as a teen.
Hope Through Education, Family and Sponsorship
But, like many seemingly impossible situations, the solution lies in sponsorship.
Child sponsorship is the foundation of the KARE program. Once a child is united with their extended family, they're matched with a Holt sponsor who provides for all their basic needs — education, school supplies, nutrition and the care of a social worker who personally knows the child and advocates for their success.
Out of a hopeless situation, comes opportunity and hope.
Children living with their extended family aren't the only ones who benefit from KARE. Single-parent families living in the same impoverished slum communities of New Delhi face the same challenges: lack of income, resources — and because parents often have to work several jobs — lack of quality time with their children. What this often leads to is children fending for themselves, and getting wrapped up in dangerous activities in the slums.
"When this happens, it's very easy [for them] to find bad company," says Bhumika.
But KARE provides the opportunity for these children to spend their time learning in school and building relationships with their kin family or other nurturing adults who can support them to make good, healthy choices.
Because KARE works primarily with older children in elementary through high school, the focus is not only on their education, but also on job skills training — so that someday they have the ability to earn an income, be self-reliant and move out of the slums.
Investing in Education
"We invest in their education or skill development," says Bhumika. "The goal is to see that the child develops and thrives over time."
This can look different for every child and family. But for girls like Paavai, Vaishali and Aadita, the end results will look similar — they'll live in the most stable situation possible, continue their education, and receive the support to pursue their dreams.
With educational support, Paavai won't have to give up her education. And because her grandmother received a microloan to expand her tea stall, they have the income necessary to meet all of their own needs.
Vaishali's grandparents will receive support and a microloan to increase their income, making it possible for Veronica to live with them someday. And until then, Vaishali will attend school and learn the skills she needs to thrive independently.
Because of KARE, Aadita now has the opportunity and resources she needs to complete her education. And as she grows up, she'll have the support and skills to become whatever she wants to be.
*All names changed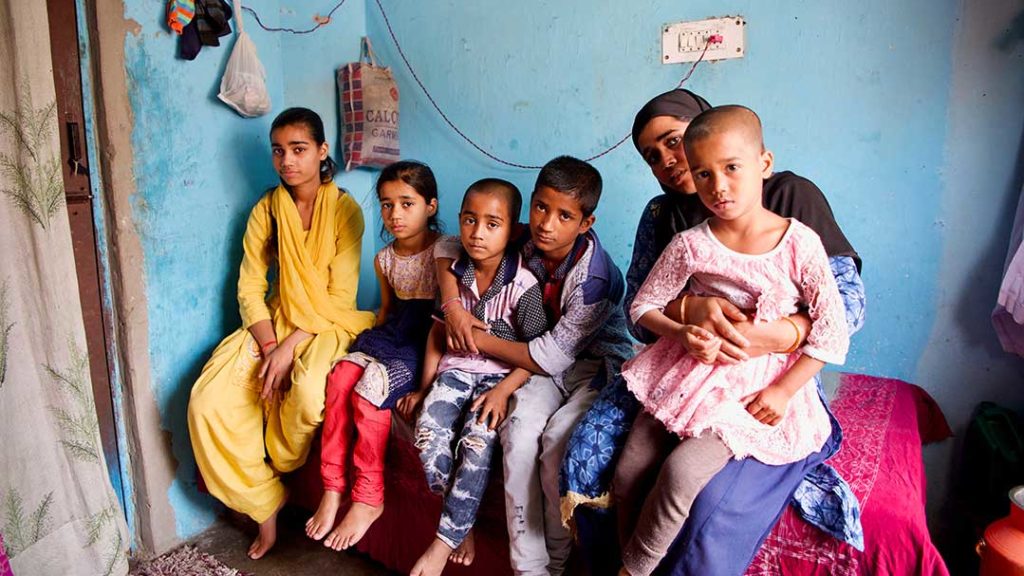 Help Children & Families in India
The pandemic was especially devastating in India, and children are suffering for it. Families struggle to find reliable work and provide food for their children. After schools closed due to COVID, many children never returned. Your gift will help a child or family in India in greatest need.