As a family experienced in caring for children with all kinds and degrees of special needs, Jacqui and Rodney Moore felt confident that they could care for an older boy with fairly involved spina bifida. But to them, his condition was beside the point. For National Adoption Month, Jacqui shares why her family would have adopted Nelson no matter his gender, age or special needs — becoming the answer to one very long-held prayer.
Ours has been a journey of breaking down our personal mental barriers and being blessed each time. Fifteen years ago, we were a couple with two executive positions and no children. But then we began to understand how many children in the world need loving families. Since that time, we have adopted four wonderful daughters from China with various disabilities including lupus and leukemia. One of our daughters is an amputee, another is deaf and one has Ushers syndrome — meaning she is deaf and going blind.
These disabilities do not, however, define our daughters. Instead, they are characterized by their beautiful hearts and their love for each other.
When adopting, we did adhere to one guideline – we felt we should adopt children of the same gender. It seemed to make sense that, since our family had grown with little girls, we would only consider adopting daughters into our household…
But then we heard about Nelson*.
Nelson was a sweet, shy 7-year-old boy with a penchant for helping others. He was born with a condition called spina bifida, which literally means "split spine." The birth defect can vary in severity depending on which part of the spine is split, and most commonly causes mobility and continence issues. Mobility is Nelson's primary difficulty.
We are a bit unique in that I met our son on an orphan relief trip so fell in love with him and his personality before really learning about spina bifida and his long-term needs. We wanted to adopt him no matter what he had.
At his foster care home in China, he had taken a little girl with cerebral palsy "under his wing" and would make sure that she was fed well, and that she was always warm and safe. The more that we found out about Nelson, the more that we were amazed by how much he wanted to give and help others. His biggest hope was to be part of a loving family. The first photo we have shared is one taken when he was praying for a family in his foster home.
On Thanksgiving of 2015, we brought Nelson home with us to California, where our family enjoyed the holiday season with our new son. The girls welcomed having a new brother with a sweet and sensitive spirit.
Nelson has difficulty walking due to a dislocated hip and congenital foot issues, but his bright mind and ready smile smooth the situation every time he falls – which is frequently. We have tried a variety of adaptive devices such as walkers and wheelchairs until we found one that he felt comfortable with… His favorite walking tool is a simple cane that he can fit anywhere. When we see his cane, we remember "Tiny Tim" of A Christmas Carol and think of how similar Nelson's' personality is (if only the setting were in Beijing).
The medical care he has received since coming home has truly changed the way that Nelson can get around. Both of his ankles are supported by braces that have an American Flag design that he chose himself. He also spent some time in our nearby children's hospital — receiving surgery on his spine that allows him to mature without additional harm to the nerves in his vertebrae. Although Nelson had to endure an intricate operation and extended recovery, he enjoyed the helpful nurses and (at times) asks when we can return to stay at the hospital again (maybe it was the many popsicles that he recalls?).
We are just whittling away at medical things to get Nelson to homeostasis. He will always have issues walking because of his hip and feet, but the orthotics and a cane and physical therapy will equip him to do the best he can. He runs and plays baseball and kickball with his friends and has fun… even though his gait is different. As a teenager he will likely need back surgery again for his scoliosis. We will also be keeping an eye on his spine along the way because the cord can re-tether and require surgery to release it. All that sounds like a lot, but it is manageable once you establish consistent medical care and follow-up.
Spina bifida was new to us, but so was deaf-blindness, prosthetic legs, lupus and everything else. Not to diminish the impact of spina bifida — because it's a big consideration for adoptive families — but we have seen such amazing transformations as a result of the love of a family and U.S. medical care, which is so much greater than our children would have received as orphans in China. We were just committed to doing whatever needed to be done and taking it one step at a time.
This is a special time of year for us as Nelson awaits another holiday season of joy and thanksgiving. He decided to learn to play the violin, and his eyes disappear like little moons as he smiles while filling the house with little melodies. This past month, we also brought home the little girl with cerebral palsy who he cared for in China. After their heartwarming reunion, Nelson exclaimed that he can't wait to show her Christmas!
Jacqui Moore | California
* The Moores chose to change the name of their son to protect his privacy.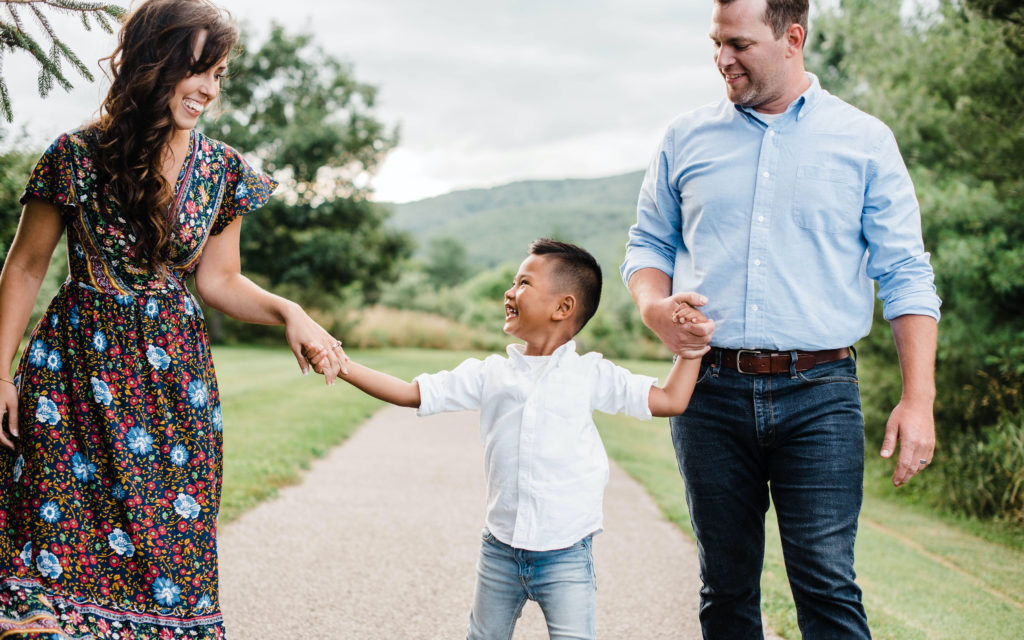 Learn More About International Adoption
We work with families in all 50 states to find loving homes for children from 11 locations around the world!