Any child who loses their parents suffers unimaginable grief and heartache. But for one population of children growing up in China, the reason they lost their parents adds a whole other level of loss, heartache and isolation — even within their own families. They are not just orphans. They are AIDS orphans.
It was as if time stood still.
Everything sat undisturbed — preserved in the moment their son left his childhood home for a new life in the city.
A couple of bikes stood leaning in the doorway, covered in dust. A calendar remained open to November 2016, the month their son moved to his group home. Becca noticed a hat with a flower hanging on the wall.
"I wondered if this was his grandmother's hat," says Becca, now mom to the boy who once lived in this cold concrete block home. Becca wondered if his grandmother wore this hat while working in the fields that surrounded their family compound.
Here and there, Becca also caught glimpses of the child her now teenage son once was. The child who left Spiderman stickers and hand-drawn pictures taped to the walls, rollerblades and tiny shoes by the door. The child who created an elaborate chalk drawing of a guitar on the window, and lines on the wall to prove he was growing taller.
The child who even now was so proud to show his adoptive parents how he had kept track of his growth — all by himself. Becca winced at the thought. "No mommy to keep track. No daddy to celebrate his growth. Just a kid keeping track."
Becca and her husband asked their son how he felt being there alone — after his parents had passed, after his grandma had passed.
"He said he always felt safe — because at night," she says, "he could hear birds singing."
____
This is not your typical adoption story. This is a story about a boy who suffered unimaginable loss and heartache. But this is not a story about a boy who grew up without a family. Quite the opposite in fact.
On the day this boy and his adoptive parents traveled to the countryside to see his childhood home, it was raining — and beautiful. They drove through farmland, past streams, up into the hills that overlooked the rural region of China where this boy spent the first five years of his life.
Though he spoke no English — and they no Mandarin — he was so excited to show his adoptive family where he grew up.
"He could hardly stop talking!" his mom recalls. "We had no idea what he was saying, but he was so happy — pointing and showing us things!"
En route, they stopped at his uncle's shop to get the key to his old house. His aunt and uncle and their children hopped in a car ahead of them, and they followed them to their son's old house.
The aunt and uncle posed for a photo with Becca and her husband inside their son's former home. Then they went to visit their son's great uncle, who lived only steps away from where their son had once lived — alone. He welcomed them, and offered them snacks.
The day before, they had met their son's grandparents on the other side of his family, who lived in a neighboring city. They had told their grandson to be a good boy, to study hard. They told Becca and her husband to take good care of him. He gave them their blessing to take their grandson home with them to the U.S.
"We couldn't understand…," Becca says now, reflecting on the surreal experience of meeting their son's birth family. "All this family, why wouldn't any of these family members care for him? Why was he alone since age 4?"
Why after his grandma passed did he have to go live in a group home with other orphaned children in the city? Why when he came back to visit his family on holidays, she wondered, did he sleep alone at night in a house with unfinished floors and no heat — when just steps away, his great uncle had a warm, finished home? Why was he given just 200 yuan to live on and enough rice and oil to feed himself, but was otherwise left on his own? Why at age 5, when he got lonely, was he allowed to take a bus by himself to visit his aunt in a neighboring village?
"Our son told us in the village, they would have large family dinners, but he was never allowed to eat with anyone," Becca says. "He always had to eat at his own table by himself."
Why, she wondered, looking at this boy — this beautiful boy, so excited to show her where he grew up yet so happy to be going home with them to the U.S. Why was this boy a pariah in his own family?
She knew. She already knew. She just couldn't understand it.
"You see," she says, "our son is HIV positive."
____
Mr. Li is a soft-spoken, gentle man with graying hair and a warm, easy smile. For the past 11 years, he has worked with children living with HIV in China.
"The children left behind, their situation is much worse," he explains, through a translator, on a sunny October morning in Oregon. This is his first visit to the U.S., and he has traveled here to see some of the kids he cared for at the HIV group home he oversees in China — kids who are now home with their adoptive families in the U.S. He has also come to the U.S. to raise funds for the kids still in China, the kids left behind.
"Their situation is much worse than other orphans because their parents died of HIV," says Mr. Li. "So their relatives and the villagers won't accept them. They won't step out and help and support these children — because they are afraid."
Throughout China, many people still hold misconceptions about the HIV virus and how it's transmitted. Some still believe they can contract it simply by coming into contact with a person who carries the virus. They don't know that it's blood-borne, and actually incredibly difficult to contract — especially when modern medicine has rendered it nearly undetectable in many carriers' blood. They just don't understand, and with lack of understanding comes fear — and prejudice.
"I ask people to think about the 1980s in the U.S.," explains Holt's vice president of China programs, Jian Chen, comparing the current HIV/AIDS crisis in China to a time in the U.S. when the disease was still not well understood, and a positive diagnosis came down like a death sentence.
But the HIV virus itself is nothing new to mainland China, first emerging in the early 1990s. And over the past decade, the Chinese government has launched public awareness and prevention campaigns across the country — significantly reducing the spread of the disease. Progress has lagged, however, in two critical areas — reducing mother-to-child transmission, and addressing misconceptions that perpetuate the stigma against people living with HIV.
Despite policies put in place to protect people living with HIV in China, lack of understanding about the disease continues to make life extremely difficult for this vulnerable population.
For children who lose their parents to HIV, children like Becca's son, this lack of understanding is particularly isolating. If their status is exposed, they can't enroll in school. They may not be allowed to play with other children, or attend village dinners. Like Becca's son, they may still have relatives who check in on them from time to time. But their relatives' fear of contracting the disease will keep them at a distance.
Isolating as it is, stigma is still not the biggest concern for children growing up with HIV in China. For these children, lack of understanding can endanger their lives.
"Many HIV patients don't realize they have HIV," explains Mr. Li. "And they may spend a lot of money and resources to do treatment because they don't know that they have HIV."
Although HIV has through the years become a very manageable condition — and many HIV-positive people lead long, full, healthy lives — if they don't know they have the virus and don't get the right treatment, they will die.
In China, when this happens, they often leave behind children who also carry the virus — with nothing left to support them. "Parents use up all the resources for the family, and without the financial support, it's very difficult for their children to survive," says Mr. Li.
Although the government covers the cost of antiretroviral drugs for people with HIV, most insurance does not cover their overall medical care — a considerable expense for children with HIV, who tend to get sick more often and are more vulnerable to illnesses like pneumonia. And if the children don't receive the proper treatment, they most certainly won't survive.
In some instances, well-meaning relatives may not realize the children in their care aren't receiving the right treatment.
"They can build a tolerance to the medication, but the relatives don't have enough knowledge and the [children] end up losing weight and then quickly lose their immune system and pass away," explains Mr. Li. "It makes me really nervous. It makes me want to provide services for all the children in the region."
Mr. Li began working with HIV patients in 2003, first as a consultant for a Doctors Without Borders treatment clinic in southwestern China. But as he immersed himself in helping people living with HIV, he began to feel more and more drawn to helping the most vulnerable group within this already incredibly vulnerable patient population.
"Starting in 2007, after I interacted with children and saw the needs of the children, I realized their situation is much worse than the average HIV patient," he says. After that, he shifted his focus and began working as the director of an HIV group home for children living with the disease.
Recognizing that local orphanages were either unwilling or ill equipped to meet the needs of HIV-positive children, the organization AIDS Care China first created the group homes to give these children the safe and nurturing care they deserved. The group homes receive no government funding, and in the past, they struggled to meet the needs of the children — in part because they can't successfully fundraise in China without violating the children's privacy.
"When companies in China try to help, they like to show the public what they've done," Mr. Li explains. "But because of the children we cannot make it public. We can't show the children's faces, or the location where they live."
But in 2013, Holt sponsors and donors began supporting several of the group homes — covering the cost of basic needs like medical care, and tuition for private school since the children are not permitted to attend public school.
"I feel very grateful for the support and help from the donors, the sponsors," Mr. Li says. "So we can focus on the children."
At his group home, Mr. Li and his staff of eight care for 37 children. Although not the same group home where Becca's son went to live after his grandma passed, the concept is the same. Here, the caregivers strive to give the children some semblance of a family life — to provide a warm and nurturing place where they are loved and accepted.
But like any child growing up without a family of their own, Mr. Li knows, these children deserve more.
"We provide services for the children. We do our best to help them," he says. "But that's not the best environment. The best environment is a loving home."
____
When Becca and her husband arrived in China to bring home their son, he had three things he wanted them to do.
"He wanted us to meet some of his friends, meet his family in the city, and go to see his home he grew up in," Becca says. "Of course, we were honored he wanted to share this with us, so we did!"
When they met his friends from the group home, Becca and her husband took them to lunch and celebrated their son's birthday with a cake specially made for him.
"I thought this day was going to be hard saying goodbye, but it really was beautiful!" Becca says. "We got to meet other children like our son as well as hear their stories, and then we said goodbye."
Like their son, these children had faced heartbreaking losses. Like their son, some of them still had relatives they visited during holidays. But also like their son, every one of these children wanted a family, and a home where they would be treated like any other child.
"They were happy for our son and I think they had hope that one day their day will come!" Becca says. "We pray, one day, their day will come."
In an adoptive family, these children will find the one-on-one, attentive care and unconditional love that every child deserves. But as Mr. Li explains, these children have another critical reason for wanting to go home to adoptive families in the U.S. They are not just orphans. They are AIDS orphans. Their situation is much worse, and will be much worse if they grow up in China.
"There is no social system to support and help these children," explains Mr. Li. "So when they graduate school, it's difficult for them to find a job."
They will face discrimination when applying for college, when seeking a job. Whenever their status is exposed, they will face stigma.
This is also, Mr. Li explains, why so many relatives are supportive of their children joining adoptive families in the U.S. "Relatives know that as the children grow up, they will face a lot of challenges in China if they cannot change their environment," he says.
On the day that Becca's son said goodbye to his grandparents, his aunt and his cousin in the city, she thought it would be hard for them to say goodbye.
"But it wasn't at all," she says. "He was happy to say goodbye and start his new life. His grandparents told him to be a good boy and to study hard. They told my husband and I to take good care of him and to go with their blessing."
And the following day, when they traveled to the countryside to meet the other side of their son's family, they watched as their son closed another chapter. All that time that he lived in that cold concrete house, first with his grandma and then by himself, all that he wanted was for his family to embrace him. To treat him the same. But they were too afraid.
"We tried so hard to understand," Becca says. "So hard not to judge. So many questions running through our minds."
To them, it was a hard day. But for their son, it was a happy day.
"The day he got to begin his new life. Have a new start," Becca says. "When we asked our son if we could share his story, he wanted to know why. We explained and he agreed that if it helps another child, then yes, we can share his story."
____
So far, 11 children from Mr. Li's group home have joined adoptive families through Holt, and 23 through all agencies. As each child has left, another child has come into care at the group home. Mr. Li loves his job, and he loves all of the children in his care. But he hopes that each of the children will go home to a permanent, loving family through adoption.
"I hope that more families will go through word-of-mouth to help other families open their homes to these children — to adopt them," he says.
Maybe someday in the future, children with HIV will find acceptance in their native China. But right now, he believes they have no future there.
"These children are the same as any other children," he says. "They are lovely and fun and all these things. But because of their HIV, they have been put in this different category and all their lives have been impacted. That's not fair."
But what Mr. Li hopes for all the children at the HIV group home, one boy now has — in abundance.
Home three months now, Becca's son is excelling in school and enjoys singing in the choir. "He loves soaking in the daily adventures of life in America with his family," says Becca, who describes her son as curious, smart, happy, kind, gentle and energetic.
While still in China completing their adoption, Becca wrote an update to our China team. "Today," she wrote, "he stood on his bed, threw his hands in the air, jumped and announced, "I AM HAPPY!"
Signing off, she wrote, "We are so in love."
Becca | Adoptive Mom
*Becca requested that we not share her son's name or photos to protect his privacy.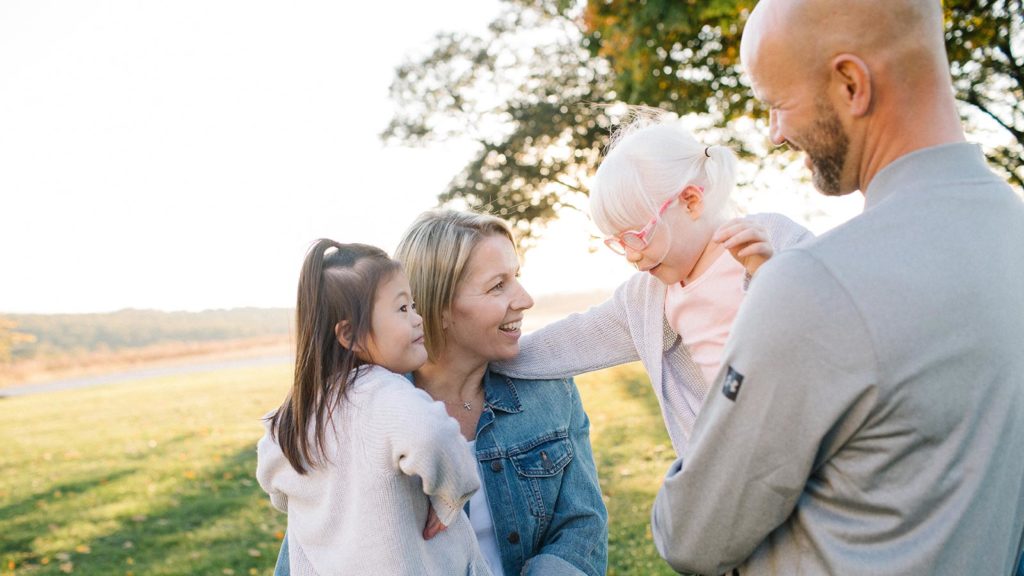 Children with special needs are waiting for families!
Meet some of the children waiting for loving adoptive families. Could you be the right family for one of these children?