As Holt reestablishes an international adoption program in Hong Kong, adoptee Amy Banta and her mom, Julie, reflect on their lifelong journey together — and the orphanage in Hong Kong where they first met nearly 26 years ago.
A Beautiful Mess
My knee-jerk reaction to inquiries regarding my life is to respond with how simple and relatively ordinary it is. Yet in looking back on my 29 years, I am reminded of how my odds-defying early life ultimately shaped who I am today. I was 4 years old when my mom and Grandma "Lo" came to Mother's Choice in Hong Kong to bring me home to America. While the actual adoption required no work on my end, I am humbled and deeply thankful for every person who fought on my behalf.
I grew up in Colleyville, Texas, as one of seven children and I highly recommend the large family life. Organized chaos becomes a reality when your mom is a teacher. I truly cannot imagine life without my sisters or brothers and their individual impact on me.
My three adopted siblings and I have our own different abilities. My little sister has spina bifida, my brother is hard of hearing, and my other brother has experienced mental health challenges. I contracted polio at the age of one and have been using a manual wheelchair since living in America.
While I would like to say I was an easy and gentle-spirited child, I doubt anyone who knew me then would agree. I hated being told "no" and would resist any constraint that threatened my limited understanding of freedom. My obstinate ways knew no bounds, but thankfully, I met my match in my mom. Through a series of multiple battles between the two of us, I quickly grew into full independence.
My parents are a dynamic duo and it's purely by the grace of God they are still together and in love after raising seven stubborn and rambunctious kids.
"Adoption isn't easy, but it is a beautiful mess and more than worth it."
After graduating from Texas A&M University in College Station, I made my way through a couple different fields before Jesus opened a door for me to work at Homecare Homebase, a software company where I now serve as a senior account manager. Our business provides an end-to-end EMR (electronic medical record) solution for home health and hospice agencies across the nation.
While at university, I never imagined working in the corporate world; however, what was once a hesitant "yes" to Jesus has become a daily opportunity to serve in a place I've grown to love. Most importantly, I work under an incredible leadership team that genuinely cares about its employees and customers.
My passion has always been for people and for as long as I can remember, I have been drawn to different cultures and nations. It most likely began with my first overseas adventure from Hong Kong to America and was indirectly encouraged by my family members' various global travels. There is something refreshing about encountering a new perspective and having your perception of the world further disrupted. Likewise, I feel that is exactly what happens with adoption.
As an adoptee, I can say firsthand that adoption is challenging. As the sister of other adoptees, I have had a front-row seat to the messiness of welcoming in the orphaned and declaring them family. As the daughter of parents who adopted multiple times, I can say my understanding of unconditional love today is in large part because of their pursuit and straight-up determination. I adore my loud, boldly opinionated, multi-colored family and how we choose to love one another anyway. Adoption isn't easy, but it is a beautiful mess and more than worth it.
I live an incredibly rich life of deep relationships and friendships. Growing up as a "Banta" is a privilege that came through the sacrifices of my parents and many others. Jesus is always doing a new thing in every sphere and area of the world, and He loves to partner with His people to bring forth complete healing and transformation.
Mother's Choice has acted as a launching pad for countless Cantonese children who have been adopted through Holt International. And in a small corner of Hong Kong, hope is rising for the orphaned who have been chosen for such a time as this.
Amy Banta | Adoptee
Immeasurably Blessed
This past week, my husband and I entered another season of our lives with a move into a house built for empty-nesters. The endless unpacking is taking me on a nostalgic trip back 26 years — and seven children — ago.
At that time, in 1992, we had three birth children and one son adopted internationally through Holt's Brazil program. Our family was just settling into a new home and life in Texas when Holt International Families magazine arrived in our mailbox.
Amy (Yan Yan) was pictured along with a brief bio in the "Waiting Children" section of the magazine. Her small black-and-white photo jumped out from the page and I instantly knew she was ours.
Although I probably won't find the magazine among all of our unpacked boxes, I will never forget the magazine's portrayal of Amy. It alluded to a determined, stubborn and totally self-possessed 4-year-old, as told through stories from the director of Mother's Choice — the orphanage in Hong Kong where Amy lived.
That personality was proven out countless times during her life, which was challenged by polio and scoliosis. Perhaps it was the polio that gave her that indomitable spirit to persevere and rise above the disability. That, and the love and encouragement she received from the staff of Mother's Choice!
We traveled with Amy back to Hong Kong and Mother's Choice three years ago and were fortunate to meet two staff members who were there when Amy was a toddler. The emotional reunion was another reminder of the care the children receive at Mother's Choice.
Amy has experienced all her successes and achievements from a wheelchair. The chair has taken her through college, into a career and to many places around the world, including most recently, Iraq. She lives a life undaunted by any obstacle in her path. She even has a van called "Jonah" that she drives around Dallas and Texas.
Inside our new garage, overshadowed by a mountain of moving boxes, stand a tiny pair of leg braces ending in shoes. Twenty-five years ago, Amy brought these leg braces home with her from Hong Kong. They now stand looking at me with an unforgiving and restrictive attitude of boundaries. For years, physical therapists encouraged and helped her to walk in braces with a walker — until finally, a very young Amy told us she was ready to be set free from them, beginning her road of determination and advocacy.
Her father and I have been immeasurably blessed and humbled to have traveled alongside her on this amazing journey.
Julie Banta | Adoptive Mom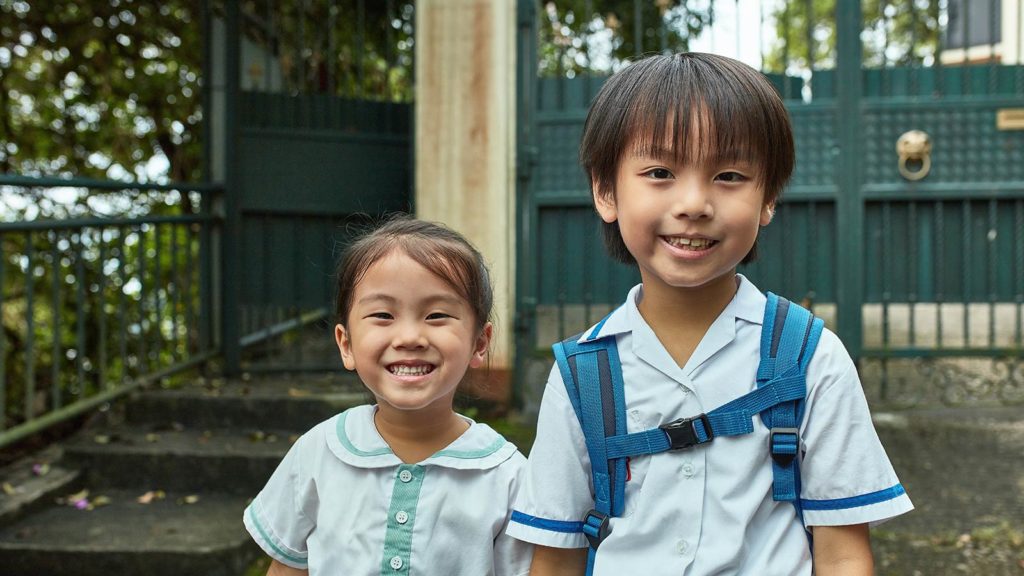 Adopt From Hong Kong
Many children in Hong Kong are waiting for a loving, permanent family.