The moms in our programs are some of the strongest, hardest-working, most loving and committed women we know. This Mother's Day, let's honor moms around the world and the amazing way they fight to give their children a better future.
Here are just some of the amazing moms we want to honor this month!
Widline in Haiti
"I didn't know how I would provide for my son's needs. But whatever job I could find to help my son survive, I would do it… Now, I'm a boss!"
In Haiti, jobs that pay the best tend to be considered "men's jobs." But that doesn't stop women like Widline!
Widline grew up in an unstable family, and became a single mom at a young age. She had no way of supporting herself and her young son, Bernardo. They were both hungry and malnourished. But then she joined Holt's single mother's empowerment program. Through the generous support of Holt donors, she enrolled in a training program that would provide a stable income for her children. Although unorthodox for many women in Haiti, she chose plumbing!
Ping in Thailand
"For the twins, my dream is I will try to take care of them by myself so that they are together all the time… I want them to know that I am here for them."
When Ping had her twin boys, Krit and Kavi, she knew the kind of life she wanted for them. A life that was full of love and emotional support and connection as a family. So when they were born, she gave up her high-paying job in the city in order to be with them in her rural hometown in Thailand. While this made life more difficult in some ways, she quickly found people who cared and wanted to help. Through the support of Holt donors, she received infant formula and other nutritional support to help the boys grow strong and healthy. Today, Krit and Kavi are thriving, energetic, smiley and sweet little boys. Ping's life looks different now, but she wouldn't trade it for anything.
Selamnesh in Ethiopia
"Previously, I was so hopeless. Now I am reviving and rising again. But because of their support, because of their training, because of their counseling, I became a person again."
After her husband died, Selamnesh didn't know how she would support her children. But then she received a Gift of Hope of a microgrant and training to start a small business. She worked incredibly hard to make her small business a success, and to provide for her children.
Chiya in India
Chiya lives with her daughters, Yashika and Dipika, in a slum neighborhood in Delhi. Since her husband passed away, Chiya now works tirelessly to provide for her daughters and create a better future for them. She is grateful for the help she receives from her daughter's sponsors, whose monthly gifts help her put food on the table and send her girls to school. Chiya is as sweet and kind as her two young daughters. The love and devotion she feels for them is evident on her face as she gets ready to leave for work.
Monica in Colombia
"For me to give me daughter a better future has been the greatest … I have learned to value life and to enjoy it. To keep moving forward for me and for my daughter. Especially, for my daughter."
Monica's father made her drop out of school when she was just 13. She got married and had her daughter, Yalena, when she was a teenager. When her marriage fell apart, Monica found herself working at a sugarcane plantation, just to get by. This job was difficult, and she worried about the pesticides they sprayed at the plantation and how they could affect her and Yalena's health. Monica wanted the very best for Yalena.
Today, Monica is achieving her goals, and pursuing the very best for her family. In fact, our partner organization in Colombia says that Monica is the "best example" of what moms can achieve through their program.
With the support of sponsors and donors, Monica learned how to sew and crochet, attended entrepreneurship classes and developed a business plan. She received a sewing machine to help her start her business, and now earns significantly more money working as a part-time tailor. She no longer works in the plantation, and found a job cleaning houses while she grows her client base. Ultimately, she hopes to create her own business and work out of her home so that she can spend more time with her daughter.
Enkhtuya in Mongolia
Life can be tough in Mongolia. But moms there are tough, too. Moms like Enkhtuya. Enkhtuya's husband passed away earlier this year, leaving her to provide for her children on her own. She did whatever she could to take care of them, even if it meant working to collect recyclables outside in the freezing temperatures. This past winter, Enkhtuya and her children received a brand new ger — a traditional Mongolian home — from Holt donors. This will help keep them warm for many winters to come!
Johanna in Colombia
"I want to say thanks to all of the people who help support [me]. This helps people like me so much that don't have the means to give our children a good education and to feed them well. Thank you with all my heart. May God help you to keep sharing yourselves in this beautiful work and I hope you continue to help people like us, kids that need it very much, and thank you so much for offering us this wonderful support."
Johanna grew up in a dangerous rural region of Colombia, but she knew she wanted something different for her sons. When her youngest, Alejandro, grew ill with bronchitis, she thought she might have to move her young family back home. Without family nearby in the peaceful community where she had relocated, she had no one to care for her older son while she nursed Alejandro back to health. In the hospital with Alejandro for months, she had no choice but to send her older son to live with her grandmother, and she cried every day that they were apart. But as soon as Johanna received the support she needed to bring her older son back home to live with her, she did. With the help of sponsors and donors, Johanna and both of her sons are now thriving — safe and together.
Anita in India
"Now I have gained lots of confidence."
Anita exudes confidence. She speaks loudly and confidently, excited to share this story. "I wasn't always this way," she says. "I used to walk around like this." She pulls her scarf up over her head and slouches down. But when she moved from her rural village to the city, and began working with Holt's partner organization in Pune, India, she began to come out of her shell. She learned that she has a voice, and one that's worth hearing! A single mom, she now provides for her family independently by cooking for four different families. She takes great pride in her authentic Indian dishes! Here in this photo, she shows the healthy cookbook she was given to help support her family's own nutrition.
Photos by Brian Campbell | Stories by Megan Herriott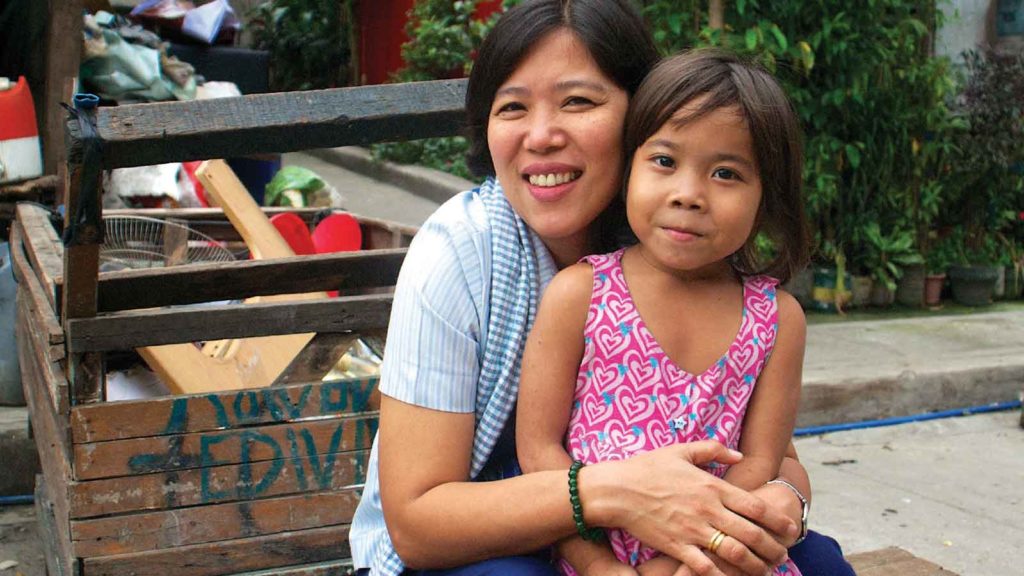 Empower a Single Mom
You can give a single mom the personalized help she needs to become independent and support her children. Whether you provide a safe home, nutrition training, baby items or education, empowering a mom will change her and her children's lives forever.