While domestic violence has become a growing issue in Ulaanbaatar, Mongolia, only one shelter remains open for the dozens of women and children who seek refuge here every year. Earlier this year, with a loss in government funding, the shelter nearly closed it doors.
Och* leans into her mom – making herself as physically close to her as possible.
Och is 4 years old, with shiny black, braided hair, a red striped dress and knee-high boots. She is shy of strangers, and whispers into her mom's ear as she eats the sugar cube that came with her mom's tea. Her mom, Bayarmaa*, is 29 and has the same dark shiny hair as her youngest daughter. It's late morning on a Tuesday in May, and Och's older sister — a third grader — is currently away at school.
But neither of Bayarmaa's daughters like being away from their mom for long. And they never, ever want to be left alone.
Bayarmaa sits with her hands tucked between her knees, and her shoulders curved protectively inward.
"How are you feeling now?" we ask her.
Tears start forming in the corners of her eyes.
"The most important mission in my life," she says, "is to raise my children safe, and to give them all the education they can get. I will support them in every way."
For eight years, Bayarmaa lived in terror of her husband. Irrationally jealous, he would find any excuse to beat her. Although she didn't want to raise her two young daughters in this environment, she felt trapped. She could not read. She could not write. She had no job skills or relatives nearby who could take her and her daughters in.
But most of all, Bayarmaa feared that if she left her husband, she wouldn't be able to care for her daughters on her own.
Courageously, she sought the counsel of a local church, who told her about a domestic violence shelter not too far, but still a good distance from her home in the ger district of Ulaanbaatar. Here, in this safe and secret place — a place sustained with the generous support of Holt sponsors and donors — she could stay with her two little girls until she found a more permanent home.
With a plan in place, Bayarmaa steeled her resolve, and made the brave decision to leave.
Keeping Families Safe and Whole
The shelter where Bayarmaa stays with her two daughters is a small, nondescript building in the center of the city. A social worker stays overnight with the women and children, and the police department is closely connected with the shelter — ready to respond if alerted to a disturbance.
Although members of Bayarmaa's church helped her find the shelter, only a trusted few know where it is. It has no address.
While drab and institutional on the outside, Undrakh's shelter is bright, airy and warm on the inside. It has a library and playroom for the children, and a kitchen where families can make their own food if they like. Although quiet on a Tuesday morning, the shelter can care for up to 20 people at a time — and is always at capacity.
Currently, this is the only domestic violence shelter in Ulaanbaatar, providing safe housing for women and children — some who have come with their moms, and some who arrive on their own.
When children come to the shelter alone, they are at particularly high risk, Undrakh says. Often, they are young girls who have experienced sexual abuse from a father or family member.
In some cases, children will come forward to report the abuse, but as is characteristic of Mongolia's strong communal culture, neighbors and schoolteachers also watch for signs of abuse — and work together to protect children.
"The latest incident happened to a 6-year-old girl who came to us," Undrakh shares. "The father was a sexual abuser. He made his daughter understand that it is like loving. When going to school, she asked her friend about this — 'Do some of your body parts hurt when your father is loving you?' she asked. The friend asked this question to her mother, who got suspicious and told this to the schoolteacher and social worker."
The National Center Against Violence, which runs the shelter, is a highly professional team — with a psychologist, doctor, and until recently, a lawyer on staff to provide counsel and care for the women and children who seek refuge.
In cases of child abuse, the staff will work with the police to determine the safest long-term solution.
"We try to engage family members who understand the danger that the child was in from their immediate birth family," explains Paul Kim, Holt's director of programs in Mongolia. "In some cases, the child may be placed in an aunt's or an uncle's home."
In other cases, the safest solution for the child is to stay at one of the care centers that Holt donors and sponsors support in Ulaanbaatar.
But first, they stay for three months at the shelter — the longest of any shelter in Mongolia.
The National Center Against Violence (NCAV) runs two shelters in the countryside, where women and children can only stay a few days, whereas here, in Ulaanbaatar, they can stay for up to three months — enough time to find a job and permanent housing, to go through the legal process of securing custody of their children, and in some cases, to heal their wounds. "During the three-month period, we give many services," Undrakh says. "Many victims have injuries like broken arms and legs, wounds from abuse. Children arrive with colds, pneumonia, and many are malnourished. The court and legal process is also long, and it can take a month or more to resolve the case."
"During the three-month period, we give many services. Many victims have injuries like broken arms and legs, wounds from abuse. Children arrive with colds, pneumonia, and many are malnourished. The court and legal process is also long, and it can take a month or more to resolve the case."

Undrakh Zorigt, shelter director
Among the challenges women face when trying to escape an abusive spouse, housing is, Undrakh says, "the most crucial and delicate issue."
"About 70-80 percent of abuse victims are from poor families and their education is very low," she explains. "Many don't have a place to live even if they return because their home is in the name of their husband."
Bayarmaa, like most of the women at the shelter, is from the Songino Khairkhan district — the most impoverished district in Ulaanbaatar, home to roughly 317,000 people who live without electricity or running water in traditional, tent-like homes called "gers." The mothers at the shelter have at least three children, and few have jobs — or the skills or education to secure them. Many of the women suffer from depression.
"Because of these factors," says Undrakh, "we approached Holt and asked if they could help."
Seven years ago, the generous support of sponsors and donors made it possible for Holt's Mongolia staff to start a family strengthening and preservation program for families in the Songino Khairkhan district — meeting critical needs of families at risk of separation.
Our objective in these communities was much the same as everywhere else we work — to help struggling families stay together. But over time, a trend began to emerge.
"We don't focus specifically just on single mothers," explains Paul, "but the truth of the matter is that a lot of the families that are in most distress are woman-headed households."
Recognizing the incredible dedication our donors and sponsors have for the families in the ger communities — as well as our staff's deep understanding of the issues facing women and children — last year, the NCAV sought to partner with Holt Mongolia to strengthen outreach, and help provide services for women and children at the domestic violence shelter in Ulaanbaatar.
"We are one of the major sources of information for the families," Paul says of the Holt Mongolia social workers. At the community library and the Red Stone School that sponsors and donors support in the ger district, our social workers hold trainings on domestic violence and educate families on their legal rights.
"[We make sure] everyone knows what legal rights they have and what protections the government can afford them so that they don't feel their situation is hopeless," says Paul, who while visiting the shelter also identified a critical gap in direct services that sponsors and donors could immediately fill.
"All that costs money. So what our sponsors and donors are doing is helping to underwrite these costs. And by doing so, they're helping to ensure the children can stay with the parent, and not be sent to [relatives in] the countryside or somewhere else … They're keeping the family whole."

Paul Kim, Holt Mongolia programs director
"In speaking with the director," Paul says, "I learned that one of the toughest things for the kids staying with their mothers in the shelter was not a matter of space or food or care or anything like that, but the fact that they couldn't go to school."
When women and children flee, they often leave behind all their belongings — including schoolbooks, uniforms and supplies, expenses that few of the mothers can afford to replace.
Another expense, Paul says, is the cost to transfer registration documents so that children can attend the school that's local to the shelter.
Through their monthly gifts, Holt sponsors help provide security and strengthen the wellbeing of women and children in many ways beyond education as well.
"Monthly support from sponsors contributes very much because families can't afford medicine or hospital visits," says Undrakh. "They provide some nutrition as well. They're helping very much."
Once mothers and children leave the shelter, sponsors continue to provide critical support to supplement the income the women earn in the low-wage jobs they are able to obtain.
"Their salary doesn't support food, clothing, everything," Undrakh says. "Holt sponsors' support has a huge impact on the family."
Helping Abused Women Gain Custody
In the history of Mongolia's stance on domestic violence, Bayarmaa could not have chosen a better time to leave her husband.
"Before 1995, there was no understanding about domestic violence," explains Undrakh. "The traditional belief was that fighting should be solved within the family."
As is so often the case among countries in economic and cultural transition, this attitude is a holdover from Mongolia's not-too-distant past — from a time when families lived together in close-knit tribes of nomadic herders — but one that no longer fits the fractured communities of modern, urban Mongolia.
"Within a communal society, if there was a family member that was being abused, typically the rest of the family in the community would take care of it," explains Paul. "But as family structures have broken down in the city, a lot of those cultural protections are no longer available."
In the early 90s, domestic violence became a growing issue in the economic and social turmoil that ensued after the fall of the Soviet Union.
But it took time for the law to catch up.
Statistically, Undrakh says, one in five women in Mongolia will fall prey to domestic violence in their lifetime, but not until the mid-90s did police officers begin investigating violence against women and children. In 1995, the National Center Against Violence was established to protect the rights of women, and with support from the U.S. state department, they opened the first domestic violence shelter in Ulaanbaatar.
In 2004, the Mongolian government ratified a law criminalizing domestic violence, but the law lacked enforcement, and abusers would often receive light penalties — creating a pattern of repeat violence against their victims.
Just last year, in 2016, the government revised the country's then 12-year-old law against domestic violence, more strictly defining any act of violence as a "crime" and holding police accountable for following up reports of abuse.
"Before, police officers would ask victims if they want to file a complaint," Undrakh says, adding that many officers would still treat reports with the traditional attitude that marital disputes, even those involving violence, should be resolved privately. "Now with any act of violence, abusers must be held responsible for the crime they have committed."
For many women like Bayarmaa, however, reporting abuse is not a decision they can make without thinking of the impact on their children. Although Mongolia is unusual for a developing country in that many of the country's highest professionals are women — and Mongolian women have more education and lower rates of unemployment than Mongolian men — Mongolia is still a historically patriarchal culture. Especially in rural and impoverished areas, men typically have primary ownership of land and property, and until recently, custody of children.
"From a legal standpoint, if the father wanted to retain custody of the children, there really weren't any protections in place for the birth mother," Paul says.
But in February 2017 — one month before Bayarmaa fled with her two young daughters — the revised law against domestic violence took effect, providing another important layer of protection for abused women with children: custody rights.
"They have codified [the law] to give the birth mother greater legal protections," says Paul. "So that if it came down to both sides wanting to go ahead and sue for custody, then from a legal standpoint, both would come into the courtroom on an equal setting."
After confirming violent acts, in fact, a woman can now get a court order stating she has first custody rights for her child.
What's most important is that "child rights are connected with women's rights," Undrakh says. "The law now states how children should be taken care of."
It's Safe Here
While still scared of what her future holds, Bayaarma feels hopeful. Her daughters are safely in her care, and no one can take them from her.
"It's very safe here," she says as she snuggles her daughter, and sips her tea in the warm, quiet living space at the heart of the shelter.
Soon, Bayarmaa will participate in a training designed to help the women at the shelter build self-confidence. The program is called "Leadership," and Undrakh describes it as a 12-part series that will empower the women, teach them how to overcome violence, and embolden them to determine their own destiny.
At the shelter, Bayarmaa also attends a training course to help her learn to read and write. She grew up in the countryside, she says, where she helped her family tend their livestock instead of going to school — a pattern common among rural families. But she is determined to educate her two daughters.
And with the invaluable support of her girls' sponsors — the compassionate and generous individuals who have, she says, "provided everything" — both Och and her sister have all they need to succeed.
Keeping the Doors Open
Two months after we visited the shelter and met Bayaarma, the government of Mongolia was hit by falling prices in essential commodities, and forced to cut many social programs. As a result, government funding for the National Center Against Violence was drastically cut. They no longer have a lawyer on staff to provide legal counsel to the women. Holt is working to rehire a lawyer, and with critical support from sponsors and donors, providing funding for the salaries of essential shelter staff.
"We wanted to expand the program, but at this point — because of what happened with the government funding — we are just working to make sure they don't close their doors," says Paul.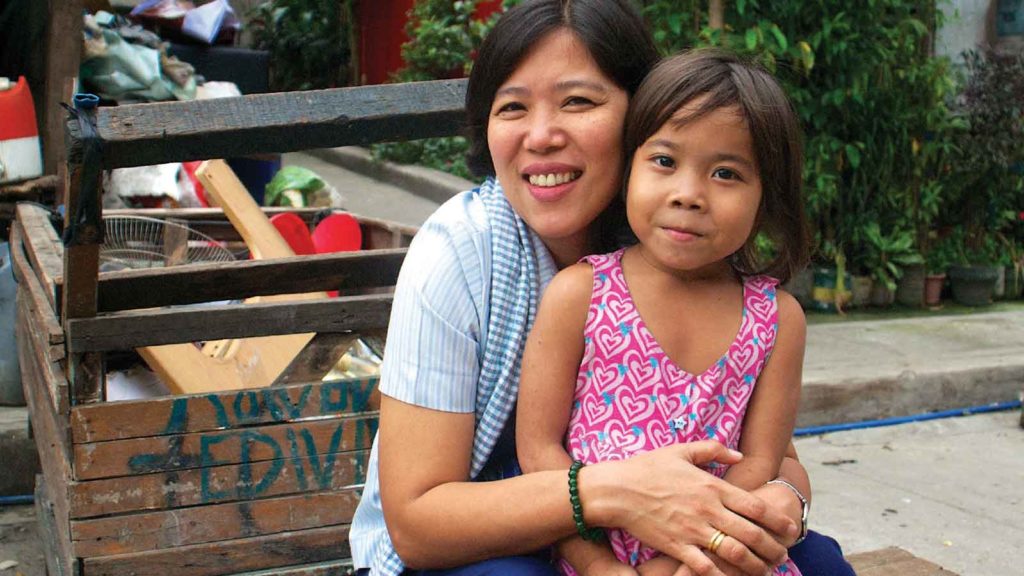 Empower a Single Mom
You can give a single mom the personalized help she needs to become independent and support her children. Whether you provide a safe home, nutrition training, baby items or education, empowering a mom will change her and her children's lives forever.
*Names and identifying details have been changed to protect Bayaarma and her daughters from their abuser.