A few years ago, Mary Luz thought she might have to make the heartbreaking decision to leave her children in someone else's care. But then she discovered a Holt donor-supported program in her community. And now, in every moment, she's there.
At home, in a special place, Mary Luz keeps a collection of cards. Each card has a message inside, written in crayon or colored pen.
"Mama, I want to tell you that you're the best, and in every moment and place, you're there," reads one message written by her daughter, Camilla. "You're my right hand. You're my light. You're my joy, my sadness, my company, my everything. With Love, Camilla."
Inside another hand-cut in the shape of a heart, the message reads, "On this day, I want to tell you that I love you. And I love you with a lot of love." This card came from both her children, 5-year-old David and 9-year-old Camilla.
Asked if her children are proud of her, Mary Luz nods, lifts her eyebrows and smiles wide. "Yes, they love me. They adore me," she says. Mary Luz is 29, and cutely dressed in a red-and-white striped top with a sparkly red flower headband in her hair. She seems like a fun mom, a sweet mom. Playful and loving.
Every Sunday, she takes David and Camilla to the pool or out for ice cream. A professional hairstylist, she practices on Camilla's hair — giving her braids or updos. When Camilla wrote to "baby Jesus" one Christmas, asking for a real doctor's kit — not a play one — Mary Luz scraped together the money to buy her one, complete with scrubs and a stethoscope. Her son, David, is obsessed with Hot Wheels, and when he comes home after school, he dumps a bucket of tiny toy cars on the floor to play with.
Growing up, Mary Luz didn't have any toys to play with. She didn't have a mom who styled her hair or a dad who took her out for ice cream.
"What guides me is that whatever I didn't have, I want them to have it," Mary Luz says.
But more than toys or ice cream, what Mary Luz missed growing up is something that she doesn't need any money to buy. Something that every parent should be able to give their child.
"My parents were not loving to us children," she says. "It was hard. They were very hard."
Mary Luz grew up in Colombia in the 1990s, at a time and place when life in general was hard — and it hardened people. In every corner of the country, drug cartels, communist guerrillas and paramilitary groups fought with the government — and each other — for territory and influence. Every day, a handful of civilians would be kidnapped for ransom while in the countryside, where most of the fighting took place, guerrilla fighters routinely kidnapped children and turned them into child soldiers. To escape the violence and protect their children, thousands of families fled their homes and livelihoods, creating for a time the second largest population of internally displaced people in the world.
In Darien, the small lakeside village in southwestern Colombia where Mary Luz grew up— and still lives today — Pablo Escobar's drug cartel had taken control of the town. Tucked into a low-lying valley between looming, dense-jungle mountains, Darien is striking for both its beautiful scenery and its gap between the rich and the poor. At the height of the war, in the 80s and 90s, the wealth and beauty of Darien also attracted drug cartels and guerrilla fighters, who began kidnapping the wealthy elites who vacationed in the million-dollar mansions overlooking the lake.
Out of fear, many of the seasonal residents of Darien simply abandoned their vacation homes. But for the year-round residents of Darien— for families like Mary Luz's — there was no escape. The cartel began recruiting hitmen and spies within the local community, offering them more money than they had ever seen working in the sugarcane plantations that for generations had served as the lifeblood of the town.
Very quickly, Darien became one of the most dangerous places in Colombia.
"We couldn't go to the street outside before," Mary Luz says. "This was a very dangerous neighborhood … Basically we lived here and we didn't go out."
Today, Darien hardly resembles the place where Mary Luz spent her childhood. Women and children stroll the cobblestone streets under sun umbrellas. Grade-school kids roam free on bicycles, shouting and laughing. Cats lounge lazily on stoops, where residents also sit at the end of the day to watch the street or chat with their neighbors.
But many families are still scarred by the violence of the war. Some internalized the violence and brought it into their homes — creating a cycle of abuse in their families. Others, like Mary Luz's parents, simply grew hard.
During our visit to Darien, Ana Maria Fernandez, Holt's local program director in Colombia, serves as our interpreter. Although from Bogotá, not Darien, Ana Maria also lived through the violence of the 1980s and 90s in Colombia.
"Everyone has a story," she says. "Everyone either knew someone who was kidnapped or killed."
Camilla and David are too young to have witnessed the violence in their community and country. The fighting started to die down in the early 2000s. And three years ago, in 2016, the government brought an official end to more than five decades of war when they signed a peace treaty with the FARC, the largest guerrilla group in Colombia.
Unlike Mary Luz, her children have grown up in a time of relative peace — both in their village and in their home. They have known nothing but love from their mother and father. But like every child in Holt's programs, Camilla and David have endured loss, and poverty, and struggle.
A few years ago, Mary Luz and her husband thought she might have to make a heartbreaking decision. They thought they might have to leave their children in someone else's care — possibly even separate them. Camilla would go to Mary Luz's mother. But David was too young for her elderly mother to care for. They didn't know who would care for David.
Thankfully, it did not come to this. Thankfully, they discovered Bambi, Holt's local partner in Colombia that works to empower struggling families like Mary Luz's. Along the way, they also discovered the kindness and generosity of strangers — of sponsors and donors like Holt's.
____
When Camilla was born nine years ago, Mary Luz and her husband managed okay. They had enough to eat, to pay rent. But when she became pregnant with David, they began to struggle.
"With the second pregnancy, we were very bad," she says. "I was working in the plantation and so did my husband, but we were very poor."
Although both Mary Luz and her husband graduated high school, opportunities in Darien are few — even for high school graduates. Most people work as day laborers in farms or in low-paying seasonal jobs that cater to tourists and wealthy elites.
"People don't have opportunities to improve their quality of life," explains Germán Vasco, the staff psychologist at Bambi in Darien. With the support of sponsors and donors, Bambi provides services for children and families in three vulnerable communities in Colombia — one in Bogotá, one in Cali and one in Darien. In Darien, Germán also coordinates the PROMEFA program, a donor-supported program that empowers parents with the skills and training they need to create a better life for their children. He works closely with each family in the program and he knows this community well.
Germán has seen whole families living in a single room. "But if the sister has nothing to eat," he says, "the brother can't help." No one is ever around to care for children during the day because everyone has to work to survive. And if parents take their child to work, their employers will fire them, he says.
After the birth of their son, both Mary Luz and her husband had to keep working long hours at the plantation just to put food on the table. But like so many parents in Darien, they had nowhere safe that they could leave their son while they worked.
That's when they discovered Bambi. At Bambi, parents can leave their children in the donor-supported daycare — a bright and airy, one-story, white stucco building on a neatly landscaped lawn surrounded by trees and flowering shrubs. When Mary Luz first brought David, she felt immediately safe leaving her son there.
"He didn't cry," she says. "It was so beautiful. He never cried. He adapted very well … And he LOVES the teachers. They are super sweet with the children."
While visiting Bambi, MaryLuz also learned about the PROMEFA program. She visited the classroom where parents, mostly single mothers, learn trades to help them earn an income. She flipped through the business plans that previous graduates had created, saw photos of their work and read letters they wrote to their children about what they want for their lives. Encouraged by Germán, and inspired to change the life of her family, Mary Luz decided to enroll in the program.
"So we started the process," she says. "They trained me. We started with the personal development with the psychologist."
Personal development is always the first step, says Germán.
"Some parents come to Bambi feeling hopeless, believing there's no way in this world for them," he says. Many grew up surrounded by the violence and crime that the drug cartels brought to Darien during the war. Many dropped out of school early and now have little opportunity to break free of poverty. Some people even long for the days when the cartels brought easy money to Darien. But Germán says that organizations like Bambi have had a huge influence on shifting attitudes in the community.
"We've shown them that they can do it a different way," he says. "You may not be a millionaire, but you can do it a different way."
The PROMEFA program gives them an alternative to crime and drugs to earn an income and support their families. But first, they need to learn ways to cope with the trauma they've endured.
"When they go to PROMEFA, the world opens up to them," Germán explains. "Basically, our goal is to work with them — give them training so they can receive an income. But the basis is personal work. If they're not healed, they can't do anything."
Both Mary Luz and her husband attended the personal development workshops, where they learned leadership and parenting skills — and strengthened their resolve to independently care for their children. "As a couple," Germán says, "they began to build what would be a great future."
While her husband continued working, Mary Luz attended the vocational training program. She could become a tailor or a manicurist, a hairstylist or a shop owner. One woman studied to become a travel agent. Of all the choices, Mary Luz enjoyed styling hair the most. But she didn't just learn how to cut and color hair. She also attended entrepreneurship classes so she could start her own business.
Parents in the PROMEFA program need to become entrepreneurs, Germán explains, because the nearest town is an hour from Darien. "To commute would be 70,000 pesos per day, which is impossible," he says. Darien has too few jobs available, and the pay is too low. They have to create something new.
Through the generosity of donors, she received a hairstyling kit – hairdryers and scissors and various styling tools. But she still needed a professional chair, so she used the only resource she had — her hair. She grew out her hair and sold it for $215 million pesos to make extensions.
With that, she bought her chair and launched her business.
"I had a big mirror there and a chair, very simple," she says, pointing to the room in her home where she started seeing clients. She still had to do occasional work in the plantations to supplement her income.
"But I wanted more," she says.
Over time, she saved up enough money to enroll in a hairstyling academy in a neighboring city — to build on the skills she learned in PROMEFA. She became a certified technician in both hairstyling and cosmetics. And then one day, after all her hard work, she achieved her dream — starting her own salon. At Germán's urging, she even began teaching the hairstyling course at PROMEFA, and started employing other moms to work in her salon.
On a sunny afternoon, we go to visit Mary Luz's salon — a hole-in-the-wall shop on a busy road a few blocks from her home. Under a red gabled awning hangs a professionally designed sign in white and black, with an orange silhouette of a woman and artful red and black script that reads "Malux Style — beauty and innovation for the whole family."
"Before, it was a dream. I only had a dream. And thanks to the help I received, now it's a reality."
Mary Luz created this place, this business that supports her family. But she knows she has many people to thank for supporting her — for providing her with training, a professional hairstyling kit, signage and matching business cards. But most of all, for empowering her to grow.
"You're planting a little seed," Mary Luz says of PROMEFA, and the donors who support it. "Bambi is planting a seed in us. And the person who receives that seed, they decide what to do. They grow. And look at me. I grew a lot."
When she started the program, Mary Luz was unusual among moms at Bambi. She had a husband who supported and encouraged her, who helped care for their children and contributed to their income. But six months ago, Mary Luz and her children faced a devastating loss when her husband died in a car accident.
Both children grieved their father hard. But David was especially heartbroken. "My boy was very, very close to his father," she says. "After he died, they both came to me and they were very close to me. They looked to me for comfort."
Mary Luz and her husband had known each other since high school, and his loss left her heartbroken, too. But her children gave her a reason to keep going. "They are the ones that give me strength to wake up," she says.


Realizing how different their circumstances would have been now, without her husband, Mary Luz feels even more grateful for Bambi and the donors who support it.
"My husband died and now, I have to provide," she says. "Thanks to what I learned, I'm able to do it now."
Asked what she can give her children now that she couldn't before, she says "everything."
"Before, I couldn't for example give them shoes," she says. "If they had a pair of shoes, that was all. If they need something now, I'm able to provide it because of what I know and what I do."
But most of all, she has time for her children — time to play cars with David, to play doctor with Camilla, time to get ice cream or go to the pool on a Sunday afternoon. Time to be together.
"I'm independent. I work. I have time for my children. I give them everything now," she says.
When Camilla and David come home after school, David immediately gives his mom a kiss and climbs in her lap. He runs to get his bucket of cars, and starts going on excitedly about Lightning McQueen, his favorite character in the Disney movie Cars. Camilla is tall and shy and has the same caramelly tan skin and dark eyes and hair as her mom. She has neatly plaited braids and smiles through a retainer that her mom bought her to help her overcome a speech impediment.
"Before I couldn't afford it," Mary Luz says about the metal retainer that's a rite of passage for so many kids, but that Camilla almost went without. "Camilla said it was hard at the beginning, but she keeps it. She always says, 'It costs my mom money so I have to do it!'"
Mary Luz never had the chance to go to college, but that's her greatest hope for her children. Camilla, especially, is determined to become a doctor. Over the track pants and polo top of her school uniform, she puts on her light blue surgical scrubs and face mask and stands with poise — like a professional — holding in both hands the big official doctor's kit her mom bought her.
"Why a doctor?" we ask Camilla.
"Because anyone who studies that is a person who will help people when they are ill," she says. "Anything to help people."
Mary Luz is determined to help her daughter achieve her dream — to have a career.
"She's very, very applied to her studies," she says. "I really want them to study, to have a profession. Not to have to go around, working in whatever they can find. Something that's secure. And I really hope I will be able to provide."
She knows her children are proud of her.
"They really value what I have done," she says. "What I've accomplished."
She has become an example for them — demonstrating what they can achieve if they work hard enough. But everyone needs a little help. And just as she will help her children work toward their dreams, Mary Luz had help, too — help from Germán and the staff at Bambi, and help from the generous donors who supported her from afar.
"Before, it was a dream," she says. "I only had a dream. And thanks to the help I received, now it's a reality."
Robin Munro | Managing Editor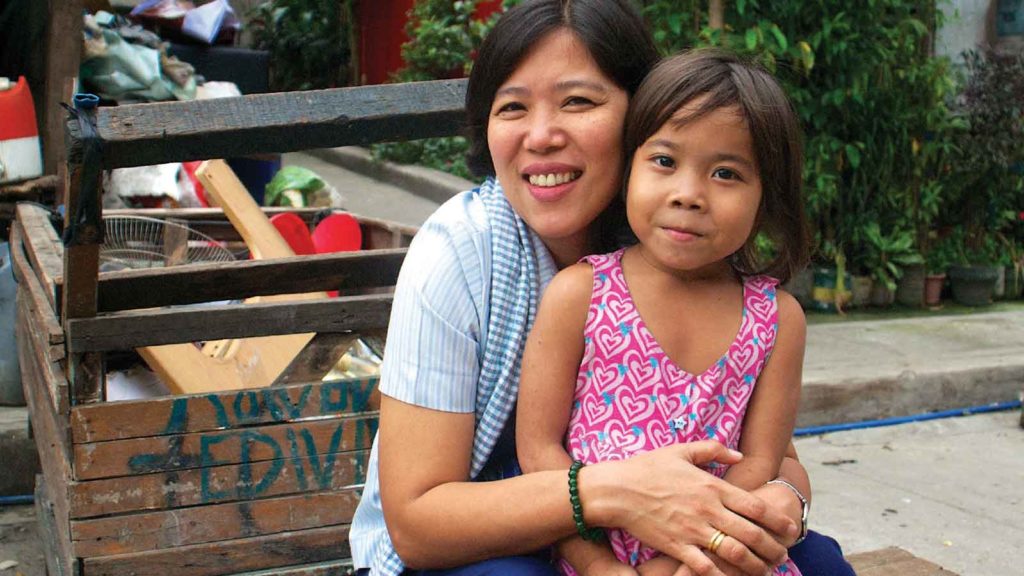 Empower a Single Mom
You can give a single mom the personalized help she needs to become independent and support her children. Whether you provide a safe home, nutrition training, baby items or education, empowering a mom will change her and her children's lives forever.