In honor of National Down Syndrome Awareness Month — and children with Down syndrome around the world who are waiting for their permanent, loving families — we want to share about Jaxon. This sweet 4-year-old joined his adoptive family eight months ago, and he has enriched their lives more than they ever imagined.
When Amy Kalani first met Jaxon in China, she thought she'd have no trouble finding him a family.
Although now the director of Holt's Korea adoption program, at the time, Amy worked with Holt's China program. When she met Jaxon, she was in China visiting orphanages and meeting children so that she could get to know them — and better advocate for them individually upon returning home.
Out of the dozens of children she met, Jaxon stood out to her the most.
"He just has this giant smile and he's infectious in the way he interacts with people," Amy says. She remembers sitting in a room with him in the orphanage, watching him throw toys around the room, then joyfully chase after them.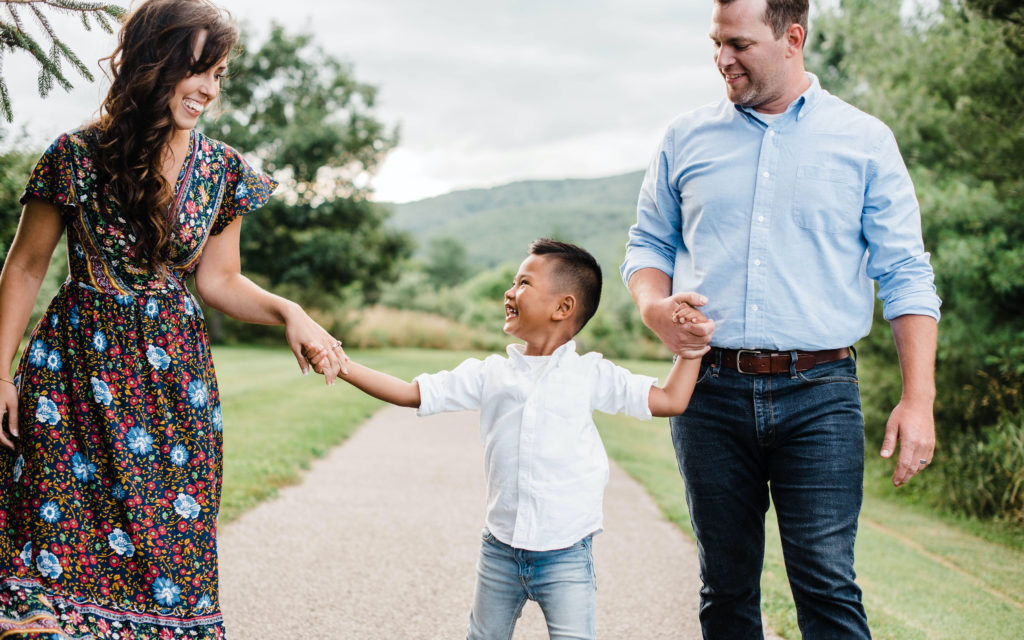 Learn More About International Adoption
We work with families in all 50 states to find loving homes for children from 11 locations around the world!
She was determined to find him a family in the U.S. Because, as a 2-year-old with Down syndrome, Jaxon would not likely go home to an adoptive family in his birth country.
International adoption was his only hope.
"In China," Amy says, "Down syndrome really isn't understood the way it is here." In China, where adoption is a relatively new concept, it's almost exclusively healthy infants who are adopted into families — not children like Jaxon. "He would have been in an orphanage his whole life," she says.
In the past several years, Holt has seen more families open their hearts to children with Down syndrome. And as each of these families entered the China program, Amy told them about Jaxon. Amy even wrote a blog post about him, sharing about this special boy (whose waiting child name was "Declan").
But over a year later, he was still waiting.
That is, until Jaime and Shawn Butcher learned about him.
"Jaxon's smile was the first thing we saw and immediately fell in love with," Jaime says. They also appreciated that Amy, because she had met him, could tell them first-hand about his personality, health and development. "We knew he was our son because we both smiled back at his pictures in a way that already made him feel as though he was our son," Jaime says. "Our hearts knew we were meant to be his parents."
Fast forward to March 2019. At the airport in Eugene, Oregon, Jaxon comes off the plane in the arms of Jaime and Shawn — his permanent and loving family.
While Jaxon had to go through a lot before finally receiving the care and love he needed — before joining a family of his own — Jaime and Shawn's journey to him was just as redemptive.
Jaime and Shawn started pursuing adoption after going through both infant loss and miscarriage. They grieved their losses, and after considering their options, they decided on international adoption as the way to build their family. They began to learn about the profile of children waiting in China — that almost all of them had some kind of moderate special or medical need. Parenting a child with special needs — whether a condition that can be corrected with surgery, or one that requires lifelong care — is a big decision for every family.
But in more than one way, Jaime and Shawn's hearts were already prepared for this.
"We knew because of the need our daughter would have had," Jaime says of the child they lost in infancy, "that adopting a child with special needs is something we were comfortable with."
Jaime also works in the field of vocational rehabilitation. Every day, she helps people who have hearing impairments and developmental delays like Down syndrome. So when Jaime and Shawn began talking through the medical needs checklist, a step in the process in which adoptive parents note special needs they would feel comfortable with, Down syndrome immediately stood out to both of them.
And when Amy — back in the Holt office — learned about the Butcher family, she immediately thought of Jaxon.
"I got to call them with the news," Amy says. Both she and Jaime were in tears.
Fifteen months later, Jaime and Shawn traveled to China to bring home their son. When they met him, he was asleep on a couch in the lobby of their hotel.
"I rubbed his back until he woke up," Jaime says. "He was a little groggy, but he smiled. It was such a heartwarming moment."
The moment adoptive parents first meet their child rarely goes this smoothly. But as they soon learned, this was just Jaxon's personality.
"He's very happy, very compassionate," Jaime says. "He feels what other people are feeling." He loves giving kisses and hugs, snuggling and telling his family that he loves them.
It's common for children with Down syndrome, especially those who have spent time in an orphanage, to have developmental delays. And at 4 years old, Jaxon only knew two words. But as Holt recommends for any adoptive parent — no matter their child's special need — the Butchers focused on parenting to Jaxon's "stage rather than his age."
"A lot of what my work has taught me is to focus on abilities, rather than limitations," Jaime says. And in just eight months home, Jaxon has amazed them with his abilities.
"He's grown by leaps and bounds," Jaime says. "It's almost as if we don't recognize the same little boy."
Language was one of the first skills they focused on. Jaime is fluent in American Sign Language, and knew that for people with Down syndrome — who often experience language delays, and learn best visually — this would be a great tool for Jaxon. Sure enough, Jaxon's language has blossomed. Today, Jaxon has a vocabulary of 250 signs, and 30 spoken words, which he can put together into three-to-four-word phrases. And he's learning more every day!
"I think it's a matter of patience and understanding that [children with Down syndrome are] just as capable as a typically developing child," Jaime says. "It's just going to take longer to learn new skills before they commit them to memory."
When Jaxon came home, his motor development was jerky and uneven. But today, he runs and bolts in every direction. He loves to dance and read books. Last May, he started going to preschool. And just like when he was in China, he loves to play with balls — throwing them across the yard, then chasing after them.
Because the Butchers also live in Oregon, Amy not only got to help welcome Jaxon at the airport, but she got to conduct their adoption post-placement visits — visiting Jaxon, Jaime and Shawn at their home in their first months together.
"It's so cool to have memories of when he was little in the orphanage," Amy says, amazed to now see him fully express himself within the love and attention of his family. "His family loves him so much." This type of love and care is what she hopes every waiting child will have one day — including every one of the hundreds of children with Down syndrome still waiting in China, and around the world.
"These kids are just the sweetest kids," Amy says.
Since Jaime is a professional who works with people with developmental delays, it may appear that the Butchers are the only type of family that is a good fit for a child with Down syndrome. But that isn't the case.
"Most families don't have any direct experience with Down syndrome," Amy says. "The Butchers are literally the only family I can think of who has [adopted a child with Down syndrome and] already worked with people who have developmental delays or Down syndrome." Just as some people feel comfortable parenting a child with a heart condition or a missing limb, or any other special need — it's the same with Down syndrome. Most families who adopt children with Down syndrome aren't experts. They're just normal families who opened their hearts and minds to a child with Down syndrome, and who have equipped themselves the best they could.
And according to the Butchers, it's this perspective that has led to their success.
"Keeping an open mind and open heart has been the key to our family," Jaime says. "He's fit so well in our family and made everyone's life better."
Visit the Waiting Child Photolisting
Meet some of the children waiting for loving adoptive families. Could you be the right family for one of these children?