Around the world, women and girls are stuck in poverty because of gender biases. And one of the biggest biases is in education. But thanks to Holt donors and sponsors, girls around the world are going to school, breaking down barriers and being empowered to pursue their dreams.
In honor of International Women's Day, let's celebrate these girls who are working to #BreakTheBias and go to school.
Nigat's Foundation of Education
Seven-year-old Nigat reads numbers off a chalkboard with ease – a task she could not do before Holt donors made it possible for her to attend an early childhood care and development program in rural Ethiopia. This program provides preschool education to orphaned and vulnerable children, developing readiness for school. Now a first-grader, Nigat quickly reads words in English, confidently performs basic math skills and loves to answer questions. One day, she hopes to become a teacher.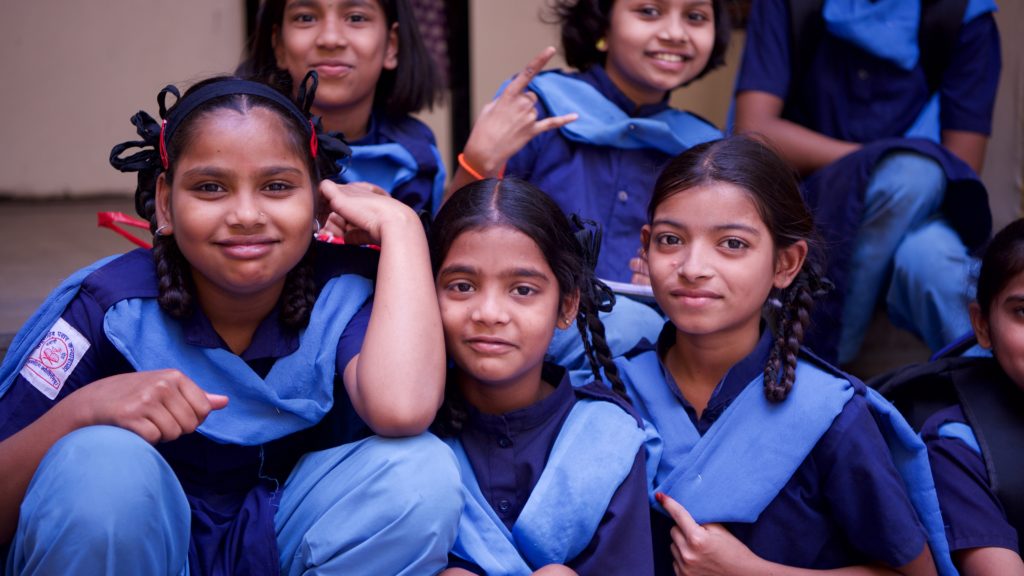 Decreasing School Dropout in India
In Pune, India, a group of girls gather in the school courtyard after taking their final exams. At this all-girls school, dropout rates have decreased and enrollment has increased since Holt sponsors and donors began supporting over 250 students there in 2017.
Able to Communicate for the First Time
At 14 years old, Meaza had never been to school before. She is hearing impaired, and there was nowhere that could give her the specialized education she needed. She didn't even know how to communicate — until Holt donors made it possible for her to attend Yesus Mena Deaf School in rural Ethiopia.
"I used to be so angry I would cry, even in the classroom," Meaza says. "I used to be angry because people didn't understand me. I'm not angry anymore. I'm so happy now that I am able to communicate. Now, I have so many friends."
From Poverty to Opportunity
Sreyka loves going to school, and is often first in her class. But not long ago she was in danger of dropping out due to poverty.
Sreyka's family is one of the poorer families in the community. Her father is a farmer, but when poor rains delay their rice harvest, he travels to the city to try to find work. Her parents sometimes struggle to provide enough food — evident in the orange tint to her mom's hair, a common sign of malnutrition. Until recently, Sreyka was often sick and lethargic, and frequently missed school.
Then, Holt donors began supporting Sreyka with monthly gifts to cover the cost of her school supplies. While these monthly gifts have helped Sreyka stay in school.
"I am so relieved that I no longer have to pay for school supplies, uniforms, bags, shoes and other learning materials," her mom tells us. And because they don't have to worry about these school expenses, they also have enough money to cover their basic needs of food, clothing and more.
Someday, Sreyka dreams of going to a university to continue her studies. And because of Holt donors, this dream is a possibility.
Empowering Herself, to Protect Others
"I want to be a police office," says 15-year-old Jaya. "If anyone has a conflict ot fight, I want to solve those problems of the people." Her social worked asked if she has witnessed the police breaking up a fight, and Jaya slowly nods. "A girl should be a police officer to save the girl child, and women," Jaya says. "To empower them. To make them more strong, and to feel good about themselves." Until recently, the idea of any child from poverty — especially a girl — dreaming of this type of job was unheard of. But Jaya knows it's time for a change. And she wants to be a part of it. And because she's going to school, her dream can become a reality.
Send a Girl to School this International Women's Day!
When you give education to a girl living in poverty, you empower her to change her life forever!