In 2019, we shared some amazing and inspiring stories from and about adoptees, adoptive families, sponsors, donors, and children and families in our programs around the world. It has been an incredible year at Holt — a year that you shared with us as you read, commented on and reposted our updates, stories and videos throughout the year.
Early last year, we merged with the adoption and child welfare agency WACAP — combining our resources and knowledge to help even more orphaned and vulnerable children both in the U.S. and in countries around the world. Throughout the year, Holt's extraordinary donors made it possible to reach more than 280,000 children and families in 14 countries with everything from school supplies and bicycles to lifesaving food and critically needed surgery.
In 2019, we launched new adoption programs in Bulgaria, as well as the regions of Hong Kong and Taiwan. And in February of last year, we saw the first child came home to their family through our new Colombia adoption program. While we had so much to celebrate in 2019, we also mourned the end of an era as we said a sorrowful goodbye to Molly Holt, daughter of our founders and champion for the rights of children with special needs around the world.
As we looked back, we reread some of the stories that had the greatest impact on our readers — and we'd love to share them again with you!
These are the adoptee, adoption, family strengthening and donor stories that you engaged with the most in 2019. Thank you for reading. And thank you for sharing. When you share our stories, or tell your own, you help shine a light on issues and needs that children and families are facing — and you inspire others to take action right alongside you. That is more powerful than any story we could ever tell.
Favorite 5 Adoption Stories
Older Child Adoption: An Expert Adopts
Holt's director of clinical services — Celeste Snodgrass — shares about adopting her son Max from Thailand at 9 years old. While an adoption expert by profession, Celeste affirms that no older-child adoption goes perfectly smoothly. But it's the perfect option for many families, and for children who have been waiting so long.
At a care center in Bogotá, several older children who have chosen to be adopted share what it means to them to have a family — and what they would like to tell people who are considering adopting an older child.
Letting Love Win: A Down Syndrome Adoption Story
When Jade Presnell and her husband, David, felt called to adopt an older boy with Down syndrome, they learned to overcome their fears — and let love win.
Special Needs Adoption Fund: Bringing Home Shelby
Every day 2-year-old Shelby Jane spent in an orphanage in China, she grew weaker. She needed to come home to her adoptive family — and fast — but finances stood in the way. That's when a Holt donor stepped in to help.
Adoptive mom Johanna Utman describes her family's journey to adopt their daughter, Alanna, from the Philippines, and why it was one of the most beautiful and heart-wrenching experiences of their lives.
Favorite 5 Adoptee Stories
Dream Come True — Holt Adoptee Reunites With Her Birth Parents in China
With the help of local police, media, volunteers and Holt staff in China, adoptee Kylee Bowers becomes the first Chinese adoptee placed through Holt to reunite with her birth family using DNA testing.
Meet Rekha, Deborah and Christina — three Indian adoptees from different families with one very strong and powerful connection: their shared beginning.
Return to Hong Kong: One Adoptive Mom & Daughter Look Back
As Holt reestablishes an international adoption program in Hong Kong, adoptee Amy Banta and her mom, Julie, reflect on their lifelong journey together — and the orphanage in Hong Kong where they first met nearly 26 years ago.
7 Pieces of Advice From Adoptees
When you share your plans to adopt, there's a good chance that you will hear lots of opinions and advice. And once in the process, you will go through 10 or more hours of training to help prepare you for the unique experience of parenting an adopted child. But when it comes to connecting with your child, some of the best advice you will hear will come from adoptees themselves.
2019 Holt Adoptee Scholarship Winners
Congratulations to Kyla DeWittie, Lila Durig and Alexa Thompson — our three 2019 Adoptee Scholarship winners! This year, we asked applicants to submit a creative work framed around the question, "If you were to register for an 'Adoptee 101' class next fall, what would it teach you? Who would teach it? Why?"
Favorite 5 Family Strengthening & Donor Stories
Amid an orphan care crisis in South Korea, Holt sponsors and donors help care for children in greatest need­ — and support a long-term solution.
Why Give a Sewing Machine to a Family in Need
For Jayanthi in India, the gift of a sewing machine means she can feed her children, send them to school, and dream of a better future.
Born without arms, George Dennehy barely survived life in an orphanage before he was adopted. Today, he advocates for children like he once was — children whose lives could be saved through sponsorship.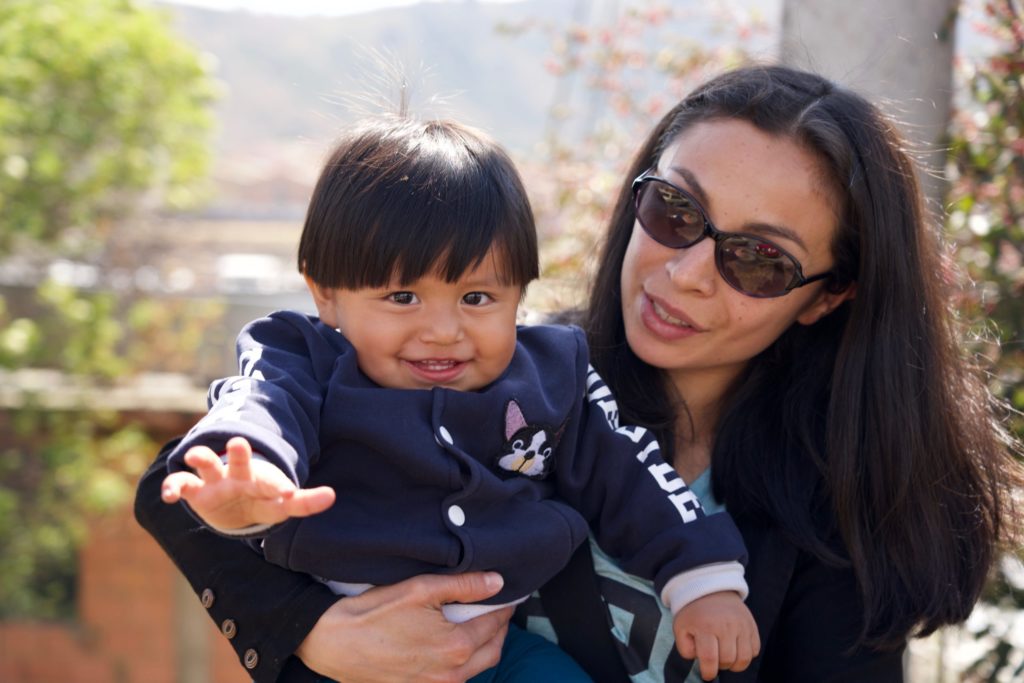 As five decades of brutal war come to an end in Colombia, families have begun to heal from the violence and crime that ravaged their communities. And now, with the support of sponsors, many have begun to create a happier, more hopeful future for their children.
For generations, women and girls in Cambodia were taught not to speak their minds or stand up for their rights. But step by step, and with the support of sponsors and donors, they are learning to stand up, speak up and go after their dreams.
Have a great story to share? Email Robin Munro!
Interested in reading more? Check out our best stories from 2020, 2018 and 2017!