To help find loving, permanent families for the many older children eligible for adoption in Colombia, Holt is now recruiting families for a special five-week hosting program.
Julian grew up in Colombia, in protective custody. At young ages, he and his sister separated from their family because they couldn't care for them the way they needed to be cared for. Julian looked out for his sister, who is two years younger. He is studious and shy, and very mature for his age.
Julian would have loved to have a family, and a home. But as he grew older, and watched other, younger kids join adoptive families, he slowly gave up hope of ever having a family — especially one that would adopt both he and his sister. No matter what, they wanted to stay together.
When we met Julian and his sister in Bogotá, last year, he was 14 and she was 12. They had just recently learned that a family wanted to adopt them.
"How did you feel when you found out?" we asked.
"Joy," he said with a shy, sweet smile. "I couldn't believe it. I said, 'Aye, no.' That's not true. That's a lie."
About a year before we met Julian and his sister, they had traveled to the U.S. as part of Colombia's hosting program — a unique program through the Colombian government that gives older children eligible for adoption an opportunity to stay with a family, experience a different culture, and possibly, meet their future adoptive family.
It is, above all, a way to advocate for older children to find the permanent, loving families they deserve.
Partnering to Advocate for Older Kids
Like everywhere, the majority of children in Colombia who are most in need of families through international adoption have special needs, are part of a sibling group — or are older in age. In Colombia especially, the number of older children in care is startling, and only a small percentage of them ever join adoptive families.
Since the Colombia hosting program began in 2008, it has proven to be the most effective way of finding families for older children. Over the past twelve years, 875 children ages 12 and older have joined adoptive families in the U.S. as a result of hosting. But while significant, this is still just a fraction of the number of older children in Colombia who have aged out of institutional care over that same time period.
Right now, over 5,400 children are eligible for adoption in Colombia, and over 60% of those children are between 12 and 18 years old.
At Holt, we have long made it our mission to help find a permanent, loving family for every child, no matter their age. And last year — in 2019 — Holt began working alongside the Colombian government, a Colombian child welfare organization and two U.S.-based hosting agencies to help find families for as many older children in Colombia as possible.
How Hosting Works
Carolina Moreno is the hosting coordinator for La Casa de la Madre y el Nino, the child welfare organization and group home in Colombia that Holt partners with to help find host — and ultimately adoptive — families for older kids like Julian and his sister. Carolina has worked for La Casa for seven years, and with hosting for the past four.
Although ideally, children would be able to join adoptive families in their birth country, few families in Colombia are open to adopting older children, says Carolina.
"In Colombia, we do have many families that want to adopt, but they always want to adopt babies. And we don't have babies," she explains.
Finding families for older boys is even harder — in Colombia, and in every country that adopts from Colombia.
"Everyone wants the youngest girl," she says. "Constantly, we don't find families open to boys, especially older boys. So for these kids, if they [do not participate in hosting], they may not have an opportunity."
For older boys like Julian, as well as older girls, hosting provides an opportunity for a family to meet them and get to know them. To see if they get along with children already in their home. And to dispel fears and preconceived notions they have about adopting older children — like they won't be able to develop a bond with them, or that teenagers don't really need the nurturing care of a mom or a dad.
This is one big misconception among prospective adoptive families, explains Kim Dowd-Uribe, Holt's Colombia adoption director.
"Usually at that age, parents think kids want to isolate and be with their friends and not be with their parents," she says, "and so [families] fear they're not going to have that nurturing phase." They wonder if a 14-, 15- or 16-year-old — or even an 8- or 9-year-old — will really want and need their love and attention.
"All kids regardless of age need nurturance, and older kids who have not received adequate and consistent care throughout their life may need it even more. Even if it may seem they don't need as much nurturance due to age, kids that grew up in the system are usually much younger developmentally and need to catch up," Kim explains. "They might be 9, but developmentally they could be 6. They do need that nurturance. They crave it."
Even 14-year-old Julian, so mature and seemingly grown-up, does not shy away from describing what he truly longs for from a family.
"Before, I didn't have a family that was close," he told us. "I didn't have affection. Now, I have a close family and I can go anywhere with them. And we will be close and they will have affection for us and they will love us."
Both Carolina and Kim emphasize that one unique aspect of working with and advocating for older children is that they can express their feelings and desires. They have a voice, and a say in every decision that's made about their future.
"Kids have a say, 8 and above," Kim says of children in protective care in Colombia. "If they do not want to be adopted, they have a say … Most of the time, though, kids want to be adopted."
For our first hosting program, in summer 2019, Holt partnered with the hosting agency Kidsave. The following winter, we also began partnering with the organization P143. Kidsave and P143 have different models but their objective is the same — finding the best host families for children, with the hope that this experience will help to find a family for every host child.
"Kidsave works with families individually all over the country, but what they pride themselves in doing is helping to build close-knit communities that also become central support systems for the adoptive and host families," Kim says. Made up of families that have already hosted and adopted, Kidsave communities hold events every year for children and families to get to know each other.
"It's also awesome for the kids in the area because they get to see each other," Kim says. "And they get to do fun events."
These gatherings also provide a casual setting where families interested in adopting, but not involved with hosting, can meet and get to know the children.
"A lot of the time with Kidsave, how we have ended up [finding adoptive families] is from visiting families," Kim says. "It's not always the hosting families, but the families that meet the kids at these weekend events who adopt."
P143 has a different approach. They have family coaches who work to ensure that each family feels supported. Although P143 host families may not meet face to face, they create strong online communities across the U.S. that also become support systems for the families.
"By doing this, P143 ensures families from any part of the U.S. can host or advocate for an older child from Colombia," says Kim.
Every Child Deserves a Chance
One concern some in the child welfare community have about hosting programs is what happens to children who don't get adopted after the program ends. It's a valid concern, and one that Holt doesn't take lightly.
Although over 60 percent of children who participate in the Colombia hosting program ultimately join families, it doesn't work out for every child.
But one unique element of the Colombia hosting program is that the government invests a tremendous amount of resources in the program — not only to fly children to the U.S., but to provide social work support and prepare them to stay with a family in the U.S. Before they travel, children attend a 15-day camp in Colombia where they do activities related to the hosting program, learn about American culture, what it will look like to be in a plane, an airport.
At camp, Carolina is also up front with them about the purpose of the trip.
"[We] explain to them, 'This is the hosting program. This is the way it works. It may work out, but it may not,'" she says. "And I think kids appreciate that [honesty]."
If they don't meet the right family the first time, Carolina says, children can travel again.
"On the second trip, they usually find families," she says. "But I have met kids in other programs who didn't find a family at that point … It's hard and I've thought about it many times."
"I see hosting as a way for families to get to know these children and learn about all the potential they have to open their hearts and homes for them."

Carolina Moreno, hosting coordinator, La Casa de la Madre y el Nino
"I'm the first one to say there are going to be situations that are not going to be ideal … But what I see is all these kids that are adopted that would otherwise not have a family and that's the reality," adds Kim. "There are so many older kids on that list that don't even get a chance to be hosted. Everybody wants to be hosted. Everybody wants a chance."
On the "list" Kim refers to are the thousands of children eligible for adoption in Colombia — many of whom have a narrow window of time to be matched with a family before they become ineligible for adoption.
"Right now, we have 5,467 kids who are eligible for adoption," Carolina says. "In care, we have 74,450. We had over 9,000 kids eligible for adoption a couple of months ago, but half have aged out." In Colombia, children age out at 18. In the U.S., they are no longer eligible for international adoption at 16.
"Part of my job here in Colombia is visiting each region and I travel all around the country meeting the kids. And when I meet a 17-year-old child with such a big potential, who's willing to have a family, and you send a profile to a family, they're like, 'Are you crazy? I'm not adopting a 17-year-old,'" Carolina says.
But then they travel to stay with a family in the U.S. or another country, and the family gets to know that 17- or 16- or 15-year-old and that 17-year-old gets to know the family. And the family realizes that this is still just a child, a child who needs the love of a parent.
"I see hosting as a way for families to get to know these children and learn about all the potential they have to open their hearts and homes for them," Carolina says. "I find that hosting is the only way. It's the only opportunity for older kids. I can tell you, it's incredible, but it's the only way."
Since Holt began our Colombia adoption program in 2018, the Colombia team has helped find adoptive families for 20 children. Six of these children were older than 8. Eleven of them are boys.
Julian and his sister are now home with their family, in California. As with so many of the children who met their families through the hosting program, Carolina has kept in touch with them. "They are doing great," she says. "Julian is in tenth grade. He's doing great with English, with the family. They just moved to a bigger house. He adjusted really well."
Last year, when we met Julian in Colombia — before he joined his family in the U.S. — we asked him what he would like to tell people who are considering adopting an older child. His answer was succinct, but powerful.
"We all deserve a chance," he said.
For more information about the program and children who need host families, contact Holt's hosting program coordinator, Kim Boyd, at [email protected].
Last year, we recorded interviews with Julian and other kids who met their families through the Colombia hosting program. Listen as they share what it means to them to have a family — and what they'd like to tell people who are considering older child adoption!
** Although most families who host are interested in adopting, we also welcome families interested in advocating for older children. Requirements for all families to host include FBI background checks and state child abuse clearances for everyone 18 or older in the home, ten hours of parent training and psychosocial assessments or a current adoption homestudy. Families must also meet all eligibility guidelines for the Colombia adoption program and be in good mental and physical health.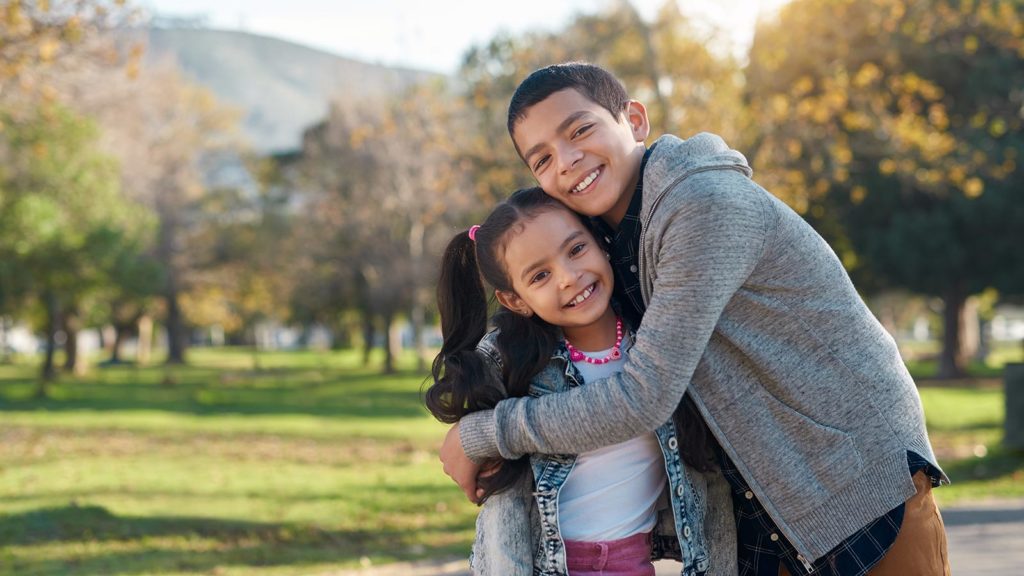 Adopt From Colombia
Many children in Colombia are waiting for a loving, permanent family.