When first considering adoption, Diane and Troy Sturgeon had a vision for their family — a very specific, pigtails-and-dresses vision that they could have made a reality. So… why didn't they?
A basketball hoop clangs and a ball thumps outside, accompanied by shrieks of excitement. Loud, off-key singing and giggles echo down the hall. The screech of racing Hot Wheels erupts from the living room.
Listening to these heartwarming sounds, it's hard to recall what it was I desired for a family — what I thought I wanted my family to be.
For the first several years of our marriage, my husband and I prayed for a family. We waited and longed and endured an emotional rollercoaster.Eventually, though, we came to the realization that a biological family was not God's plan for us, and after much prayer and discussion, we embraced the notion that our family awaited us in China.
With this revelation, we started to envision what our family would be, what our Christmas cards would look like: Mom and Dad flanking three sweet little girls with gleaming black ponytails and cupid-bow mouths, each smiling up at the camera in their matching red dresses.
Of course, it's ironic in hindsight.
With international adoption, unlike pregnancy, we could have chosen the gender of our children. We could have created a family that's comprised of a mom and a dad and three little girls.
So, why didn't we?
When we began the process, we had fully planned to check the box for "girl" only. But we paused. We discussed. We prayed. We finally decided to let God — or fate, if you're of that bent — make that decision.
"If I was pregnant," we argued, "we wouldn't have a say in it. It would be what it would be."
And, so it would be. We chose "either gender." Enter Aiden. Our son. How could we imagine life without that funny, loving, bright, sweet, athletic boy? What a much darker, sadder, more boring place our world would be without him. We were reminded that God does not make mistakes.
After our first blessing, we knew our family was not complete. Again, we were faced with so many decisions regarding ages, special needs, and, yes, gender. It would have made perfect sense, to some, for us to check "girl." How sweet — a boy and a girl! However, we looked at Aiden and felt so immeasurably grateful that we hadn't ticked the box next to "girl" that we decided, once again, to allow the decision to be taken out of our hands.
And so we were blessed with Ethan, the gentlest, kindest, most generous and thoughtful little ball of energy we've ever had the good fortune to know: our second son! It takes our breath away to imagine our life without him.
With that, we knew beyond a shadow of a doubt that we would be completing our family with a girl, obviously. Then, one day I decided to check out Holt's waiting child photolisting. I had no preconceived notion that I would find our third child waiting there for us. However, as I scrolled down the pictures, I found the cutest, sweetest little face capped with the most a-dork-able haircut smiling up at me.
I couldn't help it. I had to read his profile.
Lo and behold, his 'special need' wasn't all that 'special.' At least to us. He was hard of hearing / deaf. As it turns out, we know a thing or two about having a deaf son as our eldest has hearing loss. I couldn't help myself. I sent the picture to my husband. In a nutshell, his response was, "Get on it!" So, get on it I did: our third son. Carter is our charmer — our even-keeled, quick-witted, astute little man.
Yes, we could have chosen a different path. We could have determined the makeup of our family, decided to check "girl." We are eternally grateful, however, that we were open to either gender. Our lives may not be filled with my imagined dress-up days, tea parties, dance recitals, quiet cuddle times and hair bows. Instead, they are brimming with dirty faces, sticky kisses, noisy rough-and-tumble play, and the tightest squeezes imaginable — and, the most sincere, sweet "I love you's" I have ever been privileged to receive.
Diane Sturgeon | Sioux Falls, South Dakota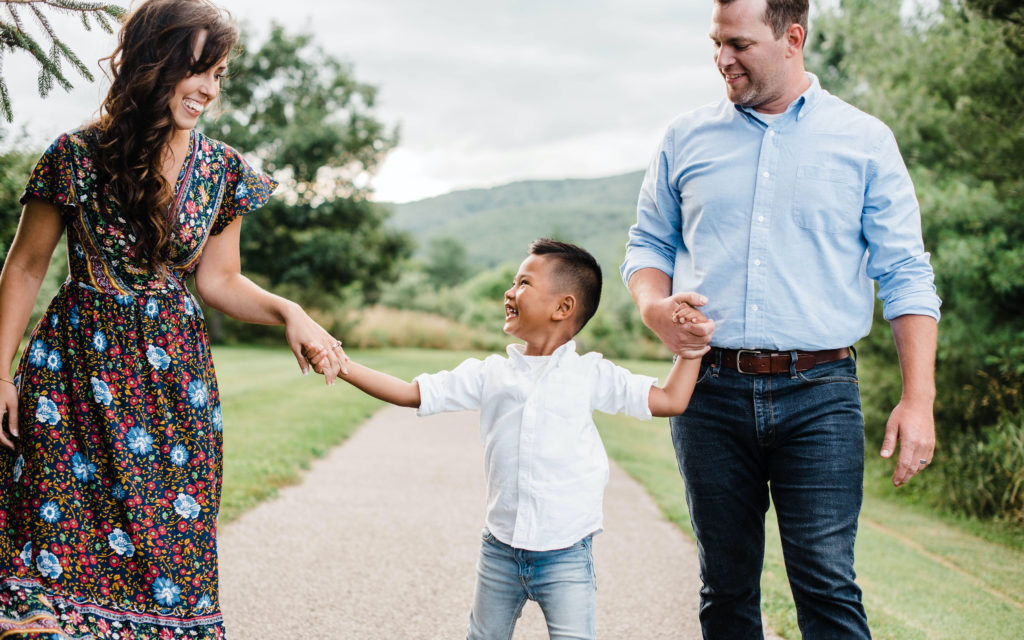 Learn More About International Adoption
We work with families in all 50 states to find loving homes for children from 11 locations around the world!