A year after switching to Holt's China program for children with special needs, John and Kathi May brought home their daughter, Madison Grace. Madison's father, John, shares their story.

Our adoption story had its beginnings much like so many other families. My wife, Kathi, and I had been trying to start our family for several years. During this time period, we suffered through six miscarriages. The physical and emotional toll this took on us was tremendous, as any family who has gone through a miscarriage can appreciate. The realization that we would not have a biological child of our own was beginning to sink in. Unfortunately, for so many families with similar stories, this is where the book would end. But for us, it was a new beginning.
I must admit that adoption was never an avenue I saw our family pursuing. But being people of faith, we felt there was a reason for the obstacles we had encountered. Kathi first mentioned adoption and we both had a lot of unanswered questions and reservations. We didn't have any family or friends who had adopted so we had much to learn. We ruled out adopting domestically within the U.S. early on. Right or wrong, we had major concerns about adopting a child and then having to give up our rights to the birth mother if she had a change of heart. After everything we had already been through, this wasn't a risk we were willing to take. With this option ruled out, we looked to international adoption as the path to our child.
Early in the process, we narrowed our country program options to China and Russia. With some additional research, we learned that Russia required two trips to finalize the adoption, with a fairly lengthy time period in between. We didn't really like the idea of meeting our child and then having to leave him or her behind. With our decision now made to adopt from China, we began searching for an agency to assist us. Holt International was immediately at the top of the list. All of the reviews and families we spoke with had nothing but praise for Holt. We also sat in on one of the many webinars Holt offers. We were able to ask questions about the process and the moderators were very well informed. We had now finalized our decision on both the agency and the country we would adopt from.
Once our dossier was logged in China, the waiting game began. We knew this would not happen overnight, so we told ourselves we must be patient. I can tell you this is easier said than
done. We had requested a girl, and every time we saw a little girl from China, our thoughts immediately went to our daughter – a daughter we had yet to meet. We wondered if she had even been born. Was she in an orphanage or foster care, and was she doing okay? Was she happy? We were twelve months into the adoption process when we began second-guessing our original decision. After some thought, we decided to switch from the standard China process to Holt's China program for children with special needs. We knew this would shorten our wait by years, and that thought was very appealing. Initially, I was somewhat reluctant about adopting a child with a special need. But the more I learned, the more my concerns were diminished. We had the option to choose what type of special needs we would consider, many of which could be easily corrected with outpatient procedures. We saw stories and pictures of families who had adopted children with special medical and developmental conditions. After much prayer and many discussions, we changed our adoption to special needs. We were very excited that our adoption process would now not take nearly as long. Had we stayed in the standard China program, we would have waited at least 5 years or more for our daughter to come home.
On July 21, 2010, approximately nine months after we made the change to special needs, I received a call from Kathi with the news we had been so anxiously awaiting. We had a referral.
This moment was one of the most powerful and emotional experiences of our lives. Holt would send us a picture via email, along with the child's history and medical records for our review. Within minutes, we had a picture of our potential daughter. Her name was Jin Mei Win. She was diagnosed with a condition called ptosis. It's essentially a weakness in one or both eyelids that can potentially limit vision.
As an adoptive parent, you do have the option to pass on a referral. This would certainly be a very personal decision that every adoptive family would have to face. We took Holt's advice and had a pediatrician review her medical records before we made our final decision. Within two days, we had consulted a physician and made our decision to adopt Jin Mei Win. I will never forget the moment when we started to notify our family and friends. We were sitting in a restaurant and began sending emails and texts with the exciting news and a picture of our new daughter. The replies started pouring in and the happy tears began to flow. Putting this moment into words is not really possible, so I will just say it was the happiest and most exciting time of our lives.
In three months, we would travel to China. Holt arranged everything – my wife and I joke that the biggest decision we had to make in China was "where to have dinner." We had a guide waiting at each airport, transportation pick-up for each appointment… Holt's experience with international adoption from China is amazing!!
Now two and a half years into our new beginning, we are a perfect, happy family. We feel so blessed to have our beautiful daughter, Madison Grace. We gave her the name Grace because we knew that it was our strong faith and the grace of God that brought our family together. Madison and Kathi have a saying where Kathi asks, "Where did Jesus put you first?" and Madison replies, "In your heart." Kathi then asks, "Where did he put you next?" and she replies, "In your arms." It was on October 25, 2010, our Gotcha Day in China, that Madison first came into our arms. She was 16 months old.
Over three years have now passed, and Madison fits in perfectly with our family. She is very happy and outgoing. She loves to sing and loves being outdoors. She is the center of attention
wherever we may be and people are naturally drawn to her. Madison doesn't really recall her life in China, but we have shown her pictures of her foster family and the time we spent together there. She is so smart and seems to pick up on things quickly. She is already reading children's books out loud from cover to cover! She has learned to count in both Chinese and Spanish. This is truly amazing, since she is only 3 ½.
We are currently seeing an ophthalmologist for Madison's ptosis. She wears an eye patch for one hour every day to strengthen the vision in her eye, and is awaiting news on future surgery, which would include a lid lift. Just looking at her, no one realizes the minor droop of her right eye. And of course, in our eyes, she is perfect!
No one knows what we may face later – the questions she will have, emotional scars, etc. But we will face them as a family. We have attended several webinars thru Holt that address adoptee questions and emotional issues. We became close with two families in China and have gotten together with them each year. We call this our Chinese reunion. Since they share a similar story, we feel this is a big step in helping the girls to bond and develop a lifetime friendship. We, the parents, correspond regularly via email about issues and concerns we face and keep each other up-to-date on the growth and progress of our children. All three families adopted children with special needs.
We feel blessed to have such a great support system with our new-found family and Holt. We would strongly recommend Holt's waiting child program. There is always fear and doubt with the unknown – but knowing later what you could have missed is terrifying.
If our family could ever be of assistance to anyone considering adoption, please feel free to email us at: [email protected]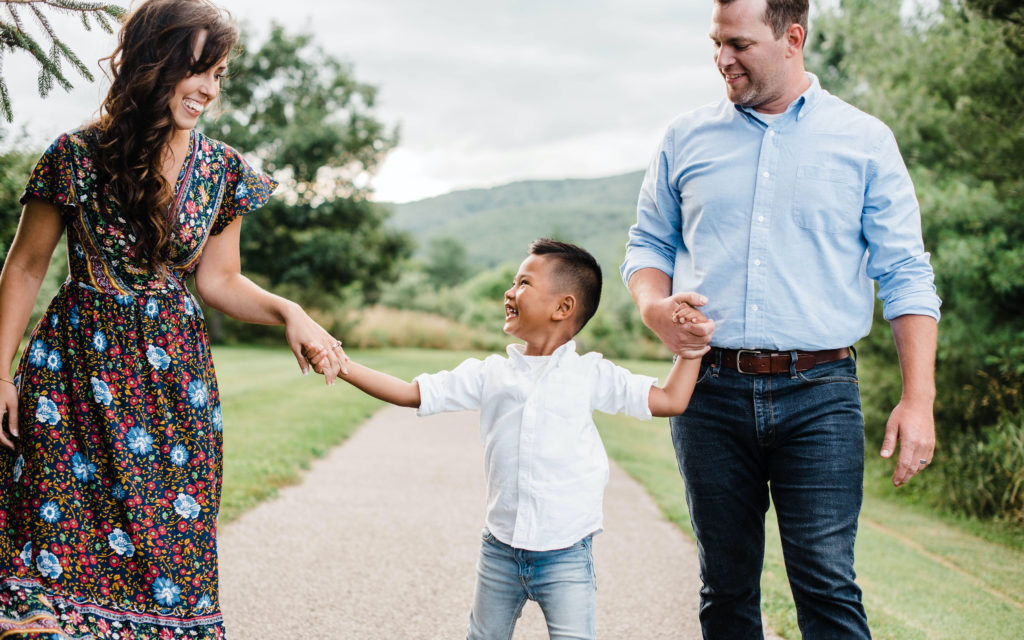 Learn More About International Adoption
We work with families in all 50 states to find loving homes for children from 11 locations around the world!