If you sponsor — or are thinking about sponsoring — a child in India, here are some facts to help you learn about this bustling nation, its land and its people.
India is a country in South Asia bordered by Pakistan to the northwest; Nepal, China and Bhutan to the north; and Myanmar and Bangladesh to the east. The island country of Sri Lanka is located about 40 miles off the southeast coast of India.
India is home to the Himalayas, the tallest mountain range in the world, and to the iconic, white marble Taj Mahal — one of the Seven New Wonders of the World. It is the second-most populous country, with more than 1.4 billion people, and linguistically one of the most diverse. India is home to several hundred languages, of which dozens have more than 100,000 speakers. It has a relatively young population, with a median age of 29. The life expectancy of the average Indian is 69 years.
Today, 65% of Indians live in rural areas. But in recent years, India's largest cities have grown at twice the rate of its small towns and villages, as families seek jobs in the nation's urban centers. India's capital, New Delhi, houses a staggering 32 million people in its metropolitan area. Mumbai, a financial center, has close to 21 million people, and the port city of Kolkata has more than 15 million. For families living in poverty, life in India's cities can be difficult. Families who reside in densely populated slums lack safe housing, clean water, proper sanitation and access to health care.
Since 1979, Holt has worked alongside Holt sponsors and donors to care for orphaned and vulnerable children in India. Holt helped establish our local partner agencies Bharatiya Samaj Seva Kendra (BSSK) in Pune, and Vathsalya Charitable Trust (VCT) in Bengaluru. Today, with the support of Holt sponsors and donors, both BSSK and VCT work to keep families in crisis together, providing the basic nutritional, educational and medical support parents need to care for their children — preventing family separation.
For children who are abandoned or relinquished, BSSK also provides safe and nurturing care until children can be reunited with their families or placed in a loving, permanent home. Every year, Holt sponsors and donors provide life-changing support for more than 15,000 children and families in India.
Basic Facts
Capital
New Delhi
Population
1.4 billion people (est., 2022). India is home to nearly one-sixth of the world's population.
Official Languages
22 languages in India have official status. The most common is Hindi, spoken by 43.6% of the population. English is considered a subsidiary official language, used in government, business, education and national communication.
Area
1,269,219 square miles, slightly more than one-third the size of the U.S.
Climate
Most of India experiences three seasons: hot (March–May), rainy (June–October) and cool (November–February). Temperatures rarely fall below 40°F in January or climb above 100°F in the summer in most regions. Droughts and earthquakes are common, as are floods, especially during the rainy season.
Religion
Hindu, 79.8%; Muslim, 14.2%; Christian, 2.3%; Sikh, 1.7%; other and unspecified, 2%
Ethnic Groups
Indo-Aryan, 72%; Dravidian, 25%; other, 3%
Type of Government
Federal parliamentary republic
National Celebrations
India is known for its many festivals — and hardly a month goes by without some type of celebration. Many of the festivities have religious or cultural importance, while others commemorate the beginning of harvest season or significant dates in the nation's history.
The Hindu festival of Diwali is India's biggest and most important holiday. Known as the "festival of lights," this five-day festival is centered around the new moon and takes place in late October or November. It celebrates the triumph of light over darkness. Preparations begin weeks in advance when people clean their homes and decorate them with lights. On the third day of Diwali, families light diyas (small, earthenware lamps filled with oil) and place them outside their homes and along riverbanks. Families may also exchange gifts with loved ones.
Celebrated on August 15, Independence Day commemorates the nation's freedom from British rule in 1947. It is marked throughout India with flag-raising ceremonies and the singing of patriotic songs and the national anthem. Children fly kites in the colors of the Indian flag (saffron, white and green) and dress in clothing of the same colors.
Indian Food & Drink
India has an exceptionally diverse cuisine that uses the many spices, vegetables, grains and fruits grown across the nation. Because an estimated 25% to 35% of the population is vegetarian, due to religious beliefs and other factors, the Indian diet includes a variety of non-meat dishes. Staples include flatbread (naan or roti) and rice.
Indians drink an assortment of black and green teas, produced in the country's different regions. One popular drink is Masala chai, made from black tea boiled in milk and water, with a mixture of aromatic herbs and spices.
Some common Indian dishes include:
Masala dosa, a thin pancake made from rice, flour and lentils. It is often folded in half and stuffed with potatoes.
Samosa, a fried dough pocket filled with ingredients such as potatoes, onions, spices and peas. Samosas are typically eaten as a snack and topped with sauces or chutneys (a condiment made of fruit, vinegar, sugar and spices).
Dal makhani, a stew made with black or yellow lentils
Tandoori chicken, chicken marinated in yogurt and spices, and roasted in a clay oven (a tandoor)
Tikka masala, chicken (or other meat) cooked in a tandoor or on a skewer and covered with a spiced curry sauce
Biryani, a rice dish seasoned with saffron, turmeric, nuts and whole spices. It's sometimes layered with marinated meat or hard-boiled eggs.
Kofta, meatballs usually made with minced lamb or pork, onions and spices
Kheer, a sweet rice pudding
Mealtime Customs
In many parts of India, lunch and dinner are considered the most important meals of the day.
In northern and central India, most people start the day with a light breakfast, followed by a large lunch eaten at home, the office or school. This is followed by a light afternoon tea (tiffin) and an evening dinner with family members.
In southern India, breakfast is the main meal. Rural residents also eat a large, hearty breakfast to prepare for a day's labor.
Indians eat most of their meals at home. Eating in restaurants is typically expensive and reserved for special occasions.
Traditional families may eat their food with their right hand instead of utensils. Less traditional families, including those living in cities, may follow Western customs.
A Day in the Life of Your Sponsored Child
Curious what daily life is like for a sponsored child in India? In this video, filmed by Holt staff in 2018, you'll be able to step inside the homes, communities, schools and orphanages where Holt sponsors and donors support children and families in India.
Social Concerns
Poverty
India has seen significant economic growth in the past two decades, but more than 270 million people still live below the poverty line. More children in India suffer from malnutrition than in any other country. The nation has one of the highest rates of out-of-school children in the world — the vast majority of them girls. Families living in poverty have few social services available to them. The COVID-19 pandemic has also taken a significant toll on families who have struggled to find reliable work and provide food for their children.
In addition, India is still experiencing the socio-economic effects of a thousands-year-old caste system, which determines one's rank in society at birth. Though banned in 1976, caste discrimination is still a part of Indian society and remains a serious obstacle for many people.
Learn how Holt sponsors and donors help strengthen families living in poverty.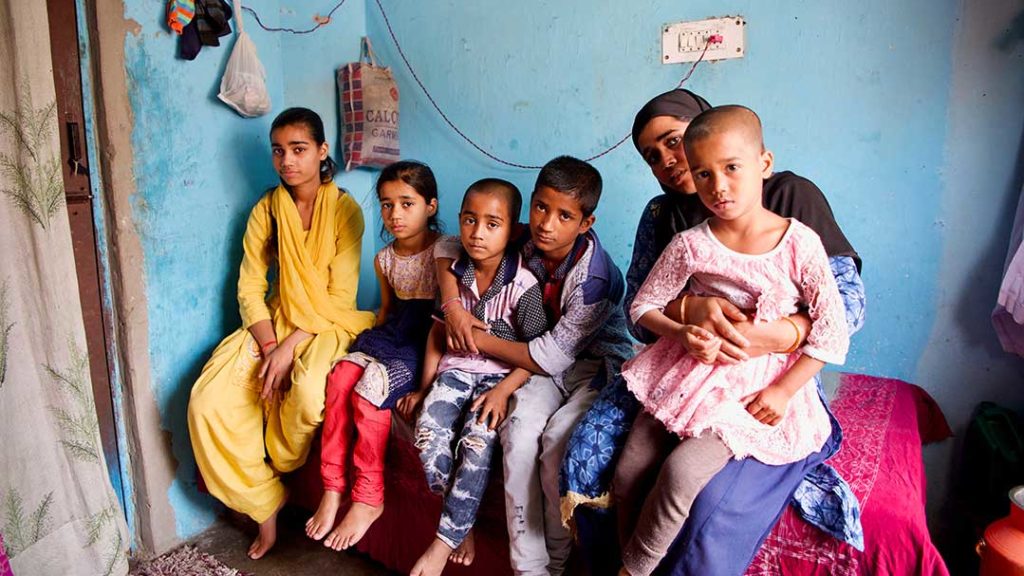 Help Children & Families in India
The pandemic was especially devastating in India, and children are suffering for it. Families struggle to find reliable work and provide food for their children. After schools closed due to COVID, many children never returned. Your gift will help a child or family in India in greatest need.
Internal Migration
In recent years, India's largest cities have grown at twice the rate of its small towns and villages, with many of the increases due to rural-to-urban migration. Today, more than 30% of the country's population live in sprawling cities, and India is home to roughly 139 million internal migrants, including children.
Many of these migrants are parents who have moved from rural areas to cities, looking for work in construction and other labor-intensive industries. Parents sometimes leave their older children with family members in the countryside, but often bring their youngest with them to the city. But the income these families earn is barely enough to meet their children's basic needs — much less afford the high cost of daycare or preschool. As a result, young children often stay with their parents while they work on construction sites or in other hazardous environments.
Learn how Holt sponsors and donors help strengthen migrant families and keep them together.
Food Insecurity & Malnutrition
India is home to 25% of all of the undernourished people in the world, according to the UN World Food Program USA. About 21% of the population lives on less than $1.90 (U.S.) a day, denying them access to a nutrient-rich and healthy diet. The COVID-19 pandemic and subsequent lockdown made food insecurity worse by disrupting the food distribution system across large parts of the nation.
In India today, about 38% of all children are stunted, meaning they are not as tall for their age as they should be, due to delayed growth. About 17% of India's children are severely malnourished, and 53% of women suffer from anemia. (Nutritional-deficiency anemia can occur when the body is not absorbing enough iron, folate or vitamin B-12 from the diet.) Research has shown that children who are born to women who are malnourished during pregnancy run the risk of disease, physical delays and reduced cognitive abilities.
Learn how Holt sponsors and donors provide nutritional support for families in India.
Girls' Education
India continues to be a patriarchal society where women and girls have fewer opportunities than men and boys. In 2009, the Indian parliament passed the Right to Education Act, which guaranteed a free education for all children up to age 14. This marked a watershed moment in the country's history. Today, however, more than 30 million Indian children are out of school, 40% of them adolescent girls. The vast majority of these girls are growing up in slum communities and rural areas where traditional gender roles continue to shape women's lives.
When a girl stays in school and continues her education, she becomes empowered to someday earn an independent living and end the cycle of poverty in her family. Girls who drop out of school have fewer opportunities and run the risk of becoming a child bride.
According to a 2019 report by UNICEF, India is home to more than 223 million child brides, nearly half marrying before the age of 15. Child brides are more likely to experience domestic violence, become infected with HIV/AIDS, have more children and experience complications during pregnancy and childbirth. The COVID-19 pandemic significantly increased the risk of child marriage among girls in India .
Learn how Holt sponsors and donors help girls in India get an education, break the cycle of poverty and stay safe from child marriage.
Holt Partner Empowers Caregivers Through Job Training Program
With an unemployment rate of 9% in New Delhi, thousands of families struggle to earn a stable income. But in May 2022, 36 caregivers entered an intensive job skills training program provided by a local Holt partner. The job training is part of a larger family strengthening effort called KARE — short for Kinship Care and Relational Engagement. Supported by Holt sponsors and donors, the KARE program helps families at risk of separation in some of New Delhi's most impoverished slum communities.
Thirty women and two men will be trained as professional housekeepers — a skill that is in high demand in the nation's capital. Four grandmothers will be trained as daycare providers. The program aims to help each of the caregivers find steady employment and provide a more stable future for their families.
Learn more about the job training program and how Holt sponsors and donors support families at risk of separation.
Read more stories about how sponsors and donors help children thrive in India.
Learn more about Holt's work in India!
See how sponsors and donors create a brighter, more hopeful future for children and families in India!