Vuong used to sit on her porch every day — watching other kids go to school. Then a donor made it possible for her to attend Kianh Foundation, a school for children with special needs in Vietnam.
"I can't do it!"
Parents often hear this phrase from their frustrated, exhausted children who are convinced they've been defeated by whatever challenge they are facing. Sounding out their first word. Catching a baseball. Trying to figure out a math problem. The obstacles children face are endless, and sometimes the confidence they have in their perceived inability overpowers their resolve. They know they can't do it. But their parents — their cheerleaders — know better.
At Holt, we often share awe-inspiring stories about children with special needs overcoming the greatest of challenges to meet a goal they once thought impossible. A child born without legs becomes a track star. A little girl with hearing impairment grows up to be a speech pathologist. Children, no matter their physical or intellectual challenges, are resilient and ambitious, and often won't let anything stand in their way.
But when frustration sets in, that go-to phrase of defeat is never far behind:
"I can't do it."
Five-year-old Voung was different, though. She knew she could. But cerebral palsy kept telling her otherwise. And that voice was loud and relentless.
Due to her condition, Voung couldn't walk or talk, and could barely hear. And so, she sat. On the footsteps of her home in the Dien An Commune of central Vietnam, she sat and watched longingly as children her age skipped passed her on their way to school. School wasn't meant for Vuong, though — at least, that's what society told her. If she went to school, she would only impede the classroom of children who didn't have the physical limitations that she did.
But Vuong's mother and father saw a "bright and ready spirit" in their daughter, and knew she was meant for more. So when they learned of the Kianh Foundation Center, a school for children with special needs not far from their home, they took action.
What they found changed their daughter's life forever.
British expat Jackie Wrafter and her friend started the Kianh Foundation Center after a visit to an orphanage in Hoi An in 2001. What they found there was heartbreaking. Sixteen children with physical and developmental disabilities were locked in a room, basically just being kept alive. But after they engaged with the children for a bit, Jackie soon realized that very few of the children actually suffered from cognitive delays. What they needed most was attention and love. When they got those things, they thrived.
After spending about a month at the orphanage, the improvements Jackie saw in the children were remarkable. It is estimated that the Dien Ban district alone has over 1,000 children with disabilities and special needs, including Down syndrome, autism, microcephalus and cerebral palsy. And when word got out that Jackie was working with the children at the orphanage, parents in the community started to bring their children to her.
In 2012, the Kianh Foundation Center for children with special needs officially opened, and enrollment surged.
Today, with the support of Holt donors and sponsors, the center provides education, life skills, early intervention, and speech and physical therapy for over 130 children, including Vuong.
After a few months at the school, Vuong could walk independently, and had made great strides in her language development. She could now dress herself, and was excelling in arithmetic and writing. Such rapid progress is uncommon, even at a school like Kianh Foundation, but Voung was different. Her determination and readiness to learn "astonished and delighted" her teachers and parents.
Her progress didn't come without setbacks, however. When a pair of hearing aids provided by the school proved defective, the improvement she had made with her speech started to rapidly decline. While she was told a new pair of hearing aids would soon arrive, Vuong decided she didn't want to wait. Instead, she began learning sign language, and has now mastered that language.
And she is making friends.
She no longer sits on the porch, watching other kids go to school.
"Without the help that we have received from the center and from my daughter's sponsors," Vuong's mother says, "Voung would have spent every day of her life on that step."
This sweet, 8-year-old girl is now able to engage with the world around her thanks to the Kianh Foundation — and the kind and generous sponsors and donors who support her, and all the kids at her school.
This is what the Kianh Foundation did for Voung, and does for all children with special needs. But, even more than that, this is what happens when a child like Vuong — a child with limitations, but determination — has teachers and parents and sponsors who cheer her on, and give her the tools she needs.
She thrives. Because she knew she could.
Ashli Keyser | Contributing Writer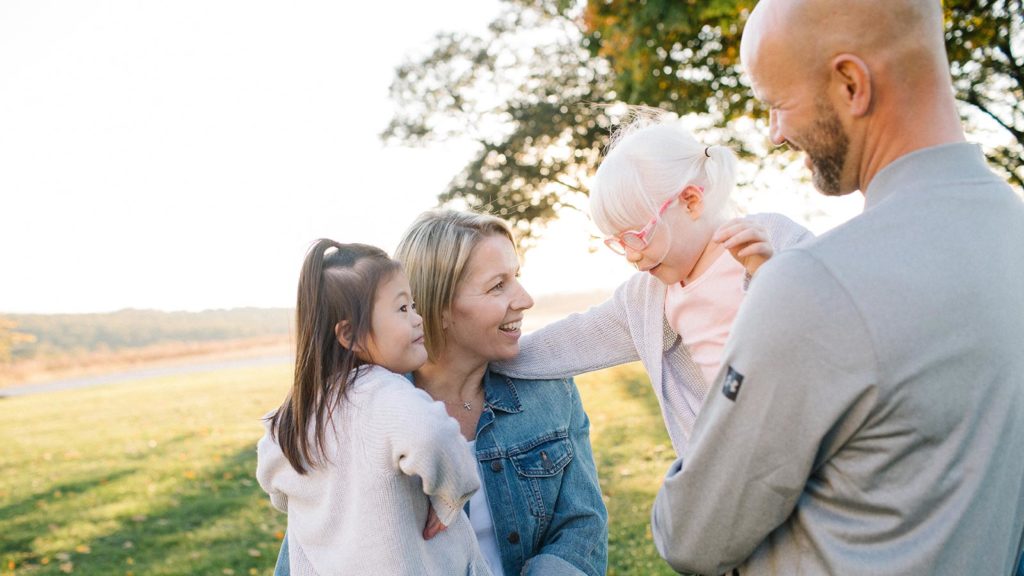 Children with special needs are waiting for families!
Meet some of the children waiting for loving adoptive families. Could you be the right family for one of these children?