At a Holt-supported home for single mothers in the Philippines, a young woman finds the courage to parent her baby.
My name is Maria. I am 23 years old and live in the Philippines. Last year, I graduated from college. I know that I made my family proud because I can help them have a better living, and help my siblings finish their studies.
But things are not so easy, and not meant to be that way.
In June, I discovered that I was pregnant. The pregnancy is unplanned and unwanted. I considered my options, but I realized that my baby deserves to live and be loved, and I walked away from his unsupportive father even though I loved him very much. From that moment, I don't know where to go. I can't go back to my family because they don't know I'm pregnant, and if they do, they will surely get disappointed. I also don't want to see other people telling my parents that they [failed me in] their guidance and teachings, and that's why my life is ruined. I can't imagine seeing them in that very moment.
Then I seek for my friend's help, and she offered me her uncle's house where they live presently. I told her too that I'll try to look for a job even if I'm pregnant. My friend's uncle works in the market, he comes home every afternoon after his work. He always hang out with his friends at his house wherein they smoke cigars, drink alcohol and do illegal drugs, which alarmed my condition to have a safe and healthy pregnancy. Then Mr. Valencia, my social science professor, suggested [I visit] the Kaisahang Buhay Foundation's Nazareth Home Service for Single Mothers. And I did, this is the last choice that I have. If KBF helps me, then things are going to start right and worry-free.
After 3 days, I received a call from the KBF's office and talked to Dir. Dela Rosa via phone, and what such a relief I felt. I even cried my happiness for this blessing that came to my life, to start my life anew and move on from the misfortune that I've been [through]. I sell some of my clothes to our neighbors to collect the money that is needed for me to go the Nazareth Home, and then I packed my things and prepare to travel to Cubao. But before I traveled, I talked to my parents. They cried, and my father got mad at me, asking me why did I let this happen. I told them that I'll go to the Nazareth Home for my pregnancy needs, and told them not to worry.
I'm very nervous as I make my way to Manila, because it is the very first time that I will travel to the city alone. When I arrived at the Nazareth home, a pregnant woman opened the gate and welcomed me inside. I met the houseparent, who welcomed me and give me some briefing about the house rules. And there I saw other pregnant women: different people, different cases, and different problems with different attitudes. They welcomed me nicely.
The Nazareth Home is a home of comfort, renewing of life, a place to move on and a place of learning new things. We have Bible, childbirth and breastfeeding lessons, yoga, counseling and pre-natal check-ups. We also learn different skills that we can use as a business: rag-making, bracelet and accessories-making, and cooking. I loved the weekly counseling from our social worker. This helps us to feel comfortable and at ease no matter how heavy our problems are as upcoming mothers. Our personal counselors also help us […] think about our decisions that we're making in our lives.
What I loved most is the weekly counseling from our social worker. We share our thoughts, hatred, happiness and different kinds of things that we experience inside the home. We vent our worries. This helps us to feel comfortable and ease no matter how heavy our problems are. And also, our personal counselors help us on how to think about our decisions that we're making in our lives. For the decisions we are making will affect our life forever.
The Nazareth Home helped me to connect to God once more, and the fact that these experiences gave me hope and faith that everything will be fine soon, things are going to be fixed, and a new life will start. And with non-stop praying and believing to him that things will work just right, the real blessing took place! I got reunited with my family; they accepted me again and welcomed my child [with] open arms. I again felt the love and comfort from them, and they love my son so much. But the blessing did not stop there! My son's father, Mark, came back and committed to my son as his father and promised to take care of him for the rest of his life. He and his family were so glad that M (my son) will be soon a part of their family too.
Mark and I undergo some parenting sessions with my personal counselor provided by the Nazareth Home. Mark traveled for miles just to visit us and attend our counseling. Because of those sessions, we start to know more from each other, started to voice out the problems that we had, and started to understand each other's attitudes and commitments. Our counselor told us to assess each other's attitudes in order to have a better and greater understanding in our relationship and to be a perfect father and mother to our son.
I gave birth to this healthy "big boy" in December. The first skin-to-skin contact is very warm, the first sight of my baby's eyes was very overwhelming, and the first cry is the best music that I ever heard. I felt like I was also born again — new love, new hope, new family and new life.
It's not very easy to start a family. We experience difficulties, but we're trying to provide our son a comfortable home, loving family, clothes and [meet] his other needs. Our son is a big boy now. He's cute, smart and very responsive. His father loves him [so much] that whenever he wakes up, somehow the problems are erased and a new day of hope starts. We are still looking for a job that will help us to be good providers for our family. What's important is that we live together, happy though it's hard […] and love each other each day.
The Nazareth Home made me realize that being pregnant is not the end of a happy and peaceful life, it's just the start. If I didn't enter the Nazareth Home, where would I and my child be? But I'm very grateful to be blessed. We may experience some difficulties but that's what life is; we have to believe [we will] be able to succeed.
In every pain, there's love. In every sadness, happiness will come, and I believe that there's a solution in every problem. Just stay close to God and believe that everything will be alright.
Maria | The Philippines
Editor's Note: In an effort to preserve the author's voice, the content of this story has only been minimally edited.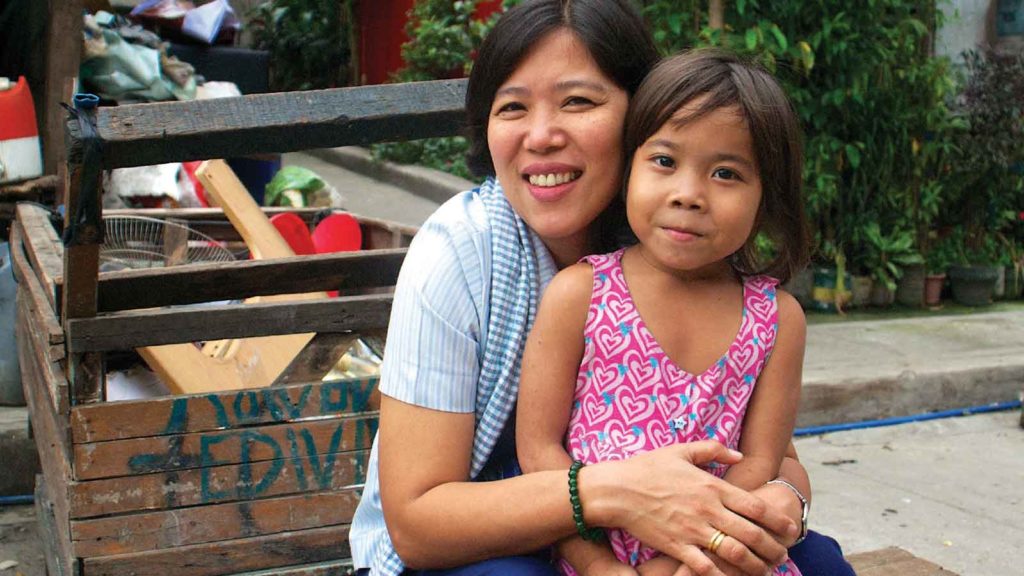 Empower a Single Mom
You can give a single mom the personalized help she needs to become independent and support her children. Whether you provide a safe home, nutrition training, baby items or education, empowering a mom will change her and her children's lives forever.