Four-year-old Gracie was weeks away from traveling to her adoptive family in the U.S. when COVID-19 hit Haiti. With a heart condition and suppressed immune system, she urgently needed to be on the last known flight leaving Haiti. But no one expected it would take an army of compassion, and a miracle, to get her here.
It was 11:30. The exit letter office closed at noon.
Gracie's flight — the last known flight leaving Haiti before the country shut down all air travel due to the pandemic — was scheduled to depart at 6 p.m.
Holt's staff in Haiti had less than four hours to complete her documents so she could be on that flight to Miami, where her dad, Brian, would be waiting for her.
Several months prior, Brian and Mary Jo Sullivan had already completed all the steps of the adoption process for 4-year-old Gracie. All she needed was her exit paperwork in Haiti and her entrance paperwork to the U.S., where she would automatically become a U.S. citizen upon stepping off the plane.
She just needed a passport, a visa and an approved exit letter from Haiti's central authority.
Then, in late March, COVID-19 hit both Haiti and the U.S.
With Gracie on schedule to travel home at the end of April, Brian and Mary Jo began to panic. "It was a few days after she got her passport photo when Haiti completely closed down all borders and we were just so distraught because we knew we were so close," says Mary Jo, over a Zoom call from their home in New Jersey.
They worried it might take another year until they could travel to bring her home. They worried about how badly the pandemic would affect Haiti — and if Gracie would be safe at her crèche, her care center up in the mountains overlooking Port-au-Prince.
Most of all, they worried about their daughter's heart.
"She has a faulty valve, her mitral valve, which is one of the major valves in the heart," explains Mary Jo, who up until a year ago worked as a pediatric nurse at Sloan Kettering Cancer Hospital in New York. "It just doesn't completely close like ours."
When they first inquired about Gracie two years ago, and learned she had a heart condition, Brian and Mary Jo consulted a cardiologist up in Boston — one of the foremost experts in cardiac myopathy. Gracie had had four echocardiograms in Haiti, but the results were inconclusive. They didn't know how serious her condition was, or how long she might live.
But although they could not predict what Gracie's future might hold, Brian and Mary Jo decided to move forward with adopting her. They were all in.
"After speaking with [the cardiologist], you know with adoption, you just have to have faith that things will work out," Mary Jo says. "And whatever it is, we'll handle it. If her prognosis isn't great and we bring her here, then she'll know what it's like to have a family and be loved for as many years as we have her."
But Brian and Mary Jo also knew that whatever her condition, Gracie would have a much greater chance of living a full, healthy life in the U.S.
"We know we're very fortunate to have been born in the United States. Health care is phenomenal," Brian says. Two years before they began the adoption process for Gracie, Brian and Mary Jo adopted their son Finn from China. "Finn's life would have been unbelievably different physically if he were not here and we weren't blessed with the surgeons that's he's been involved with," Brian says of Finn, who has spina bifida and is now 7.
For Gracie, the medical care she would have access to in the U.S. could change — and possibly even save — her life. But for this little girl who spent the first few years of her life in an orphanage, just as life-changing would be the nurturing, attentive care and unconditional love she would receive as part of a family — with five siblings, two dogs and two devoted parents.
And Gracie knew that her family was coming for her.
She first met Brian and Mary Jo when they traveled down to Haiti in April 2019 to meet her as part of their adoption process. Over the following months, Brian made three more weekend trips to see Gracie, bringing their 14-year-old son, Gavin, and 12-year-old daughter, Adanya, on two of the trips.
Each time, their bond grew stronger.
"She remembered me as soon as I went back every time. And it was magical, for sure," Brian says.
Gracie was waiting for them to bring her to their home in the U.S., to see her big brother, Gavin, and big sister, Adanya. To be with her family.
But if she remained in Haiti during the pandemic, Brian and Mary Jo feared the worst for their daughter who they had already come to know and love. With her fragile heart, they worried she might not make it.
"All of that went through our minds in those waking hours that we couldn't sleep, those couple of weeks leading up to it," Brian says. "All those thoughts go through your head, just her being exposed to it there and where her crèche is … it's in a very, very rural area. So, what would happen? How could they take care of her there? It's just not possible."
And if she were to get sick, the Sullivans realized they wouldn't be able to travel to Haiti to be with her. "It's unthinkable," Brian says.
As the world went into crisis, one thing became very clear to them.
"She's our daughter," Mary Jo says. "We wanted to get her home."
Urgent to Get Her Out
When Amanda Colonia first met Gracie, on a trip to Haiti in July 2019, she was among several children she met who were matched with Holt families. Gracie stood out from the start.
"I remember the first time I saw her at the crèche, she had these fabulous sunglasses on and she was just a tiny little thing, but she just came in with so much life and so much energy and sass," Amanda says of Gracie, whose Haitian name is Shelene, which means beautiful.
As Holt's adoption case worker for Haiti, Amanda would guide the Sullivan family through their adoption process from beginning to end. By the time she met Gracie in Haiti, the Sullivans were nearly finished with their 2.5-year process. "After that trip, we were really focusing on the part of the process for the family to bring her to the U.S.," Amanda says.
Over the next several months, however, Haiti began to experience a lot of civil unrest and both Amanda and the Sullivans worried that it would slow down Gracie's adoption.
"All of our staff [in both Haiti and the U.S.] were meeting with the central authority to make that part of the process as quick and easy as possible — knowing we were up against the civil unrest and a Level-Four/Do Not Travel warning from the U.S. State Department," she says. "And then March of 2020 came and that came with a pandemic."
Haiti immediately closed their borders. Government offices either shut down completely or severely restricted hours. All commercial flights were halted.
"You would only get maybe 48-hours notice if a flight was going to happen," Amanda says. "And the Sullivan family began to ask a lot of really insightful questions about how we were going to be able to bring Gracie here in the middle of a global pandemic."
With Gracie's heart condition and compromised immune system, everyone knew it was urgent to get her out of Haiti.
"Obviously the crèche is going to do everything they can to protect the children that live there, but because Haiti is a country of 11 million people and 64 ventilators, it was a great concern that we would be able to have her join her family as quickly as possible," Amanda says.
With the virus spreading fast and both the U.S. and Haiti taking extreme measures, everyone began to brainstorm a solution. While Brian and Mary Jo looked into chartering a private plane to Haiti, Holt's teams in Haiti and the U.S. worked frantically to finalize Gracie's travel documents. The Sullivans couldn't get permission to charter a plane. But finally, on April 6, they learned about a flight out of Port-au-Prince that was authorized by the government.
The flight was three days later, on April 9. "And we still did not have all the documents we would need for her to be able to leave the country," Amanda says.
A Child Is at Stake
On April 9, the day of the flight, Beverly Sanon woke up first thing in the morning to get to the passport office right when it opened. As Holt's country representative in Haiti, Beverly is heavily involved in every adoption case from Haiti. She personally took Gracie to get her passport photos and translated for the Sullivan family when they first traveled to Haiti to meet their daughter.
"Oh, she's very smart. If you tell her something and she doesn't like it, she will look at you with stern eyes like, 'What are you telling me?" Beverly says of Gracie, with a warm, amused smile over a Zoom call from Port-au-Prince. "She has a very strong personality."
And Gracie never made an appearance without her sunglasses on.
"She held onto those sunglasses," Beverly says. "They were very important to her."
By the time Beverly found herself sitting in the passport office on the morning of April 9, pleading with the director to sign off on Gracie's documents, she knew Gracie, and the Sullivan family, well.
"They were very attached to her and she was very attached to them," she says.
When the first cases of COVID-19 showed up in Haiti, and the president closed the borders, Beverly knew that Gracie needed to be on the last flight out.
"The health system is very poor [in Haiti]," she says. "There are very few doctors per thousand citizens, so it is very scary … With [Gracie], we knew that it was urgent that she make it to the states, where she could get better health treatment for her condition. We hoped that she won't get [COVID-19], but we know if something happens, she will have a better chance of treatment than in Haiti."
Alongside her team, she began advocating for Gracie with the local ministry — urging them to complete her documents despite the limited staff hours so that she could leave on April 9. Not only was this the last flight leaving Haiti at the time, Gracie also needed an escort to travel with her — and the Sullivans had finally connected with Jeff and Teresa Ballard, missionaries from the U.S. who were willing to accompany their daughter and another little girl who was also traveling to join her adoptive family.
But they had to leave on April 9, with or without Gracie.
"We wanted to make sure that she makes it, and the plane ticket was already purchased, and we had to make it work," Beverly says. "But we didn't know that it was going to be that hard."
The day before the flight, when she had still not received Gracie's passport, Beverly started to panic. When the passport office opened at 8 on April 9, Beverly and her colleague Monsieur Gustave were standing at the door.
"I was praying, 'Oh God, make it happen, make them give me that passport so that [Gracie] could leave on that flight' … We couldn't see how we would find another way for her to leave."

Beverly Sanon, Holt's country representative in Haiti
"I was praying, 'Oh God, make it happen, make them give me that passport so that [Gracie] could leave on that flight' … We couldn't see how we would find another way for her to leave," she says.
In her seven years working for Holt, Beverly had advocated for many children to complete their adoption process in Haiti. She had calmly worked through times of periodic civil unrest and local crises, helping not only children on track for adoption but also families in need of emergency support in Haiti. But she had never advocated for a child who needed to get to her family in the middle of a global pandemic — with so much uncertainty about what might happen in the coming weeks and months.
Still, she would do whatever it took, even if it meant putting herself at risk.
"I was in a panic. I was sweating. And I was going to a place where there was a crowd of people, so I had a mask on to prevent infection — so I was even hotter," she says, "and I was under stress that the passport wasn't there."
She pleaded with the director's assistant to let her through to speak with him.
"I was trying to explain to her what is at stake. It's a child and this is her last chance to leave … I said, 'Can I speak to the director? And she said, 'No, Ma'am, the director doesn't receive people without an appointment.' So I walked to the director's door — and she went and stood in front of me."
Thankfully, the director was watching the whole encounter on a camera from his office. He promptly came outside.
"I said, 'Please sir, could you understand that child needs to leave? That child is waiting for the embassy to approve the visa. And IBESR is waiting for a copy of the passport and the visa to issue the exit letter,'" Beverly says. "This is the issue I explained to him and he said, 'Yes, I am willing to help you.'"
To complete the passport, they needed to get on the phone with the attorney who submitted Gracie's documents to the ministry of Haiti, and then get him on a conference call with the director of the central authority, IBESR. While Beverly was in the passport office, the assistant to the crèche director was at IBESR, calling Beverly every 5 minutes because the office was about to close.
"It was about 11:30. They closed at 12 … I was almost crying and I said, 'Okay, here he is.' I put him on speaker and I didn't speak," she says.
By the time the director at IBESR signed off on Gracie's passport, he had his keys in his hand to leave. It was past 12, and Beverly still needed to deliver the passport to the U.S. embassy — and get Gracie to the airport by 3.
"I had to run," she says.
While Beverly collected the documents, the crèche director drove Gracie into town to meet Beverly at her house. Beverly's phone had run down from all the calls she had to make and couldn't call Amanda in the U.S. — anxiously waiting to hear from her so she could notify the Sullivans — until she got to home.
But when she finally connected with Amanda, she told her the good news — with relief, and exhaustion.
"They made it. And I said, 'Please send me a note when they reach the U.S. I will be happy.'"
Gracie's Army
When Brian got the call from Amanda letting him know that Gracie had everything she needed to make the flight, he was standing in the terminal at JFK airport in New York — in a mask and gloves, taking a video of the empty terminal for his kids.
"There was just the gate attendant and myself at the gate, waiting to board the plane," he says. "And as I was taking the video, it rang and it was Amanda … I knew right away that we had the paperwork, and I got all choked up."
Brian had booked the flight from JFK to Miami not knowing if everything would come together in time for Gracie to make her flight from Port-au-Prince to Miami. But both he and Mary Jo knew that everyone in Haiti was doing everything they could to get Gracie to her family.
"They ended up getting two to three pieces of paperwork that usually take about three weeks on the day that she was leaving … Beverly ran around from office to office to make it all happen," Brian says. "While [Gracie] was en route from the crèche to the airport, and while I was in the air from New York to Miami, they pulled it off. And it was unbelievable."
"We knew it would take a miracle and that's what it was," says Mary Jo, who cried on the phone with Amanda when she called to say that Gracie made her flight.
"It was unbelievable. We called them her 'army'," Mary Jo adds, acknowledging all the people who went above and beyond to get Gracie home — from Beverly and Amanda and the Holt Haiti team to the staff at the U.S. embassy, the crèche director and her assistant, the central authority, Holt's local partner FEJ and the Ballards, the wonderful missionary couple who escorted their daughter to the U.S. Everyone knew how critical it was to get Gracie to the U.S. before COVID-19 took hold in Haiti.
"In Gracie's exit letter," Amanda says, "it stated specifically in bold, in French, that a special exception was made for her in this case because of the emergency surrounding COVID-19."
"When she saw me, she ran over to me and I scooped her up in my arms."

Brian Sullivan, adoptive father
In Miami, Brian met Gracie as she walked off the plane. She had her signature sunglasses on, and seemed a little confused at first seeing the group waiting outside the plane — all adoptive parents waiting for their children.
"But when she saw me, she ran over to me and I scooped her up in my arms," Brian says.
A month later, via Zoom from New Jersey, Gracie sits in her dad's lap — speaking in Creole and pointing at the dog on the other end of the Zoom call. As Mary Jo translates, Gracie names her siblings, tells us how old she is and giggles.
"We call her the 'Zoom Crasher' because the kids all have Zoom classes, so she just pops into everybody's Zooms. Her little face," Mary Jo says.
"My work meetings, she joins just about every one of them. She comes, she sits on my lap, gives me a pretzel, leaves," Brian adds. "And she really loves to make people laugh."
Shortly after arriving in the U.S., Brian and Mary Jo drove Gracie up to Boston to see the cardiologist they first consulted about her heart condition. Gracie had undergone four echocardiograms while in Haiti, and the latter three had each improved drastically from her initial results. But just looking at her four echos side by side from Haiti, the cardiologist couldn't determine which one was correct.
After an hour echo in Boston, however, the results were more conclusive. "Her heart looks amazing," Mary Jo says. "The only finding was the moderate faulty mitral valve — no cardiac myopathy at all. We'll repeat an echo in six months from now and if that one looks stable, we'll probably go to once a year. So we're lucky."
Looking back, however, the Sullivans know they made the right decision to bring her to the U.S. when they did.
"The cardiologist was very happy that she is here for many reasons," Brian says. "For our family, but if Heaven forbid, she were to be exposed to COVID-19, we're much happier having her here and having her had an echo from this cardiologist who's one of the best in the world."
The possibilities for Gracie's future are endless, they say, and they just hope she'll be happy, healthy and thrive in her life and in her family. That's what everyone wants for Gracie — her entire army.
"It was nothing short of a miracle that she got on that plane," Mary Jo says, as she and Brian look out the window at Gracie playing with her siblings in the yard. "We are so grateful to the many people who went above and beyond and put themselves at risk, and we realize that … It was just amazing."
Brian seconds Mary Jo's sentiments.
"And it all came to fruition," he says. "We got her home."
While the coronavirus pandemic has temporarily paused some of the final steps of the adoption process, now is still a great time to get started. Learn more at holtinternational.org/adoption or contact one of our adoption advisors at [email protected] or 541-687-2202.
* While Gracie's case was exceptional due to her heart condition and the health care conditions in Haiti, due to COVID-19 some adoptive families are still waiting to travel to bring their child home. Below, Holt CEO Phil Littleton speaks directly to these families: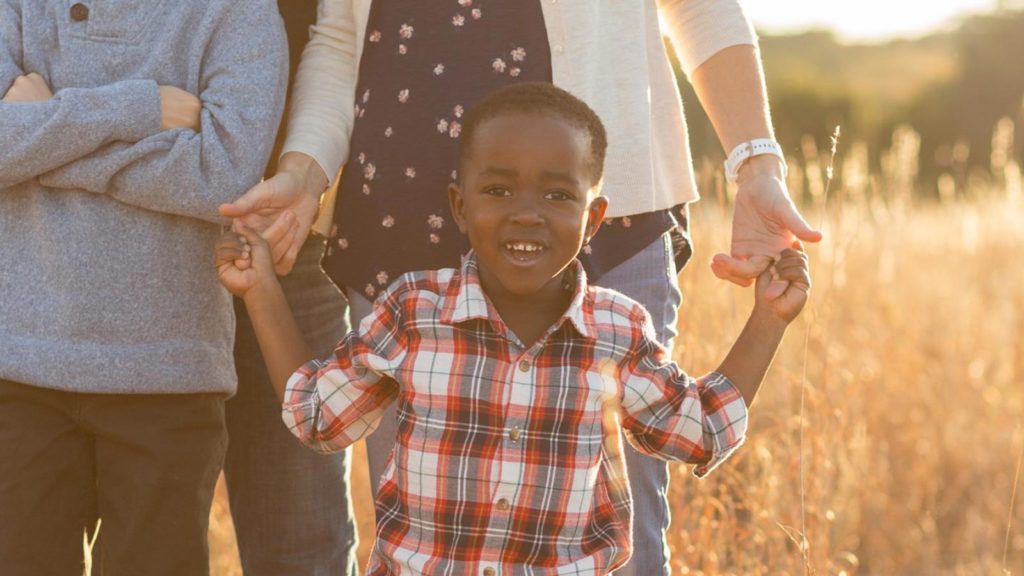 Adopt From Haiti
Many children in Haiti are waiting for a loving, permanent family.