Ben and Brittany are waiting to welcome a child into their heart and home through open adoption.
Learn more about them!
Thank you for taking the time to look at our profile. We want to reassure you of the love and kindness we would offer to your baby. We have been married for eight years. Ben is adopted and is very thankful for the full life he was given with his adoptive parents. He truly appreciates the gift his birth mother and father gave to his adoptive parents.

We feel called to adopt after suffering years of infertility. Besides Ben and his brother, we have other family members who have been adopted, and we know adoption is such a blessing. We cannot wait to spend time reading to a child, seeing their firsts, and providing a safe, nurturing environment for them to grow up to become the person they are meant to be. We would be ever so grateful for this opportunity, and our lives would not be complete without the gift of adoption.

Sincerely, Ben & Brittany
Our Story & How We Met
We met in college in 2009 at a religious retreat. It depends on who you ask on who pursued the other. All that matters is we can forgive each other at the end of the day, and we are the best of friends. We got married in 2012, and we have always wanted a family of our own and looking forward to the day when it can happen. We love our family and have a total of 11 nieces and nephews. We enjoy going to the theater, museums, traveling, hiking, cooking, home improvement, playing board games, and exercising. Diversity and social justice are very important to both of us; we believe it is important to keep an open mind to the world around us.
About Us & Fun Facts
About Ben According to Brittany
When I met Ben, I knew I was in trouble. I prayed to God that I would marry someone interesting, and GOD delivered. Ben is someone full of random facts and knowledge. He has expansive knowledge of just about everything. This comes in handy with his work as an epidemiologist. He loves to cook, play video games, travel, read, listen to music/podcasts, and wrestle Teddy. He has one of the biggest, kindest hearts I have ever met. He really lives according to God's purpose and offers others no judgement. He challenges me to a be a better person as we work our way towards heaven.
About Brittany According to Ben
Brittany is a caring and compassionate person. She has truly found her vocation as a teacher, where she gets to help young minds mature and grow daily. She is also very involved with our community, serving on the parish council of our church, supporting her students' extra-curricular activities, or just participating in community life and being a good friend. She is also a very funny person, and her experience with theater shows in the way she entertains and interests her students. I have known Brittany for more than a decade now and am continually surprised by her in the best possible way.
Our Home
Our neighborhood is very culturally diverse. We live close to public transportation, schools, and many parks We live in a single-family home, with a fenced in back yard. Brittany is a teacher for the local, public high school. There are many young families near us. Our house has three bedrooms and three bathrooms along with a semi-finished basement perfect for a playroom. We also have a fenced in backyard that can fit a playground.
Our Families
Brittany's Family
I am originally from the Upper Peninsula of Michigan, and my parents still live there now. They typically go to Florida for the winter. My mother was a stay-at-home mom growing up, and she was always sure to be involved in my many theatre productions as a child. From taking me to her quilting to working backstage, she was very supportive of my dreams and fostering my sense of creativity. My father is an engineer, and he taught me how to fix things around the house. He did not have any boys, so he needed someone to teach his expertise on home improvement. I am the youngest of three girls. My oldest sister, Stephanie, is a doctor, and my middle sister, Nicole, is a stay-at-home mom. Stephanie has five children, and Nicole has four children. They both welcomed a baby recently. The whole family is excited to meet our new little one! The child will have a lot of cousins to play with when we gather as a family.
Ben's Family
I have one brother and two stepbrothers. My brother lives in the lower peninsula of Michigan and has two children. Both of my parents are now retired, my mother lives outside of Detroit, Michigan and my father and stepmother live in Arizona. My mother was a pediatric nurse practitioner and was very good at tending to all my medical needs. My father was an attorney, and he often would go on my many camping trips with Boy Scouts. All my parents were strong advocates for my education and instilled in me values of faith, love, and kindness. Growing up my family liked to travel and go camping a lot, and I have many good memories from my childhood of spending time outside with my family.
Pets
Our dog, Teddy, is one of the sweetest dogs you will ever meet. He is very good with kids and loves everyone he meets. He is a local celebrity in our neighborhood because he is so cute and knows it. He is social and likes to meet new people and dogs. He is a very calm dog and rarely barks. He is slightly under twenty pounds and loves to cuddle up to you on the couch.
Hobbies and Travel
We love to spend time at home and traveling. While at home we like to work on home improvement, host friends/bible study, or just spend time together. We like to fix and make improvements around the house when we can. Recent projects include painting our garage and a ceiling, repairing a toilet, and installing a new overhead light. We also enjoy traveling. We try to see our family as often as we can, and we also enjoy going to new places. We enjoy both exploring new cities and spending time out in nature, hiking, cross county skiing, and other activities. We cannot wait to take our children on trips and teach them how to fix things around the house to build strong memories.
Thank You
Thank you so much for all the time you took to look at our book. We are looking forward to this next chapter in our lives. A child is something we have both been dreaming about for a very long time. Your baby would be brought up in a household full of love and kindness. Our values and beliefs are strong, and we would like our children to have a strong sense of who they are in the world. We know picking a family is difficult, and we would be so honored if you do pick us. We will pray for you and all birth mothers/ families going through this process.
Blessings,
Ben, Brittany, & Teddy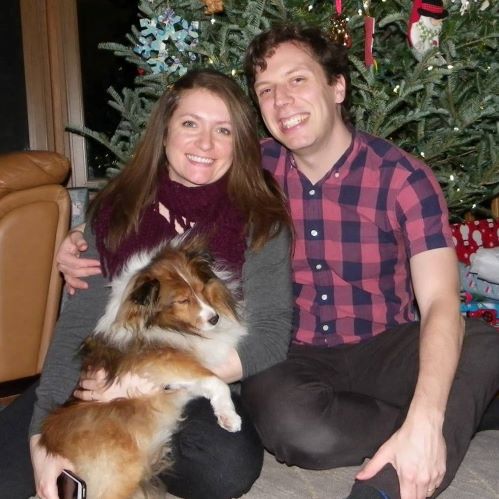 Inquire to receive more info on Ben & Brittany
Pregnant? Our counselors can help you explore your options.
24/7. Day or night.
Safe and confidential.
We are ready to listen.